This is a sponsored post written by Optimizer. The opinions expressed in this article are the sponsor's own.
When it comes to creating a search engine-friendly WordPress site, things usually get confusing and cumbersome pretty fast. There are lots of steps to consider, among them:
Fast load time
Follow best SEO practices
Mobile optimized
Dedicated SEO options
Good aesthetics
It's hard to find a WordPress theme with all these features. Most themes are either missing few of features or are not customizable at all.
Introducing Optimizer WordPress Theme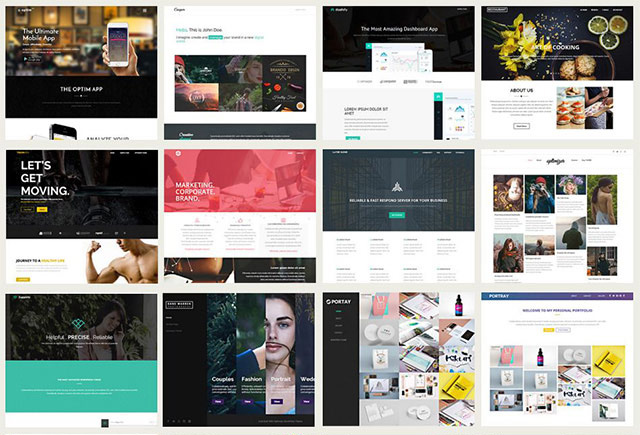 After analyzing the market and the industry, we've built WordPress theme Optimizer. This theme has already caused quite a stir among WordPress enthusiasts because not only have all the above features but at the same time, it extremely customizable.
With Optimizer, you can easily use WordPress widgets to create stunning SEO-friendly pages. You can add CTAs, testimonials, contact forms, map, posts, portfolio, newsletter, slider, video, social bookmarks and so much more anywhere on your site.
Optimizer comes with 20 beautifully crafted custom widgets that can be added to any page as a separate section. You can drag and drop these widgets to re-position them whenever necessary. It's also one of the best performing themes in Google's Mobile-Friendly Test, Load time Test and Security Test.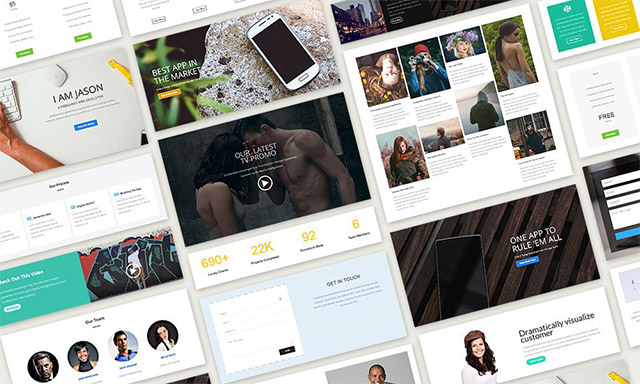 Getting Started with Building Your SEO friendly Site
Installation
First, grab the free version of Optimizer WordPress theme from the official WordPress.org page, or from your Dashboard go to Appearance > Themes > Add New and search for "Optimizer" and Install the theme. For best results, we encourage you to grab the Full Features version from Optimizer's official website.
Customization
After installing the theme, you can customize it any way you want from Appearance > Customize. You can add or edit sections to any pages using the widgets that come with the theme.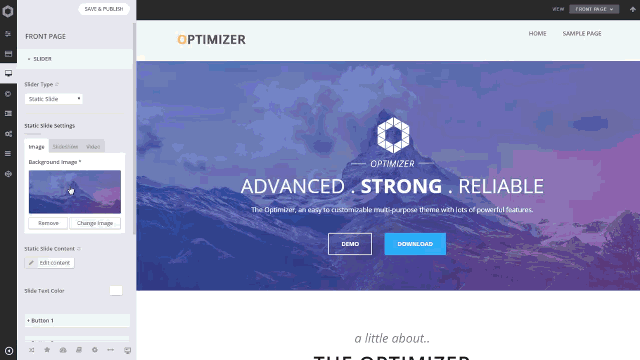 To add widgets to your front page navigate to Appearance > Customize > Frontpage > Frontpage Widgets and click the "Add Widgets" button.
You can choose from Advanced Text Widget, CTA, testimonials, contact form, map, posts, portfolio, newsletter, slider, video, and social bookmarks.
If you are in a rush, you can choose to import pre-built templates that you can access from the bottom of the customization panel.
Once you are finished customizing the front page, you can customize the inner pages, by going to the Edit Screen of that specific page and clicking the "Customize with Widgets" button.
SEO & Speed Optimization
By default, Optimizer comes with dedicated SEO options such as: Meta Title and description settings , Social Share Image settings, Breadcrumbs and Schema Markup feature.

The theme loads very fast as it follows the best coding standards. You can further optimize the speed using a cache plugin like w3total cache. And needless to say, the theme is totally compatible with SEO by Yoast.
With Optimizer you will be able to build beautiful sites without worrying about basic SEO and speed optimization. These features are all totally built in.
We are happy to announce that we are currently running a PROMO for SEJ readers for a limited period of time.
USE coupon code SEJ2016 to get 15% off of Optimizer PRO.
Image Credits
Featured Image: Image by Optimizer. Used with permission.
In-post Photos: Images by Optimizer. Used with permission.