Google has just rolled out the new Checkout Store Gadget currently running under Google Labs. This gadget lets users create their own online stores using Google Spreadsheet, Google Docs, and Google Checkout. The Official Google Docs Blog gave a rundown of the necessary steps that users need to take to create their online stores.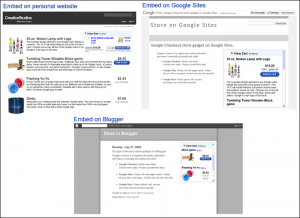 First users need to sign up for a Google Checkout account. The checkout account will be used for processing orders placed at the online store. It can also help them attract new sales leads as well as convert more sales for their products.
After signing up for a Google Checkout account, users then need to list the products they want to sell using Google Docs spreadsheet.
Finally, after preparing the Google docs spreadsheets, users will need to embed the Google Checkout store gadget on their websites. Instructions on embedding the Google Checkout to differents sites including Google Sites, iGoogle, Blogger and other blog sites are enumerated here.
The Google Checkout Store Gadget uses the new Spreadsheets Data API which include the Tables and Records feeds and were released to developers last month. These APIs provides a structured record-based table for storing and updating tabular data in a spreadsheet. The Table API allows placing of tables anywhere on a sheet while the Records Feeds is a feed of rows within a table.