Google Analytics is the most popular and I'd say the best free tool for the internal site stats analysis. I use it myself for most of the projects I run. Recently I've come across a few really useful FireFox addons allowing for a quicker access to Google Analytics and its better usability.
Check Google Analytics for the Current Day
Strangely, Google Analytics shows stats for the past 30 days instead of the current day. I say "strangely" because most often webmasters check their stats daily and what they really want to see is their most recent traffic numbers and sources.
This browser bookmarklet corrects this bug – the only disadvantage that it will work for one site report only. With this browser bookmarklet generator you can create a few bookmarklets for each of your sites (but this will be helpful only in case you own no more than 10 site, I guess).
View Google Analytics Reports in Firefox
Fire Analytics is an experimental addon (login to install it) exporting Google Analytics reports into Firefox.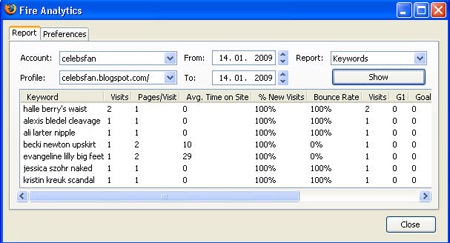 Access it via Tools => Fire Analytics menu, specify your Google Analytics email and password on 'Preferences tab' (alternatively you can just log into your account using browser), choose Report type and click "Show report" button.
Currently 7 report types are supported:
Map Overlay
OS and Browsers
Languages
Referring Sources
Keywords
Top Content
New vs. Returning
Enhance Google Analytics Functionality
A number of Greasemonkey scripts united by this FireFox addon allow for quite a few additional features including:
Export To Google Docs from Google Analytics.