Content marketing matters, that much is clear. What is less clear is how effective it is and how we, as marketers, can use our resources in a way that makes the most sense.
Which is why reports like Content Marketing Institute's comprehensive B2B Technology Content Marketing 2016: Benchmarks, Budgets, and Trends—North America matter.
This type of in-depth research is what marketers should be taking to their clients and the brands they work for to lobby for a bigger content marketing budget.
If you are a content marketer in the B2B technology field, this benchmark report is required reading.
From Content Marketing Institute:
Sponsored by International Data Group (IDG), this report features findings gathered from a marketing survey conducted by Content Marketing Institute and MarketingProfs. This report presents findings from the 392 who said they were B2B technology marketers in North America from a range of company sizes. They responded to the survey in July and August 2015.
Why Does This Report Matter?
Content marketing is maturing, but that maturation process does include bumps in the road. Reports like this show where content marketing is in a small niche market, which makes the research even more useful for marketers in this area. It can also serve as an inspiration for marketers in other areas.
From Joe Pulizzi, Founder of Content Marketing Institute.
Like other groups of marketers we've studied over the last six months, technology marketers reported lower overall content marketing effectiveness this year compared with last. On the other hand,
technology marketers rated nearly all of the tactics and paid methods they use as more effective this year. This tells me they're making progress with identifying what works.
Discovering what really works is half the fun of working in digital marketing. Let's look at what CMI uncovered.
Top Challenges for Technology Content Marketers
What's holding back content marketing in the technology field? There are many challenges, but engagement seems to be the biggest hurdle. This offers an opportunity for brands with strong, dedicated audiences to rise above the competition.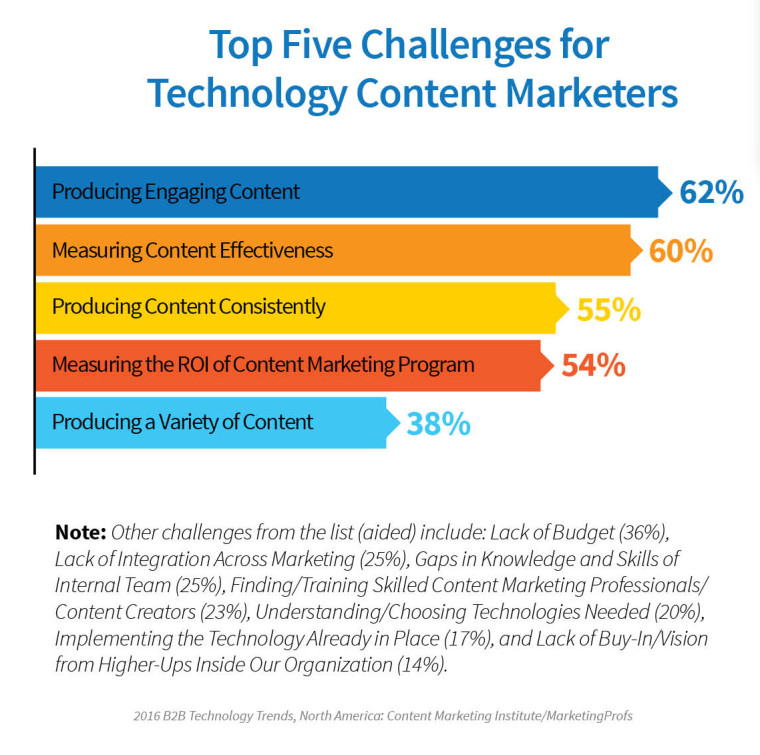 The Most Effective Platforms for Social Media
Where should you be sharing? There were some obvious winners — and some obvious losers. Not surprisingly, LinkedIn rated the highest. Also, 40% of marketers stated that SlideShare was "very effective" for the B2B technology space. Which is good news in the stat-heavy industry of tech.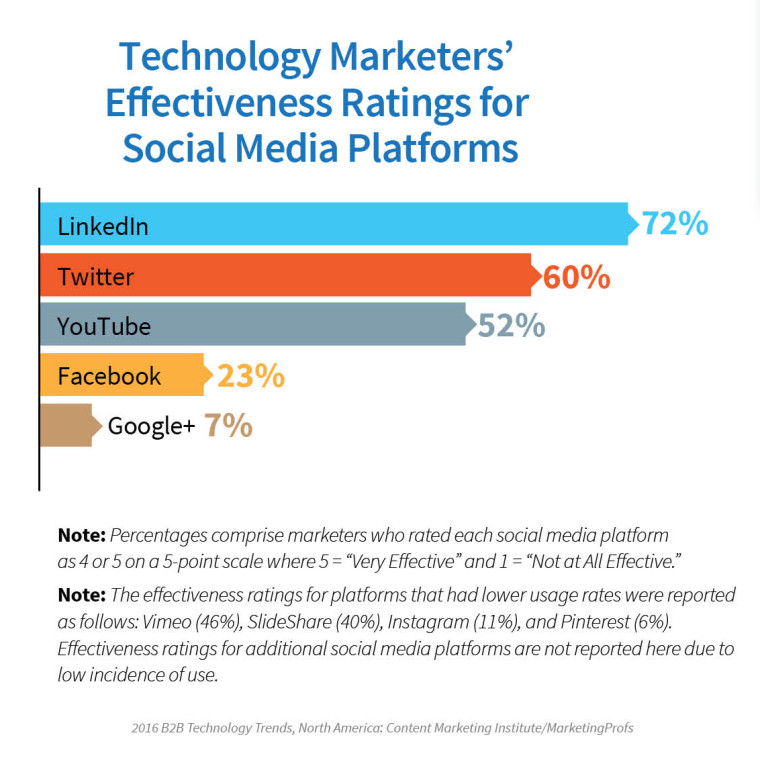 More Highlights from the Report
There is tons more to learn here. A few more interesting highlights:
Creating more engaging content is the top priority for technology content creators over the next 12 months (70%).
Technology marketers say LinkedIn is the most effective social media platform they use (72%).
51% of technology marketers plan to increase their content marketing spending over the next 12 months.
36% of technology marketers have a documented content marketing strategy (up from 33% last year).
Effectiveness ratings for most content marketing tactics, social media platforms, and paid methods of content promotion/distribution are higher than they were last year.
Technology marketers allocate 29% of their total budget, on average, to content marketing (vs. 25% last year).
Want to read more? You can check out the full report here.
Image Attribution:
Featured Image: Shutterstock: Aysezgicmeli
Inpost Images: Used with permission from Content Marketing Institute