Okay, so you've decided to launch fully localized, multilingual versions of your company's website – that's great news. And you've even painstakingly researched all the correct keywords to properly optimize each website for its target audience – even better.
The key thing to remember with any website is that it should be regularly updated with fresh content and, ultimately, it should be current. So the last thing you want is the top item in your 'news section' to be a story about some event that happened twelve months ago.
If you're going to have news and blog sections on your website, then you have to ensure they're updated – not only does Google like fresh content, but it will give a much better impression of your company, as one that's in the loop and up-to-date.
Indeed, the last thing you want is to simply Google Translate news from your English website that a) won't be relevant to your international audiences, and b) is translated poorly by a machine that knows no better.
This, of course, raises the issue of how you update content when you have multiple platforms covering a number of languages. And there's no getting around the fact that for each language-version of your website, you should ideally have at least one-employee native to that language who can check everything's properly localized and who can take responsibility for updating the local site. But it can be easy to overlook this in some markets.
Language Differences
India
As one of the so-called BRIC countries alongside Brazil, Russia and China, India offers fantastic opportunities for companies looking to go global. And crucially, given that English is widely spoken in India (it's one of the official languages alongside Hindi), you can network and build relationships easier than, say, in China or Russia.
But this shouldn't hide the fact that India has an astounding 1652 languages, 350 of which are spoken by over ten thousand people. Moreover, thirty Indian vernaculars are spoken by at least a million people.
And then there is also what's known as 'Hinglish' – a sort of 'halfway' language between 'Hindi' and 'English' – which is on the rise across the country, slowly spreading into rural and remote areas via television and digital mediums.
So whilst it may be easier to have a single English website for Indian audiences, you may find that your results are better if you launch sites in Hindi, Urdu, Bengali, Marathi, Tamil or Telugu. You need to compartmentalize your audience by offering fully localized websites, so if you know your particular product or service will be of particular interest to a certain region, then you need to localize your website text for that region's vernacular and talk to them in a language they understand.
Europe
Even if we look at Europe, Switzerland, for example, has three main languages – French, German and Italian, whilst Romansh is an official language too, spoken by over thirty thousand Swiss people.
Again, there may be a temptation to use standard French or German for Swiss markets, but this can backfire, as there are a number of very distinct French and German dialects.
Here are a few examples of how the French varies between France and Switzerland/Belgium.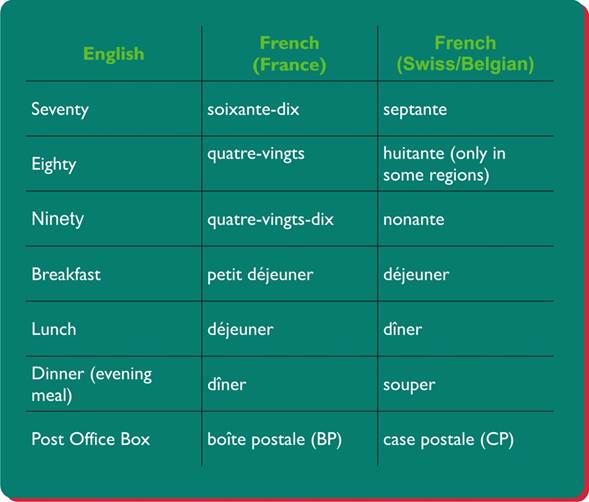 Furthermore, in French-speaking Canada, they tend to use literal translations of English terms for many phrases, such as fin de semaine for 'weekend' (literally, 'end of the week'), whereas France use le weekend instead, importing the term directly from English.
Brand names
If you're launching a new product, or trying to sell an existing product, to international markets, your brand name is also important.
For example, whilst US consumers tend to prefer grand sounding names for products (e.g. cars: 'Mustang', 'Eagle' and 'Dragon'), Asian markets tend to prefer alphanumeric codes, that sound more technologically stylish. Kia Motors' Forte, for example, is known as the 'K3' in Asia, and the Optima is known as the 'K5'.
And Canon too has realized the power of localizing its language – the Canon EOS 400D in Japan/Europe was rebranded as the Digital Rebel XTi in the US.
Furthermore, Rolls Royce's local research paid off in the 1960s – it changed its 'Silver Mist' model to 'Silver Shadow', after realizing that 'Mist' is the German word for manure: Germany was a key market for its classy brand of car.
SEO and Language
So even the best international SEO initiatives can come unstuck if businesses don't pay enough attention to localizing its language for their key target markets. If a surfer finds a company online only to then discover a whole host of linguistic lapses and cultural faux-pas, then all that good groundwork will be for nothing.