This post was sponsored by Conductor. The opinions expressed in this article are the sponsor's own.
What separates good from great organic marketing?
From our experience working with thousands of customers across dozens of industries, the answer is: an agile and highly cross-functional team.
Your organic marketing team includes everyone that touches your website. It isn't just your SEO team, but also content, web, and stakeholders across the organization.
How you bring those different functions together is what determines your success. It's about seamlessly aligning all of your teams so they can get more done – faster.
What Is Organic Marketing Maturity?
At Conductor, we believe Organic Marketing Maturity is driven by the successful integration of your people, processes, tools and metrics.
The more you invest in each of these areas, the more mature your organic marketing program becomes.
People: Everyone who touches your website has a hand in SEO. Most commonly, these are your SEO, content, and web teams that work together to create and execute organic marketing strategy, along with the support of other stakeholders and departments within your organization.
Processes: The workflows and practices your organic marketing teams use to work together toward common goals that drive SEO and content activities at enterprise scale, and with seamless agility.
Tools: Tech is the cornerstone of advancing your organic marketing maturity. Having the right organic marketing platform used across your SEO, content and web teams to share data insights, measure performance, and continuously optimize is critical.
Metrics: The KPIs, analytics and data that you track, measure, and report to determine your impact and drive your strategy. Organizations that can demonstrate ROI and socialize success with stakeholders are more mature.
Success in these areas makes the difference between a good team and a great organization and what separates flat-growth from high-growth companies.
Advancing organic marketing maturity is critical for an organization to engage its audience online with the right content at the right time, which ultimately impacts its position in the market.
It's about investing in your in-house organic marketing capabilities to create a reliable foundation for success, rather than inefficient reliance on third parties.
Organic Marketing Maturity: Where Do You Stand?
Wondering where you stand when it comes to your organic marketing maturity?
Take the Organic Marketing Maturity Quiz to understand what stage your organization finds itself in today, what that means, and what concrete steps you can take to get to the next level.
You'll get a personalized assessment full of specific insights, including:
A breakdown of your current challenges.
Opportunities for improvement.
Informed recommendations on how to level up to the next stage of organic marketing maturity.
This quiz is the result of countless conversations across organizations of varying sizes, industries, and maturity levels to develop a framework for organizations to benchmark themselves and find personalized opportunities for growth.
In order to grow your organic maturity, you first must gain clarity about your organization's current status in order to identify and prioritize areas for improvement.
Much like a health check-up for your brand, you need to diagnose and prescribe solutions for healthier growth.
How Conductor Can Help Drive Your Marketing Maturity
Conductor has worked with organizations at all stages of their marketing maturity – from companies just getting started with their organic marketing channel up for the first time to those that are powering their most strategic decisions on customer intent data.
Conductor's Organic Marketing Maturity Quiz will help you identify, by five common stages, where your company stands and the insight for where to go next.
What Are the Stages of Organic Marketing Maturity?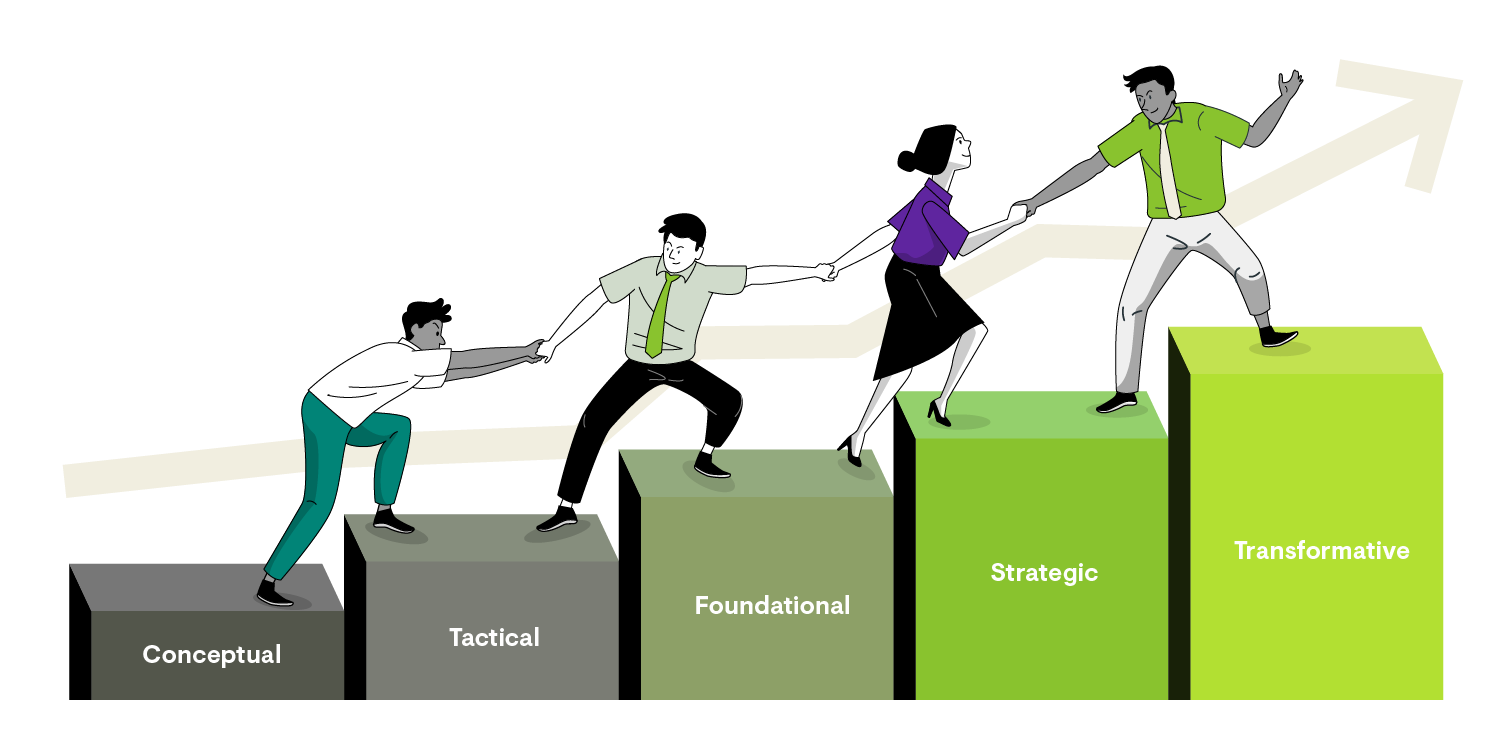 Organizations generally fall into one of the five stages below (although it is possible to find, for example, your people resources in one stage and processes in another):
Stage 1: Conceptual: Have an early vision of an organic marketing program but need more guidance and support to get started.
Stage 2: Tactical: Have started to implement organic marketing as one of several tactics on a small scale, but still need a defined path to success.
Stage 3: Foundational: Have invested in organic in the short-term and recognize its value, but have not yet committed to building an in-house foundation for success.
Stage 4: Strategic: Are fully invested in organic marketing across the organization, with a dedicated team and developed processes, but have room to further advance their infrastructure and activation of cross-functional SEO insights.
Stage 5: Transformative: Have built an organic marketing program that is a central source of truth across the organization, with highly developed processes and systems that empower them to scale their digital growth and ROI.
Take our Organic Marketing Maturity Quiz and we'll help you understand which stage you align with most closely today, and what steps you can take to get to the next level of organic marketing success.
---
Image Credits
Featured Image: Image by Conductor. Used with permission.
In-Post Image: Images by Conductor. Used with permission.