One of the most frustrating things about e-commerce SEO is competing with big brands. You know? Those retailers such as Amazon and John Lewis who stock almost everything and rank at the top of the SERPs for pretty much any commercial search term.
As a small retailer, there's no denying the impact which outranking such brands at the top of the SERPs can have upon sales (so long as you really do have the right products at the right price), however it's all too easy to give in and simply assume that it's never going to be possible to knock them off the top spots. It doesn't need to be that way.
One of the most common discussions held between SEOs and e-commerce store owners is the whole concept of the offering. Smaller stores generally offer a wider range of (high-quality) products within a specific niche, often with a far superior experience and level of service. They're experts in their field yet these brands outrank them and "steal" their sales.
It is certainly possible to rank at the top of the SERPs above these retailers, you just need to understand why they're ranking, get smart, and put a plan in place.
Big Brands Get Away with Doing SEO Differently Than the Rest of Us
It's important to know that, in many instances, big brands get away with doing SEO a little differently than the majority of e-commerce stores. Why? Because they're benefiting from extremely high domain authorities.
The likes of Amazon, eBay, John Lewis, and other brands of this caliber are also regularly featured on TV and in the press.
This means that it is easier for them to rank for even the most competitive of terms, regardless of whether all of the boxes are ticked in terms of:
An optimized title tag.
An optimized H1 tag.
A best-practice URL structure.
Optimized page content.
High-quality links pointing directly to the ranking page.
What these big brands don't have, however, is niche relevancy.
This can be proven simply by looking at the domain authority vs. relevancy of ranking sites on the SERPs.
If we run a search for [Silver Cross dolls' pushchairs] we see the top two ranking results:

Here in itself is an example of a smaller brand outranking Tesco.
If we look at domain authority (DA) from Moz's Open Site Explorer for these two URLs, we see:
PlayLikeMum.com: 22
Tesco.com: 85
Judging by DA alone, Tesco should be ranking in the first position – but they aren't!
Why? Because the ranking page is a generic dolls' pram category rather than a dedicated retailer of Silver Cross dolls' prams as PlayLikeMum.com is.
Such retailers as Tesco are stocking thousands, if not hundreds of thousands, of product ranges; from gadgets to groceries and everything in between.
They may able to rank on domain authority on many terms, however as the example above shows, this presents you, as a specialist retailer, with a real opportunity to develop a niche store which outranks the big brands every time – by building out a store which the search engines recognize as an authority.
In terms of actionable advice, however, what can you do to outrank these big brands?
1. Stop Focusing on the Wrong Keywords
As a big brand, you can get away with chasing high-volume head terms for two main reasons:
You stand a much better chance of ranking in the top spots based on domain authority.
As a known name, you'll generate a higher CTR and conversion rate than a smaller, unknown store would.
As a smaller e-commerce store though, focusing your efforts upon head-terms is a dangerous game and often leads to nothing except disappointment.
It's important to understand that, as a lower authority domain, it is going to take time to rank anywhere near the first page of the SERPs for competitive head terms, even if you build up a fantastic content-heavy site which oozes relevancy. That's just the way SEO works and there's little you can do other than continuing to develop your strategy and keep moving forward.
In many cases, you'll need at least a year to rank in top spots for competitive head terms. Even then, you'll need to allocate a lot of resources.
Focus on long-tail keywords, on the other hand, and you'll find it far easier to outrank these big brands and benefit from a higher conversion rate as well; both things which are music to the ears of smaller retailers.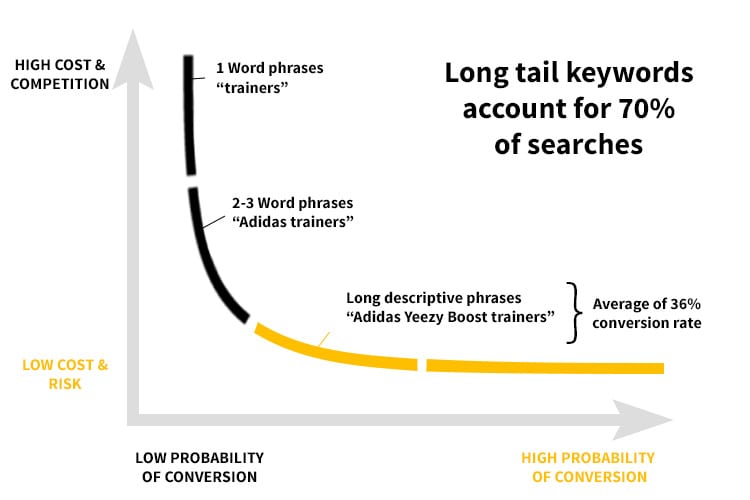 2. Stop Using Stock Product Descriptions
Using stock manufacturer product descriptions is bad practice. You certainly won't be reaping any SEO benefits by doing this.
It's here that you need to understand that it's not always physically possible for big brands to rewrite every product description to ensure that it is unique and engaging. In instances where there are hundreds of thousands of products, this would take even the largest of teams far longer than the typical lifespan that these are stocked for.
This is where, as a niche retailer, you can really gain some ground.
Don't be tempted to use the product descriptions supplied to you by manufacturers. By all means, use them as a base, but invest the time and the resources to rewrite these.
Work out how you can add value and present the content in a way which is different to others. Maybe you can include a 360-degree product view alongside images as well as buying guides, case studies, and usage videos. Think beyond just written content, while still understanding that you need it in place.
Check out this example from Argos of an iPad Pro listing:

On first look, it seems absolutely fine. Run this through Google, however, and we see:

49 results! Argos aren't the only ones using this same description.
Don't fall into this trap. It may take time and it may cost money to write unique descriptions across your product range but it's worth the investment.
If you're struggling for resources, start with your top 25 products and rewrite those. This is almost guaranteed to showcase the results to convince you to continue with the rest.
3. Turn Every Category Page into an In-Depth Guide
Your category and sub-category pages as an opportunity to educate your potential customers.
No one wants to read 50 to 100 words of waffle.
Honestly. If you're still practicing SEO like this, you're wasting your time:

Think of ways which you can add value to users through in-depth, engaging content across your core categories.
Do you have buyers guides that you could showcase from your category pages? Perhaps you could design a mini-infographic or other visuals which demonstrate the product(s)?
Think about every user intent and what those landing on the category page from the SERPs are expecting to see and deliver this. Strive to craft the very best category pages out there in your niche.
Again, it takes time and resources but when you make the investment, you'll see the return.
4. Think Outside the Box with Content Marketing Campaigns
Big brands are almost always required to pass content marketing campaigns through multiple layers of red tape and, in many cases, this leads to "innovative" concepts getting lost along the way.
Don't forget that content marketing is not advertising.

You don't need to create every content campaign solely around your products. In fact, if you do, you're most likely limiting the reach. And, if it's being produced for link building purposes, you'll lose the interest of journalists.
If you're a small retailer operating in the women's fashion niche, as an example, you'll probably struggle to generate much traction in terms of links and coverage from top-tier publications by simply pushing out style guides through your blog all day long. Why? Because journalists can easily create these themselves. Are they really going to link to you if it's as easy for them to start from scratch? Probably not!
Product review/influencer campaigns in this space should generally have the link no-followed so this isn't a viable plan to scale link building.
Think outside the box. Take the time to come up with a great concept and develop this into something which is engaging but which journalists and publishers cannot recreate quickly.
One perfect example of thinking outside the box is You vs The Kardashians. This interactive calculator lets you enter your annual salary and see how quickly each of the Kardashian-Jenner clan earn this.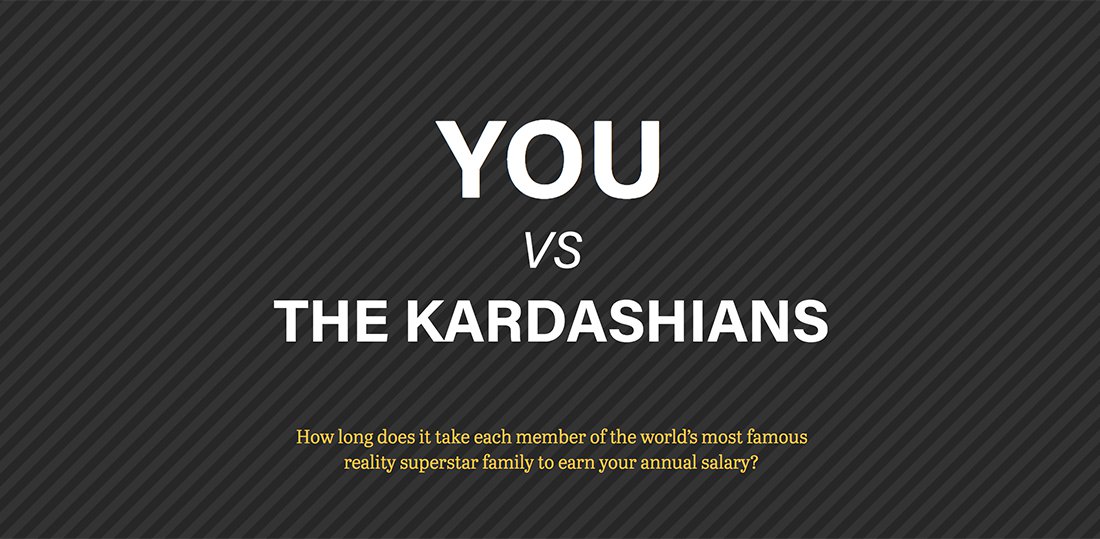 It isn't advertising, but hooks perfectly into the target market of the e-commerce store behind the campaign; one retailing clothing to millennial females.
5. Use Your Top People as Assets for Link Building
Linkable assets don't always have to be content, despite what many would say.
In fact, if you're working on a small budget, creating content can be time-consuming and costly. Some might tell you that you'll struggle to build links without creating content and while there's some truth to that, especially if you need to scale, there are other ways.
As a marketer working with a smaller retailer, there's a good chance you've got direct access to the brains of the business. Industry experts. Directors with many years experience.
These people can be your best asset and can certainly help you to earn links.
Journalists are often hard pushed for time, yet always need to back their articles with expert advice and guidance. Take the time to build up relationships with the key publishers and journalists in your niche and offer your people out for expert commentary.
In most cases, a quick phone call or email is all it takes to provide a quote and you'll typically find that a request for a link back as a thank you for the contribution is not a problem at all.
It's always best to develop these relationships directly and over a period of time, however, be sure to keep an eye on HARO and #journorequest for opportunities which you can quickly jump onto and benefit from.
Big brands struggle to be agile in this way so be ready to quote when the opportunity comes and you'll find that it's not overly difficult to be regularly cited as a source over these key players in the industry.
Conclusion
Above all else; don't lose focus. There's no denying that it takes time to knock big brands off the top spots on the SERPs, however, it's certainly possible, you just need to think outside the box a little and remember that these companies do SEO a little differently to the rest of us.
More E-Commerce SEO Resources:
---
Image Credits
Screenshots by James Brockbank. Taken October 2017.
Long Tail Keywords: Mechanised
You vs The Kardashians: Missy Empire