No one in the industry would deny the importance of performing regular site audits. Your site, clients' sites, your uncle's side business' site, they all have to be optimized and error free, or else…
But who wants to conduct those audits by hand? Ideally, you want a piece of software to do it for you and email you regularly with a list of issues you should take care of.
In search for a solution myself, I decided to compare three site audit tools. But my criteria stretched beyond that.
Site audit tools plentiful. But given the amount of different tasks I do and my budget, I decided to focus only on site auditors that are part of a larger suite of other tools and ignore dedicated crawlers.
Disclaimer: I signed up for and used demo trials of each tool. Therefore, there is a possibility that certain functionality I may highlight as lacking in a particular tool was simply blocked on trial mode.
Comparison Criteria
Here is what I looked at when comparing these programs:
Presentation of information. In other words, how scan results are presented. Are they clear to a non-SEO person (a small business owner, perhaps) or do they require prior in-depth knowledge to analyze?
Depth of analysis. How deep into the site issues does the site audit go. Does it only focus on basics, like meta tags and image alt tag or does it go deeper and analyze technical issues too?
Schedule and data export. This functionality goes without saying, but I also wanted to test the effectiveness of those tools.
For the test I used a random site: seattle-florist.com ( I am not affiliated with them in any way).
Apps compared:
Comparison Results
Clean Presentation
I won't deny presentation is crucial to me. The way the software looks and outlines the data is a big selling factor. For this comparison I considered the following criteria for presentation of information:
Immediate access to the top issues found in the audit
How it organizes the data
How it presents site issues
Explanation for each issues and how to tackle it
Here's how each tool compares:
Displays Top Issues
Raven: Yes
Raven site auditor features a summary tab showcasing issues found with the site. They are split into tabs each covering a different aspect of the site. It, however, doesn't give any audit score to indicate whether the site setup improved with each audit.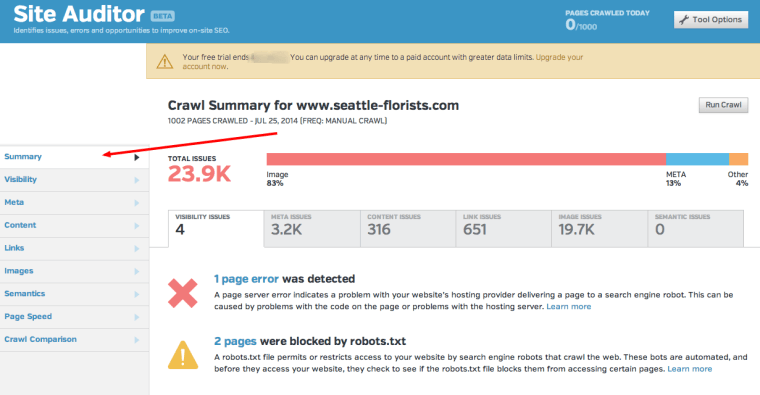 SEMRush: Yes
Similarly, SEMRush features an overview page, giving you a preview of the most recent audit.
Unlike Raven though, SEMRush features an in-depth analysis of the most recent audit, an overall score, and quick access to frequent issues detected on the site.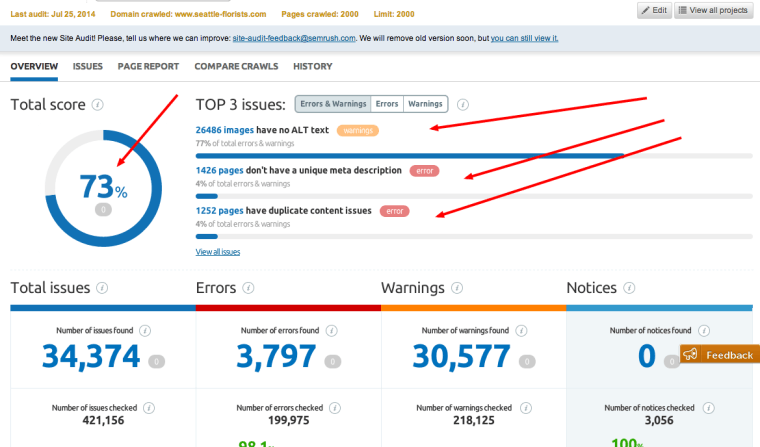 WebCEO: No
WebCEO's site audit goes straight to a list of issues found on the site and offers no overview whatsoever.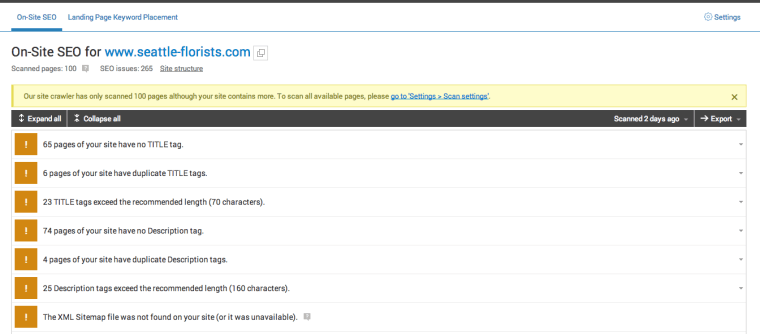 WINNER: SEMRush. However, one could say that WebCEO offers the simplest solution, taking the user to their site issues without a fluff. It wasn't what I was looking for, though.
Organization of Data
Raven organizes site issues into deep categories, covering various aspects of a site setup. There's visibility, meta-information, content, links, images, semantics, page speed, and crawl comparison.
I have found this division to be very intuitive. A less seasoned webmaster might find this organization of information less intimidating.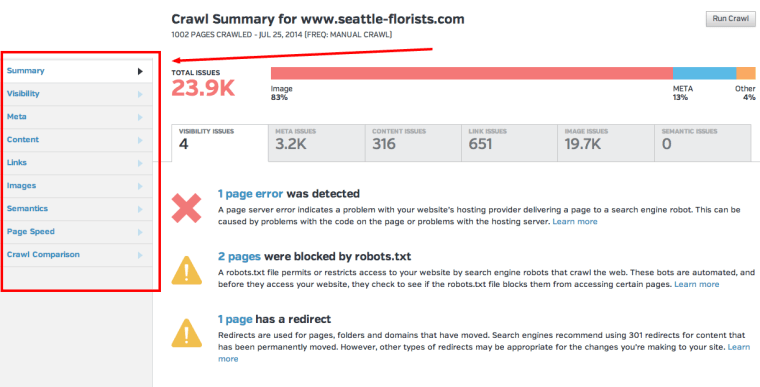 SEMRush organizes the data into three distinct categories depending on the severity of the issue: Errors, Warnings, and Notices. Errors are naturally the most severe issue that should be tackled right away. Warnings are less severe, whereas notices are issues that technically might not have negative effect on the site's performance but should be tackled anyway.
This division might be less natural for a beginner. For a seasoned webmaster, however, it offers a very quick access to problems that should be dealt with immediately regardless of their category (content, technical etc.).
Also, an important feature the tool includes is the "History" tab that shows the progress of tackling issues between audits. From what I noticed, neither of the other two tools feature a similar functionality.
WebCEO site audit only lists problems found with the site without breaking them into any categories. Having said that, the navigation on the main screen lists few categories under the site audit heading, although it includes various other elements.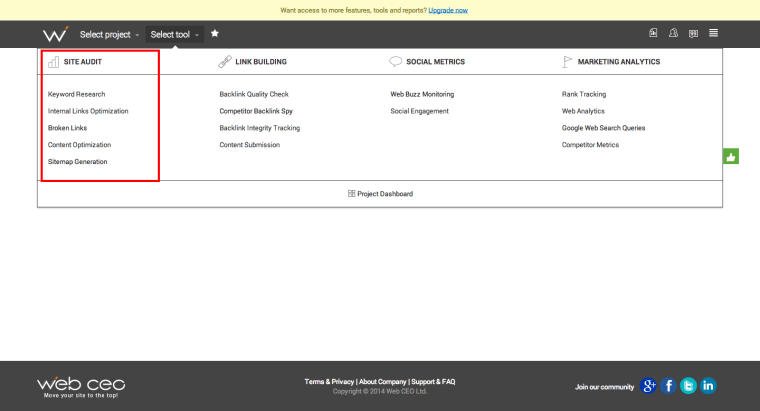 WINNER: Raven, because it's so straightforward for beginners.
Presentation of Issues
All three tools work in a similar way when it comes to the presentation of individual issues found within the site. There are some subtle differences though.
Raven outputs all data in a handy table, giving an overview of each page in relation to category currently viewed. It also allows filtering actual issues.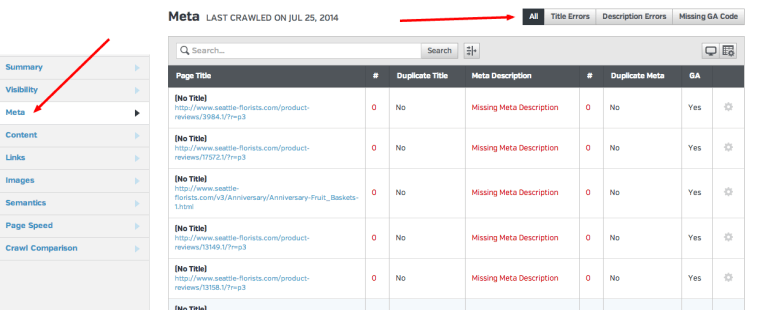 SEMRush also outputs a table featuring slightly less information than Raven. Overall, it presents information in a clearer way, and does a good job communicating that these pages are in fact the ones with a particular issue on them. It took me few seconds to register the same fact with Raven.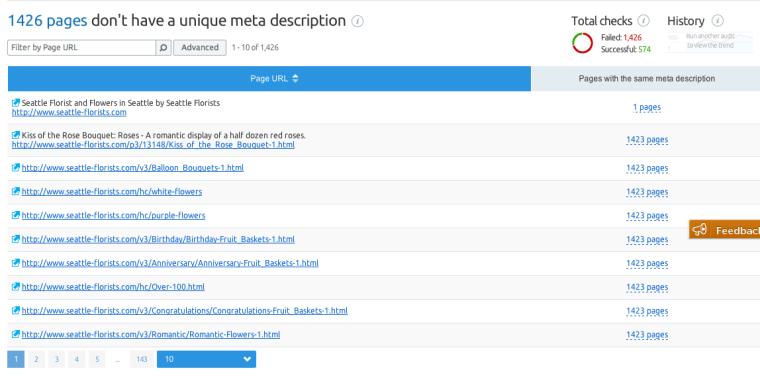 Similarly, WebCEO outputs a list of URLs with a particular issue on them.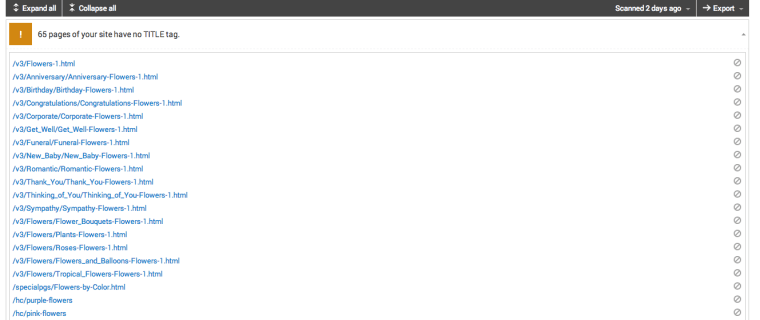 Leaving aesthetics aside, all three systems do a good job in communicating which pages contain a particular issue.
Instruction to Tackle a Specific Issue
Raven: Does not provide an instruction on how to tackle a specific issue, although it offers a description of every problem in overview.
SEMRush: Instructions are provided in a small pop up box with a short description of the issue.
WebCEO: No instructions given.
WINNER: SEMRush.
Depth of Analysis
All site audit tools will cover certain aspects of the sites set up such as meta tags, image optimization, duplicate content, and few other issues. But what about less common ones such as technical set up, site speed, and marketing factors? I decided to check that, too.
Raven: Deep
Raven offers quite a deep analysis of the site, from its visibility to basic content optimization factors (word count and duplicate content) to links, both external and internal (broken links, follow vs. nofollow), as well as page speed. However, it doesn't offer any analysis of the domain, server, location, keywords consistency, etc.
SEMRush: Deep
Similarly, SEMRush goes deep into the site to analyze its issues. Apart from the obvious, it also checks for any DNS and server issues, redirect issues, language declarations, text vs. HTML ratio, frames, page speed, URL structure, and many others. But it doesn't included any in-depth domain and server information, either.
WebCEO: Medium
Since WebCEO outputs only the results of an audit and doesn't seem to allow seeing all factors it checks, it's hard to say how deep into the site it goes. From the results of the test, the depth was medium but since I have no access to the entire checklist, I can't confirm.
WINNER: A tie between SEMRush and Raven. SEMrush may provide an in-depth analysis more than Raven, but the latter provides higher limit of pages it can crawl.
Data Export
Raven allows compiling reports from every tool in the suite. The process might be a little cumbersome (i.e. no direct export of site audit data as far as I could see, and you have to go through the entire process to run a report) but the results are more than satisfactory.
Raven allows constructing complex reports, adding intro pages, etc. As a result, their reports make you look more professional.
SEMRush allows to output reports only in either Excel or CSV file format. Unlike Raven, you can export the site audit result directly from the tool. The data however was a bit disappointing, including only the statistics.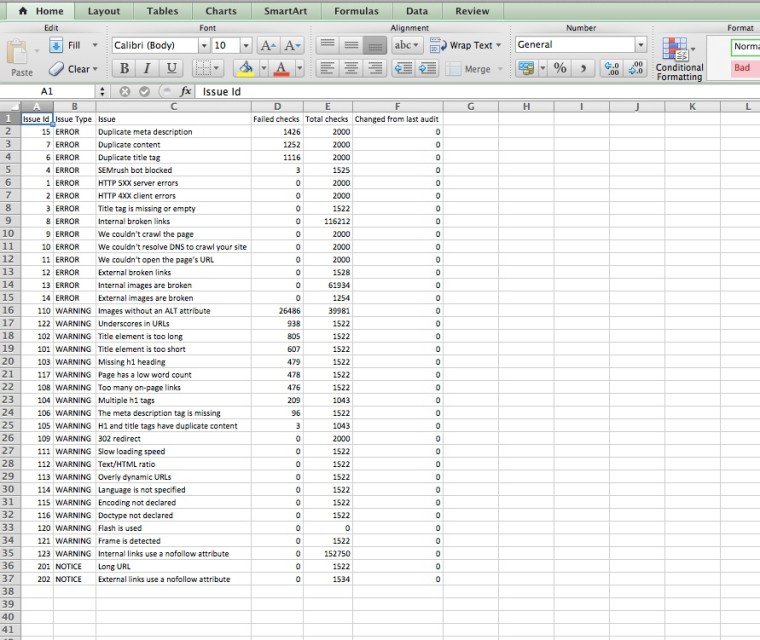 WebCEO allows to output PDF reports which pretty much emulate the look of their tool but I really enjoyed the ease in which a report was created. One click and I had a multipage report at hand.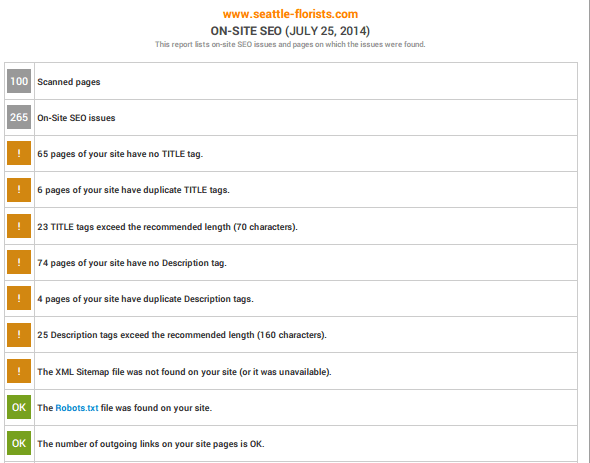 WINNER: Raven for the professionalism of reports. WebCEO for the simplicity and straight to PDF export.
Editor's Note: Want to know what site audit tool we love here at SEJ? Check out this SEJ Marketing Think Tank webinar recap with Loren Baker, Kelsey Jones, Matt Southern, and Slobodan Manic; or watch the video below.
Conclusion
During this research, two tools stood out for me: SEMRush and Raven. My personal preference went towards SEMRush, mainly because I am not a beginner and I am happy with a bit more advanced interface and more advanced features.
Have you had any experience with these tools? Or is there another tool you prefer? Please share your experiences in the comments below!
Image Credits
Featured Image: Tsyhun via Shutterstock
All screenshots taken August 2014