Holiday shopping season has begun!
We're now just days out from Black Friday 2013 and Product Listing Ads (PLA's) are a keystone in many eCommerce advertisers' holiday campaigns. With that in mind, the worst thing that could happen when you're knee deep into holiday traffic volumes is to have PLA's come down due to mistakes made in the set up and optimization process. Especially if you're a smaller advertiser that doesn't have direct access to a Google vertical team or an agency team, discontinued products and feeds could ruin your life!
Here's a comprehensive list of common mistakes I see and solutions to help you get your PLA campaigns in shape for holiday season!
Feed Refresh Frequency
Mistake: Feeds upload every 30 days.
Solution: Fresh feeds reflect updated information and in the world of eCommerce, things change frequently. Information like stock status, pricing, and new and discontinued products are important feed parameters that must be correct to ensure products are displaying. Set feeds to upload on a daily basis to ensure Google has the most up-to-date information at all times.
Campaign Granularity
Mistake: Campaign structure includes all product targets in one ad group in one campaign in Adwords.
Solution: Utilize the Auto-Targets to experiment with various ways to target your ads for optimization. I prefer targeting each product SKU separately at the ad group level.
Now, before you have a heart attack in terms of the amount of work this can add up to if you have thousands and thousands of products, just start with your top 50-100 revenue producing products. This is as granular as we can go and as seasoned AdWords advertisers know, granularity = success in this channel. The same goes for PLA's as they are susceptible to the same quality score metrics all other AdWords components are. This level of granularity allows for ad serving control using negative keywords.
Sparse Feeds
Mistake: Submitting the bare minimum required fields in the product feed.
Solution: Flesh out and use as many "recommended" fields as possible. If you have the information to fill the field, fill it! The more information search engines have to surface your products in response to relevant queries, the more visibility you will have. This channel is getting extremely competitive and if your competitors are not filling out their feeds you will have an advantage.
Blocked Ads Bots
Mistake: Blocking out the google ads bot on product pages due to high privacy settings, missing robots.txt files, and other blocks.
Solution: Make sure your pages are crawl-able. If the Google ads bot can't see or read your pages, your entire PLA set up in in jeopardy. This is often a reason for a global product disapproval, so if your products are all of a sudden down completely in your Google Merchant Center account, look into this.
Conversion Optimizer
Mistake: Turning on Conversion Optimizer.
Solution: Turn Conversion Optimizer off. This tool is not compatible with PLA's, even though the AdWords interface will tell you that it is in the form of an alert. If you turn this feature on, you're PLA's will stop impressing completely. Don't make the same mistake my intern made.

In-Stock Field Management
Mistake: Failure to manage the stock status field and using the default "In Stock".
Solution: Stop paying for out of stock item clicks, you will be surprised at how much this can increase your CPA. Consider taking the time necessary to work with your development and inventory resources to find a way to manage this field.
Page Load Time
Mistake: Failure to optimize or correct poor page load time.
Solution: Speed up your site! Look into page-caching options, CDNs, upgraded server hardware, etc. Pages that are slow to load may be suppressed in Google shopping results.
Keyword Rich Product Titles
Mistake: Failure to optimize product titles for keyword inclusion and word order.
Solution: Analyze which keywords are most important, searchable, recognizable, distinguishable, and revamp product titles. I recommend the following word order: (1) Important Specific KW (2) General Category KW (3) Product Name (4) Manufacturer (5) SKU.
For Example: 2-Door Stainless Steel Refrigerator – GE 97856 and if you have a recognizable brand, Nike Freeform Crossfit Running Shoes – NK546
Product Title Length
Mistake: Product titles longer than 70 characters.
Solution: To ensure your product titles display completely in the Google shopping results, make sure you cut them down to less than 70 characters if possible while including keywords in an optimized order.
Mismatched Pricing Information
Mistake: Using a lower price in the product feed vs. the actual price on the product page or other misleading information to capture attention.
Solution: All information in the product feed must match the information on the product page. If there is a mismatch, products will be disapproved.
Note: Manufacturer pricing is a current pain point in PLA's. There is not yet a good solution for advertisers that have a base price that builds with ad on features.
Promotional Ad Copy
Mistake: Failure to utilize promotional ad copy.
Solution: Although this copy does not show in the abbreviated Google shopping results included in Google.com SERPS, it can be a differentiator when users click through to the full Google shopping results pages. Use it!
Additional Goodies
Mistake: Failure to build store reviews or opt into Google Trusted Stores.
Solution: Build your review base and get into the Trusted Stores program. Not only are these votes of confidence from actual customers and Google, they add spice to your PLA's. With so many advertisers showing for the same product query, the seller rating extensions (the yellow stars) and the Trusted Store badge are a great way to get a leg up over the competition!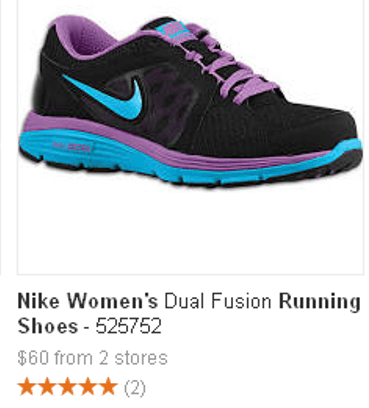 These mistakes can really hurt your campaign performance, not to mention cause you serious frustrations. So take care of them ahead of holiday this year! Also, bookmark this post for troubleshooting later when you're tearing your hair out trying to figure out why your feed is down.
If I missed anything you've already had to fix in your PLA set up, let me know if the comments!