The email starts off with "This is an extortion email" and goes on to say if you do not pay a certain amount of money, the sender will hit your website with tactics they call negative SEO.
Now what?
Yes, negative SEO exists and can impact your site's performance on Google. Scraped content from your website, spammy links, and unnatural anchor text are all evidence that your site might have been a victim of negative SEO. While it is difficult to avoid an attack, especially for larger sites, it is not impossible to stay protected.
What Exactly is Negative SEO?
Negative SEO is when someone uses unethical, black hat techniques to harm a website's rankings in the search results. Basically, they do everything Google says not to do in order to make it look you are violating Google policies. Although negative SEO can take different forms, here are some common ways your site can be attacked:
Building bad links to your site using unrelated keywords
Hacking your website to add malicious code
Creating fake social profiles of your company
Why Can Negative SEO be Risky?
Google can't always tell the difference between a site being hit with negative SEO and an actual spammer, which is why you should always keep an eye on your websites links and traffic. Start-ups or new websites are generally not a target (but they can be); it is usually bigger websites that become the prey.
Google has started to address this issue and is now providing solutions through the Google Webmaster Tools and the Disavow tool. This is another reason why people tend to avoid taking a risk.
There's either good SEO or bad SEO. Negative SEO is an intentional act of spamming a website or over-optimizing it to lower its rankings in SERPs or get it penalized by Google (in worst-case scenarios).
Types of Negative SEO
Unfortunately, negative SEO works incredibly well and has the potential to harm your site in many different ways. Let's dig deeper into the world of negative SEO before you get hit by Google's ban hammer.
Here are the types of negative SEO your business can encounter:
Bad Links
Your competitor can build bad links to your website by paying off a few dollars to adult sites, gambling sites, or a banned website. Creating a link farm is the easiest way to get you hit with a Google penalty. This is done by creating a group of websites that hyperlink to each other to increase the number of incoming links.
If a competitor does this aggressively enough, Google may ban your site. Some aggressive negative SEOs will only target to take down a specific page on the website by building low-quality links to a subpage.
Unnatural Anchor Text
Unnatural anchor text is a link using anchor text that is not related to the page on which it exists or is linked to. It is a common negative SEO technique that can harm your ranking and get you penalized. Thus, it is vital to ensure all the anchor text linking to your website uses relevant keywords.
Domain Redirects
A 301 redirect passes 90-99 percent of the link juice or ranking power to the redirected page. When used for negative SEO, the competitor can:
301 redirect unrelated/banned domains to your site
301 redirect gambling/SEO/pharma/adult domains to your site
Virus and Malware
Implantation of malware can result in site intrusion. If a malicious code is entered into the HTML source code of your website by a hacker, Google could quickly de-list your site. You would probably find out the code was inserted after receiving an alert email in your Webmaster Tools account or if somebody saw a notice on Google upon searching for your website.
A virus or Trojan Horse can lower a website's trust rating. As a result, your website is likely to be reported as unreliable. WordPress hacks and SQL Injection are two common tactics used in negative SEO. Moreover, your site can also be infected with a display message like "This site may harm your computer".
Playing Profile Games
A number of black hatters are engaged in creating fake profiles to adversely impact their competitor's business. Running blog spammers with competitor's link or spamming people with competitor's domain name mentioned are two common types of negative SEO.
Maximizing Problems
Yet other tactics that can be used to attack your website with negative SEO including:
Linking the website to pages that do not exist
Creating multiple duplicate content (which will get Google's immediate attention)
How Can You Find Out if your Website is a Victim of Negative SEO?
Finding out whether or not your site has been affected by negative SEO can be difficult. Here are some tips to spot any negative SEO attacks on your site:
Sudden Fall in Search Traffic
If you haven't gone against the Google Webmaster guidelines but there's a massive drop in search traffic, you might be a victim of negative SEO. This is why it is important to pay attention to traffic coming to your website. This can be done by using a variety of tools like Google Analytics, Google Webmaster Tools, Searchmetrics, SEMrush, etc.
Google Analytics
Go to Google Analytics and open your website
Click on Acquisition on left side bar
Click All Traffic to see whether there has been any decrease in traffic
Google Webmaster Tools
Login to your Google Webmaster Tools account.
Click on Open Campaign
Click Search Traffic
Click Search Queries
You will get a graph reflecting your website's traffic. Go through this data to find out if traffic to your website has fallen recently.
For a quick review, try these tools:
Searchmetrics
Go to Searchmetrics' Essentials page
Look for the Start your analysis now button on the right side and enter your website URL
The dashboard will show you a graph of your website's SEO visibility and paid visibility and the traffic coming to your website.
SEMrush
Go to SEMrush
Type in your website URL
Different graphs and charts on the dashboard will show the changes in traffic and an overview of the website.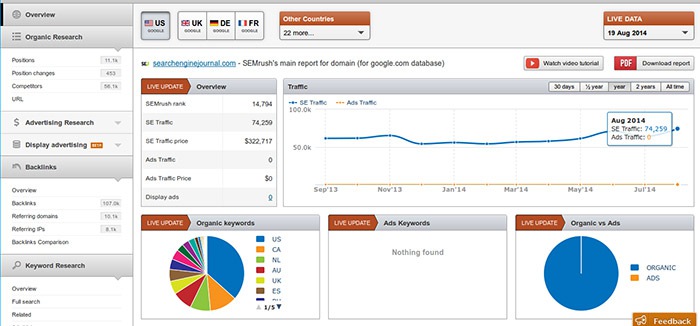 Screenshot taken on 08/19/2014 of http://www.semrush.com/info/www.searchenginejournal.com?db=us
Conduct a Backlink Audit
Spammers can build low quality links to your site. Conducting a backlink audit is the most important step you can take to see if your website is a victim of negative SEO. Use tools like Google Webmaster Tools, Ahrefs, and Open Site Explorer to see if someone is building spammy links to your site.
Google Webmaster Tools
You can use Google Webmaster Tools to download your site's latest links.
Go to Google Webmaster Tools
Click on Search Traffic>Links to your Site
This will give you an overview of all your inbound links.
Click on "More" under "Who links the most" for a list of all domains linking to your site.
Under "How your data is linked" section, you can find pages that are linked to most often within your website.
Export both of these reports to check for low quality websites linking to your site and anchor text that is too long.
Ahrefs
Go to Ahrefs.com and enter your full domain into the search bar.
Click on Inbound links>Links
This will show you a report with all the link information and a lot of data to analyze.
Screenshot taken on 08/19/2014 of https://ahrefs.com/site-explorer/backlinks/external/subdomains/all/all/1/ahrefs_rank_desc?target=www.searchenginejournal.com
Look out for links that appear on a domain not indexed by Google, websites with malware warnings, link farms, or links from a page with zero Google PageRank.
Majestic SEO
This is another great tool for backlink profile analysis. On the homepage of Majestic SEO, type your site name into the search bar and make sure to check Use Fresh Index.
Click on the Backlinks tab
Scroll to the bottom and click Download Data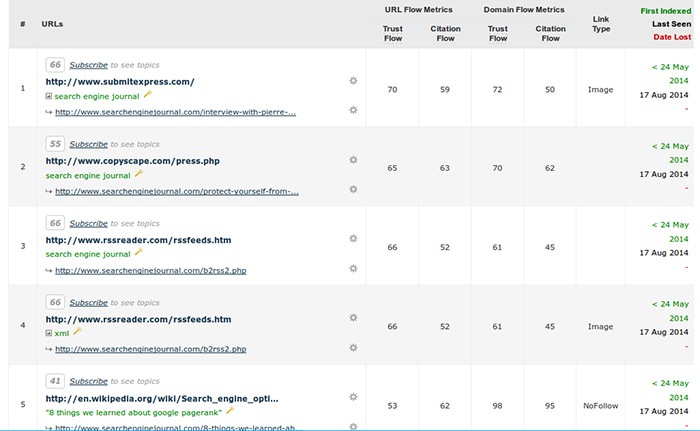 Screenshot taken on 08/19/2014 of http://www.majesticseo.com/reports/site-explorer/top-backlinks?removeDeleted=1&q=www.searchenginejournal.com&oq=www.searchenginejournal.com&IndexDataSource=F
This will give you a list of your top backlinks with URL flow metrics, domain flow metrics, and link type.
Open Site Explorer
Enter the URL of your website in the search bar. Click on Inbound links. The link data will include the title and URL of your linking page, link anchor text, link URL, as well as page and domain authority.
Check for Unnatural IPs
If your site and target markets are located entirely in a particular country, foreign IPs or TLDs should not be pointing to your site. Check for these foreign IPs and pay attention if there are multiple links from the same IP irrespective of the domain.
SEMrush can be used to check IPs. This can be done by:
Enter the domain of your website on the homepage
Click Backlinks on the left pane
Select Referring IPs from the drop down
Screenshot taken on 08/19/2014 of http://www.semrush.com/info/searchenginejournal.com+%28backlinks_refips%29
Check for Duplicate Content
Also check for duplicate copies of your content across the web. Copyscape is a great tool you can use to check for duplicity of your content. All you have to do is enter your site's URL and the tool will scan the content to see if it has been copied elsewhere on the web.
How to Combat Negative SEO
If you were too late to take preventive measures against negative SEO and it has already caused a severe harm, it's time to run a full-fledged rescue operation!
Data Organization: Organize all the link data you have collected from Google Webmaster Tools, Ahrefs, Majestic SEO, and Open Site Explorer then copy/paste the data from each link source into relevant sheets. Make sure you remove the duplicates from the sheet by going to the Data tab and selecting "Remove Duplicates", so you have only one URL link.
Identifying Bad Links: When there's a relatively huge list of backlinks, it gets time-consuming to go through each one of them for the bad links identification purpose. Use tools like URL Profiler, CognitiveSEO, and Backlinks Monitor, to identify bad links and unnatural anchor text.
Disavow the Bad Links: After you have identified and made the list of the links to be removed, submit the data into the Disavow Tool. The Disavow Tool will label a link with a tag so that Google algorithm does not credit it to your site in a positive or negative way, but keep in mind there are mixed reports on the efficacy of the tool.
You can use the Disavow tool to disavow individual links or the whole domain. I recommend using the tool as the last resort. Here's a complete guide on Identifying Bad Links and Pruning Them Using Google's Disavow Tool.
Contact the Webmasters: The key point to understand is that disavowing a link won't help you come out clean. You need to contact the domain webmasters and ask them to remove these links. Getting the contact details of all these bad links might take you several days. This is where tools such as URL Profiler and Rmoov come handy:
URL Profiler
Once you have made the csv of the backlinks, URL profiler will help you in getting the contact information of the webmasters. Upload the csv into the tool and click on:
Email addresses
Whois Emails
Whois Information
The tool will take some time to fetch contact details for you.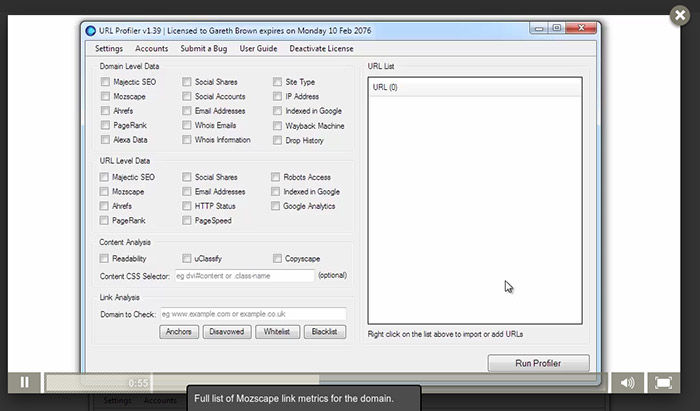 Screenshot taken on 08/19/2014 for http://urlprofiler.com/
You can try the tool free for 30 days before going for the paid version.
Rmoov
Rmoov is one of the best tools to help find webmasters' contact information quickly. In addition to providing contact details, the tool can also send automated link removal requests to webmasters on your behalf. The email can be customized and SMTP password can be shared to send bulk link removal emails on your behalf
You can try the Basic version of the tool, which is available for free, to check the effectiveness of the tool. However, there are limitations on number of campaigns and URLs processed. The basic version allows you to search only 250 URLs. Register for the paid version for more URLs.
Some webmasters might immediately remove the links, if you are lucky, while others may try to charge you money. If they are trying to charge you to remove the links, simply mark down the site and attach the correspondence details to the reconsideration request you will be sending to Google.
How to Prevent Negative SEO
Prevention is always better than cure. Here are several measures you can take to prevent negative SEO.
Set up Google Webmaster Tools Email Alert
This should be your very first step to combat negative SEO. By setting up the alerts, you will receive an email from Google if:
Your website is attacked by malware
There's a server connectivity problem
You have received a manual penalty from Google
All you have to do is log in to your account and click on "Webmaster Tools Preferences". Choose to receive alerts for all the issues by enabling email notifications.
Google Alerts
Google Alerts will help you keep an eye on what others are saying about your website. You will be notified immediately of any review or mention of your website on Google.
Enter the URL of your website
Click on Show Options to set filters
Choose All Results from the drop down on How Many
Enter your email to create alert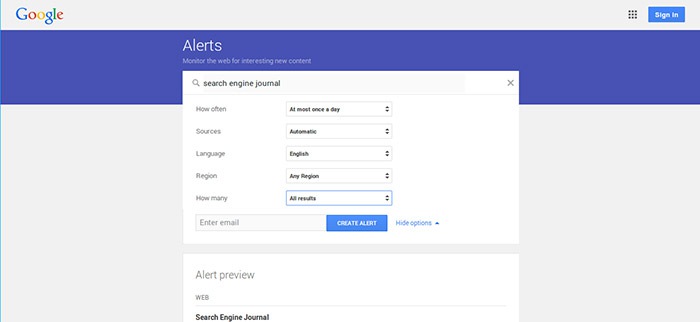 Screenshot taken on 08/19/2014 of https://www.google.com/alerts#1:0
Keep Track of your Social Media Mentions
Spammers might also adopt techniques like creating fake social media profiles of your account. Report them immediately as spam.
You can use Mention.net to find out if someone is using your brand name on social media. Whenever someone mentions your company's name on social media, you will be notified.
Conclusion
If you receive an email threatening harm to your site with negative SEO tactics if you do not pay up, it is important to stay calm and report the email to Google. Extortion emails are cropping in the industry a lot lately, so make sure you take measures to stay safe.
You should also ensure your site is verified in Google Webmaster Tools and check your links regularly in the above mentioned tools. If you suspect your site has been targeted by negative SEO, follow the steps mentioned above. Negative SEO is a serious issue and should be handled carefully. Just stay a little extra vigilant and make sure you stay protected.
Featured Image: vetkit via Shutterstock