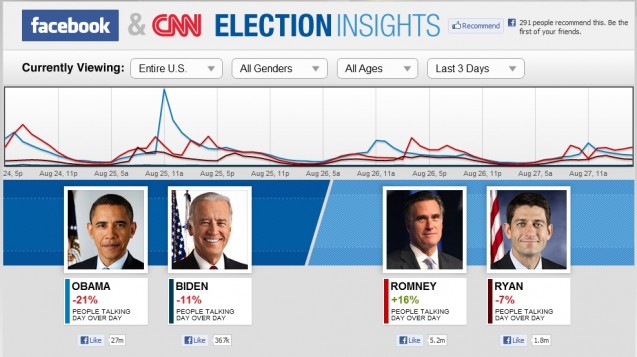 In early July, CNN and Facebook announced a new election year partnership that would provide voters and political junkies with metrics based on real-time conversations about the presidential candidates. Yesterday morning, the Election Insights webpage was launched and began displaying real-time data. The political social-monitoring tool, which competes directly with Twitter's Political Index and Amazon's Election Heat Map, uses the social platform Mass Relevance to process and aggregate politically based content from Facebook.
The new interactive chart, which displays a wealth of information in an easily digestible format, makes it simple for users to:
View the trends and aggregated data from Facebook to better understand the quantity of people talking about the candidates
Access specific data by using state, gender, age, and time decay filters to better understand various voting demographics
"Like" the Obama, Romney, Biden, and Ryan Facebook Pages
"Like" the Election Insights or CNN Politics Page
Use the Facebook Comments plug-in to join the CNN Insights discussion
KC Estenson, the senior vice president for CNN Digital, indicated CNN was happy to partner with Facebook on this election-year project:
"We are excited to build on our long relationship with Facebook to transform social media conversation into real-time data. By teaming up with Facebook and Mass Relevance, we can effectively gauge the buzz surrounding this election and deliver it to CNN Digital users, literally as it's happening."
Elliot Schrage, the VP of Corporate Communications at Facebook, said the following:
"Facebook is naturally a place where friends engage in political discourse, and we're pleased to announce that the Facebook-CNN Election Insights tool will offer an interactive, real-time glimpse into how and where this conversation is taking place across the country."
In addition to the providing voters online access to the webpage, CNN will be using the data for on-air broadcasts.
Sources Include: CNN Insights, CNN Pressroom, and Mass Relevance