Editor Note: SEJ was provided with a press pass in exchange for conference coverage.
Today was the first full day of Content Marketing Institute's Content Marketing World 2015. This was my first time attending and I had heard great things – I wasn't disappointed.
Before I recap my favorite sessions of the day, I want to talk about the food. It doesn't take much for a conference to offer adequate food. Fresh fruit and pastries for breakfast, a decent sandwich for lunch, a few tasty hors d'oeuvres during networking time, and I am good to go.
CMWorld far surpasses decent – the food was downright awesome. Besides being really tasty, they offered a great selection for vegetarians and gluten free folks. It started at last night's networking event with potato pancakes, grilled vegetables, chicken empanadas, quinoa salad, and a full dessert bar. It continued today with egg and cheese sandwiches on mini-pretzel rolls and broccoli and cheddar frittata. Lunch was a turkey sandwhich, Amy's granola bar, a pear, bottle of water, and chips. In the afternoon, there was an all-orange candy bar.
I am actually looking forward to seeing what will be on the menu tomorrow. At a conference.
Besides the fantastic food, there was some awesome content on the menu, too. Here are the highlights of my favorite sessions from day one!
Opening Presentation: Joe Pulizzi, Founder of Content Marketing Institute
The opening presentation sets the stage for the rest of the conference, and Joe Pulizzi's started with a lot of energy. He discussed the progression of content marketing over the years from custom publishing to inbound marketing to content marketing as we know it today.
"Now will be the greatest successes and the greatest failures of our time. Without the struggles, there will be no progress. A lot of you are struggling…that is where the progress happens."
He also gave a teaser for their yearly content marketing research, which will be released in four weeks. I am looking forward to seeing it.
Takeaways
Joe predicts 2016 will be the year of the content brand. According to him, it is time brands start thinking more like media companies.
Kristina Halvorson: Content Versus The Customer
According to Kristina, the reason most of us struggle with content is because we don't start by asking why. She then went on to detail the content strategy planned by a marketing agency working with a major paper towel brand. The agency was excited to start; they were going to make the company the Red Bull of paper towels.
But the content was hard to produce. What can you really write about paper towels?
When she asked to brand why most people visit their website, the brand replied it was to get a coupon. Instead of doubling down on content marketing, Kristina suggested -shockingly- they just give customers the coupon. As much as we like to believe content marketing is everything, it might not always be the right strategy.
Speaking of strategy, most brands confuse strategy with their vision. According to Kristina, "Strategy is a decision to take a path, to say no." And more brands need to learn how to say no. We can't all be Disney or Red Bull.
The Takeaway
Too many brands confuse activity with achievement. Consider what content success looks like to your customers above all else. How do they want to interact with you?
Robert Rose: Content Marketing Measurement: Is ROI really what we are looking for?
ROI is kind of a big deal. It is the metric used for measuring just about any marketing campaign's effectiveness. And it makes sense – clients want to know the money they are spending makes a difference in their bottom line. They want to see numbers.
But according to Robert, we have been looking at it all wrong.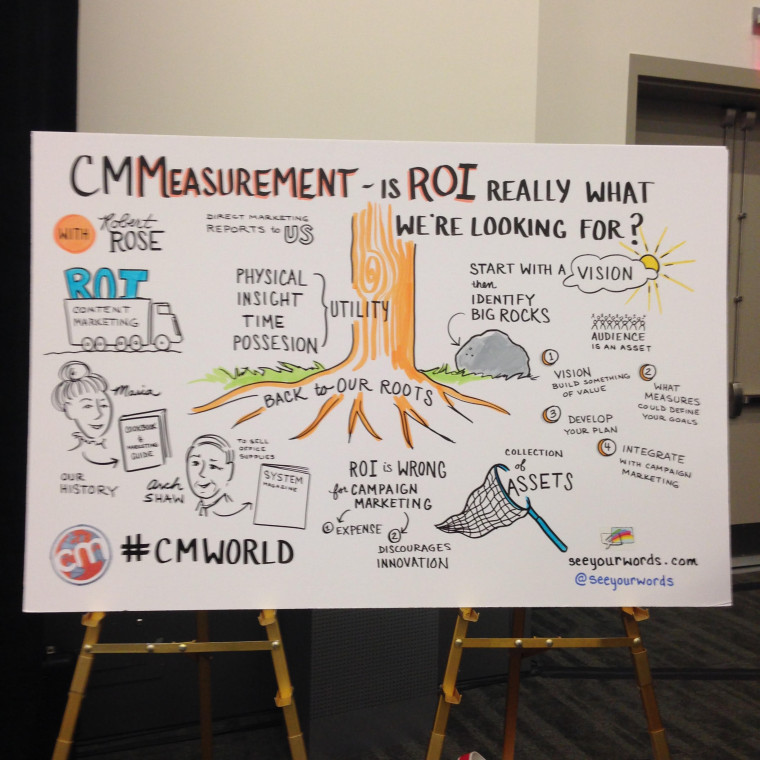 (Side note: I am in love with the details at this conference: the cartoonist drawing durring the session, the nap room, the awesome food, the orange candy station in the afternoon, and all the charging stations. It really creates an awesome atmosphere.)
According to Robert, we now have access to more data than ever before, but we often don't even know what we are measuring. Plus, looking at ROI as a percentage discourages taking risks which could have a higher reward, but also might fail.
The Takeaway
Don't just create content to create content. Instead, seek to build something brick by brick, piece of content by piece of content. To create true value, integrate all the collateral together.
Panel Session: Getting Employees Involved in Your Content Marketing Practices: Carlos Abler, Gina Czark, James Moat, and Kristie VanAuken
The panelists for this session included members from the health care field, a hospital, and an airport. Not traditional companies that you think of when you are looking for riveting social media strategies – which made the session that much more interesting.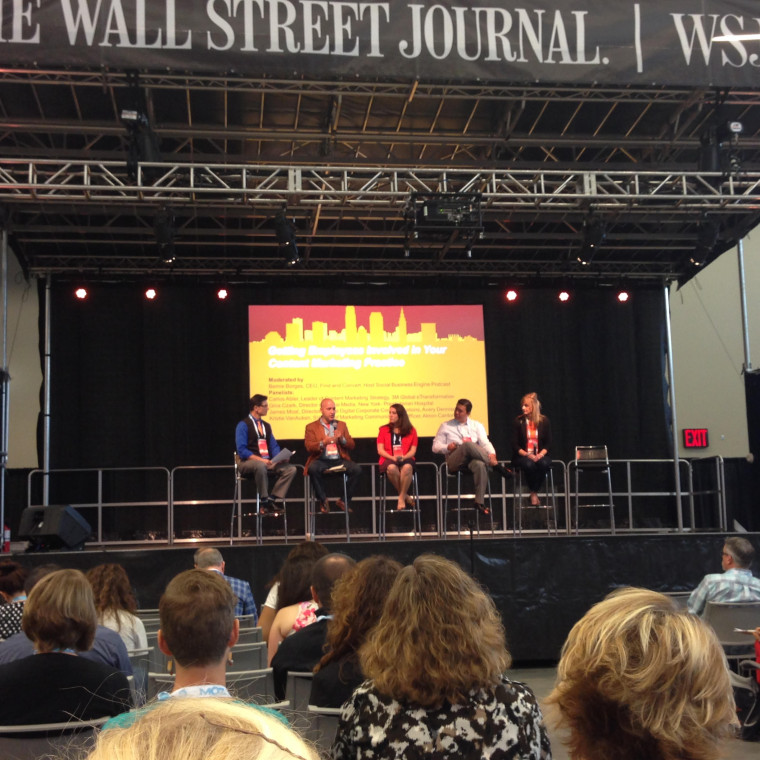 They answered a few questions from the moderator, then opened up for Q&A session with the audience. Here are a few highlights:
You have to empower employees, especially in 'boring' brands. This allows you to harness te resources you already have.
Creating brand ambassadors that are excited about your brand allows you to be in the right place at the right time.
Managing the risk of employee-generated content can be done – focus on training and communicate guidelines.
Consider a review process when liability is a major issue.
Closing Keynote: John Cleese
John freaking Cleese of Monty Python was the closing keynote, and it was everything I hoped it would be. He started out with a few jokes, which included a line about how he doesn't understand what makes a marketer content (versus discontent), and a few digs at Cleveland.
Then he started talking about creativity, which was pretty perfect.
He talked about how when he would get stuck working on a sketch he would go to bed, wake up, and be able to write the perfect ending. He realized this was because while he slept, his mind would work on the problem unconsciously.
Cleese highly recommended the book Hare Brain Tortoise Mind: How Intelligence Increases When You Think Less, which details two different types of thinking.
There is the fast, purposeful thinking versus more meditative thinking. All we are taught in school is the analytical part, not the creative thinking which takes longer. As marketers, we should be using both types of thinking, depending upon the problem we are working on.
The Takeaway
To be creative, you need to be able to play, to become absolutely absorbed. To be creative, it is vital to create boundaries of space and time for slow, tortoise thinking, which is becoming more and more difficult in the world we live in.
Take the time to just sit, to allow your mind to wander. This is when ideas will come.
If you are at #CMWorld, I want to hear from you! What was your favorite part of Day 1?
Photos taken by author.