Whether you have a hotel website, retail store page, restaurant website, auto dealer site, banking site, healthcare site or corporate site – there are key elements you can leverage to drive more organic traffic.
On October 9, I moderated a sponsored SEJ webinar presented by Mike Supple, Milestone's Senior Director of Product Management, and Elizabeth Dalrymple, Product Manager for CMS at Marriott International.
They discussed how key features in your content management system (CMS) can help maximize your website's revenue for next-generation SEO, mobile technology, voice search, and more.
Here's a recap of the webinar presentation.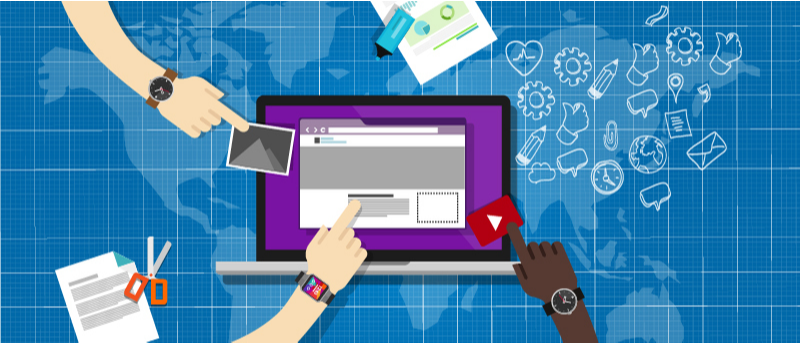 What Is a Content Management System & Why Is It Important?
A content management system (CMS) is a software for creating and managing digital content. Utilizing a CMS helps:
Enable users to control design and content of a website without having to know any programming.
Build and manage complex features at scale with limited resources.
CMS features vary across platforms so it's essential to look for one that meets your business needs and end goals.
This is especially true for large companies that are investing heavily in SEO technology. Choosing the right platform that has SEO-friendly features levels the playing field.
Here are the top 10 things to consider when you're looking at a CMS platform that can drive results for your business.
Top 10 CMS Features to Increase Traffic & Revenue
1. Built-in SEO
The prettiest site in the world can't convert if users can't find it.
SEO is a moving target as Google constantly changes the algorithm to provide the best results for users.
A CMS that changes with (and ahead of) the latest technology helps ensure your site can be visible.
These features are good to have in a CMS:
Platform Performance and Site Speed Optimization

Minimize HTTP requests
Minify JS & CSS
Optimize images
GZIP components

Crawlability Optimization

HTML validation
CSS validation
Link checker / internal links
Canonical tags
XML sitemap (images, video)

Search Optimization

Schemas markup
Optimized meta tags
Header tags (H1, H2, H3)
Alt tags for images
Social tags
2. Schemas: Voice & Visual Search Readiness
Schemas are structured data markup that enables search engines to understand the context of your website content.
Using schemas is one of the best ways to ensure that your content is visible in the SERPs and that people can find you when they're searching for things.
A large portion of results ranking in Position 0 are pulled from marked-up content.
A CMS that supports schema tags in the backend will be extremely helpful to make your site easy to find in search engines and Siri, Alexa and Google Home, among others.
3. Mobile Features
According to Google, 53% of mobile site visitors leave a page that takes longer than three seconds to load.
Look for a CMS that takes mobile page speed into consideration and can correctly optimize and display pages fast regardless of the user's device.
A platform that supports Accelerated Mobile Pages (AMP) will also be beneficial for you. AMP pages load faster leading to higher mobile visibility, conversion, and engagement.
4. Eye-Catching Designs
Make no mistake, good technology doesn't mean ignoring UX. Experiential design is key to driving conversions.
You need to ensure that you're smoothly integrating visuals, interactivity, and information on your website.
5. Event Calendar
Another opportunity that can have a positive impact across websites – especially those with a local presence – is having an events calendar.
For instance, Milestone's platform has the capability to list events on your website dynamically. It automatically pushes locally relevant events from a specified radius around your property to your website
Each event is wrapped in schemas to make them discoverable in "near me" searches. You can also add your own custom events for a full custom calendar.
6. Easy-To-Use Site Tools
While this is an obvious feature to look for, it's still worthy of mentioning.
You should be able to quickly and easily access your CMS when you need to update your content – even without programming knowledge.
Some CMS platforms even allow for:
Rapid landing page deployment for PPC campaigns.
A/B testing.
Personalization.
7. Built-In Compliance
When it comes to building your site, you need to make sure that, in addition to meeting your business needs, you are aware of all the latest consumer and legal needs. This is something that your platform can do for you.
Recently, there have been a lot of concerns in relation to regulations that are being imposed on businesses.
Depending on where you're located, your business might be required to comply to Web Content Accessibility Guidelines (WCAG) 2.1, General Data Protection Regulation (GDPR), and/or California Consumer Privacy Act (CCPA) regulations.
A CMS platform that can help you comply with all these different regulations on an ongoing basis is useful to avoid legal problems in the future.
8. Business-Focused Insights
Each platform has its own analytics dashboard that lets website owners view key metrics and insights and, more importantly, make faster decisions.
The best analytics reports are those that offer:
An integrated view of marketing.
Multi-location reports.
9. Fast Site Access: Always-On Availability
One other thing to look for in a CMS platform is a built-in content delivery network (CDN).
When you have a CDN, you have essentially cached versions of your site all over the world.
When someone tries to go to your website, it will load from the server that's closest to them. This ensures your site is always loading faster.
There a lot of other pieces from a CDN that add value to your site, including:
Security and uptime.
Speed of delivery worldwide.
Constant access.
10. Vertical-Specific Features
Think beyond the core capabilities of a CMS platform.
Aside from broad business needs, do you have vertical-specific needs? If so, will those needs be met by different features within the platform?
Many different industries all have specific things that they're looking for, such as:
Translation support.
Shopping cart abandonment.
Restaurant reservations.
Appointment request forms.
Car inventory system integration.
CRM integrations.
Ecommerce integration.
Store locator and detail pages.
Members-only sections.
The Total Cost of Ownership When Evaluating a CMS
These eight questions can help you better evaluate whether a CMS is right for your business:
What are the critical capabilities and features for your site?
Do you need a native platform or will external plugins work?
Is the platform flexible to support latest technology and change?
Is built-in functionality cheaper than a la carte?
How easily can your team update key areas of the site?
Do you have a technical support team?
Does the platform support A/B testing?
How will you generate reports showing success and opportunities?
[Case Study] How Marriott International Used a CMS to Power Its Websites
Marriott Digital Studio is composed of a small team that operates as an internal digital agency focusing on hotel-level digital activation programs.
They have partnered with Milestone to power innovative platform solutions to meet the unique marketing needs of Marriott Hotels.
Using a CMS has allowed Marriott to solve an internal business need at scale. Across their product portfolio, several key features have benefitted their team, clients, and end-users, such as:
Quick to market: A CMS has allowed them to build and launch over 630 outlet sites (including translations) in ~11 months. They also created a template within the CMS so they did not have to build sites from scratch.
Look and feel.
Self-service: A CMS allowed Marriott to create a streamlined internal workflow. Clients are also able to make basic copy, imagery and style changes as needed.
Advanced mobile features.
Schema: The CMS provides a user-friendly method for adding/editing menu items without programming.
Fixes and enhancements: Marriott's Digital Studio team is able to:

Add and test a feature on one site, and then roll it out to others without coding each one.
Make global fixes across all sites, as necessary.
Q&A
Here are just some of the attendee questions answered by Mike Supple.
Q: Is AMP dangerous? Some experts believe it's not useful? What shall I do?
Mike Supple (MS): As with any new technology, there can be advantages and drawbacks. Depending on what the goals are for your website, AMP can be more or less advantageous.
The main potential "risk" is implementing it incorrectly, thus resulting in a loss of time and resources without any benefit. Google has built an AMP validator tool which is available for free here.
Other concerns frequently raised regarding AMP are related to potential analytics tracking challenges, as well as negatively impacting the look and feel of your website.
From the analytics standpoint, you do need specific Google Analytics tags specifically to track AMP. These can be difficult to get right, resulting in missed tracking.
On the design standpoint, AMP does require programmers to use specific code. To achieve the same rich look and feel of your existing site could take some effort.
With regard to usefulness, to date, Milestone has launched tens of thousands of AMP pages across thousands of websites, and we consistently see a significant lift in search presence, mobile time on page, and site engagement.
So the key takeaway is that while AMP can be very beneficial, it can be tricky to get right, make it look great, and track successfully.
Having a platform that takes care of all of these things for you allows you to focus on the creative content piece, while doing the heavy lifting and validating behind the scenes.
Q: Google has been rolling back some review schema types. How does this affect the Milestone CMS?
MS: When Google rolls back a feature, it often means that people have been trying to game the system and rank for things in an artificial manner.
Milestone's approach to review schema has always been to ensure we are:
Only tagging first-party reviews (i.e., reviews left by consumers directly on the site and not applying schema to reviews pulled from other sources.
Including all the data for the review that would make it relevant and useful to other potential consumers.
Because of this, Google's updated guidelines did not require us to change how we have implemented review schema.
Q: How do you strike a balance between UI-UX innovative features and the need for ADA compliance?
MS: The key to creating a rich and innovative website while maintaining ADA conformance comes down to having a deeper understanding of the WCAG 2.1 documentation, as well as the actual real-world use cases of your users.
Milestone has partnered with WebAIM on several levels from direct in-person training with our design and programming teams to implementation of and ADA conformance testing API system built directly into the CMS platform.
As with all design decisions, there are always multiple approaches to achieve an end result, so building a beautiful and technologically advanced ADA confirming website just means you have to take care in the approach, just like you would with implementing any new technology.
Q: What approach of schema markup would be recommended if you don't want to get your development team involved in placing code?
MS: Google recommends using JSON-LD for structured data. If you don't want to involve your tech team, and also aren't looking to switch to a new CMS platform that has schema integrated, Milestone offers a schema product that requires minimal setup, and no ongoing maintenance from your own development team.
This is achieved through simply adding a few lines of code to your site, and then our platform creates, generates, publishes and maintains all the necessary schema markup, regardless of what platform you use to build or host your site.
Q: What's AMP? What's PWA?
MS: AMP is an open-source framework to build lightweight websites that load incredibly quickly. It was launched in 2015 by Google, and has since been adopted by many of the other large players in the digital space. More details can be found on the official site.
PWA stands for Progressive Web Application, and is a way to build your site to give it a more native app-like experience, without having to build and maintain a separate app.
More details on both can be found on our blog "The Future of Your Mobile Site is Progressive Web AMP (PWA + AMP)".
Q: What are your thoughts on implementing schema mark up for ecommerce in addition to product schema (we did that already – I am thinking of brand, how-to, etc.)? What else should we mark up?
MS: We recommend marking up anything that can be marked up. More specifically, asdf. The more data you have in structured form, the more Google can understand the content of your pages and the context of your business.
New schema types and elements are added regularly to the schema.org hierarchy. While Google doesn't necessarily make use of every element immediately upon introduction, John Mueller of Google recently confirmed that using more structured data "provides better machine readable context for your pages".
In terms of good opportunities today, whether you are ecommerce or any other vertical, FAQpage schema along with Question & Answer is a great way to build relevance for long-tail queries users have about your business, products, etc.
With so much of mobile and voice search being driven by consumer questions looking for one right answer, if you don't provide the content Google wants, your competitors will.
Q: Which is the best CDN?
MS: The "best" will vary based on your individual needs. Milestone works with Cloudflare, and integrates directly into our CMS platform to ensure our client websites are fast, reliable and secure.
Q: What is the recommended number of words for question-answer type?
MS: As with all content, the recommendations will vary based on the goals of your website and what your users are looking for.
If your specific goal is to have your site show for Google Answer Box results, many SEOs have published articles (like this one from SEJ) with tips and tricks to improve your odds.
But regardless of how you phrase your questions and answers, wrapping the content with the correct schema markup is a critical way to help ensure that Google can understand your content and be more likely to serve it when users make related queries.
Q: Do you mark up delivery services like Instacart?
MS: Schema.org specifically mentions using the @type Service to mark up delivery service, and the specific property of areaServed can be used to specify the geographic areas where a service is provided.
In addition, there are many other areas of content on a delivery service website that would likely benefit from structured data, including business information, products offered, customer feedback, and more.
[Video Recap] Top 10 CMS Features to Increase Traffic & Revenue from Mobile, Schemas, Voice, and Direct Answers
Watch the video recap of the webinar presentation and Q&A session.
Or check out the SlideShare below.
Join Us For Our Next Webinar!
2023 Google Algorithms & SEO's Future: Powerful Predictions For 2024
Join us as we explore the major algorithm updates, shifts in what are (and aren't) ranking factors, and other impactful SEO events from 2023. We'll also reveal our top predictions for the key SEO trends, challenges, and opportunities coming in 2024.