Machine has its own logics (based on the search behavior) and you will see that you would cluster results differently than either of the tools listed below – this is why these tools do need a second look.
Let's take a look at a quick example.
How would you cluster the meanings of the generic word [apple]?
Apple can be:
A kind of fruit we eat
A tree that grows outside
The electronics and software company (and maybe the products it produces)
Web reference sources like Reference.com and Wikipedia can be great help in this straightforward clustering.
Search query clustering is different. It is multi-level and sometimes somewhat chaotic; clusters may include various overlapping concepts – it is less organized because it is based on people's searching behavior which is usually quite spontaneous.
Google offers two great tools that should be used for generic search term clustering to get better idea of how people search and how the machine understands the term.
1. Google Wonder Wheel
Added as a separate search aid tool within the updated Google search sidebar, wonder wheel got less attention than it had been expected to. In fact, whenever I mention it in any article, there's almost always a comment "I had no idea about the tool".
Wonder Wheel does your search query visualization by providing "related" terms. In reality, if you use Wonder Wheel for some generic multi-semantic term, it will do a pretty good job for the topic clustering (instead of trying to "guess" your initial intent, it will offer you various options from different areas). The results seem to be personalized though (so you may want to sign off and / or disable personalization)
Back to our example, [apple] is clustered by Wonder Wheel into:
[apple fruit]
[apple iphone]
[apple history]
[apple rumors], etc
If you click on another generic term that can be interpreted in a different way based on the context, we get a good example of clustering again: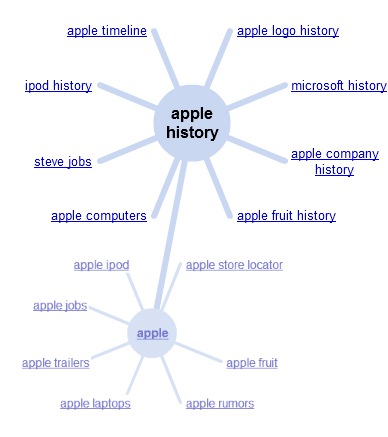 2. Google Image Swirl
Based on image search database, one of the Google labs projects Google Image Swirl is an underestimated search query clustering tool. In fact, it does a fantastic job breaking your term into subtopics.
The tool clusters your query in a great number of possible subcategories – it also seems to take into account some associations and neighboring niches. For example, for [apple] search, "Rome" made it to one of the sub-clusters:

(Yes, it can be biased towards images sometimes because, as we've seen earlier on Google Suggest example, general and image search queries can be very different)
What other search clustering tools do you happen to use? Please share your thoughts!