A new tool designed to show the author authority of content creators was recently launched by ClearVoice. The new tool is a no-cost, web-based platform that offers an index of 90,000 authenticated writer profiles, along with a numeric score valuing overall content influence.
I had the opportunity to use it, and at first glance it feels a lot like Klout for authors, but as I dug deeper into it I realized it provided a lot more value than just assigning a number to the authority of your content.
Why The ClearVoice Tool Is Valuable To Authors
The ClearVoice tool offers an objective measure of content creators by tracking the content they create with the digital signature (or authorship) of the content.
The purpose of the tool is to give an elastic and transparent view into experts within any industry and, at the same time, gives writers the ability to share their work and create real economic value for themselves.
Unlike tools that measure social influence, the ClearVoice score is based on the long-form content of authors, gauging their publication power. Social influence of articles hold weight in the author's ClearVoice score, but only as it pertains to the engagement of each article.
What I found to be the greatest value to authors is that it can help validate how you markup content to attach it to you vs. a publisher. It collects every article you have marked up with authorship and displays them visually, along with a complete collection of statistics about you as an author. Including how many sites you write for, how many posts you've published, total amount of social engagement on your posts and so on.
Next time you're applying for a writing gig, or pitching a guest post, you can link the publisher to your ClearVoice profile and they can see exactly the value to bring to the table as an author.
Here's a look at my ClearVoice profile so you can see what I mean (please note that, at the moment, it is only counting the posts I have published for SEJ)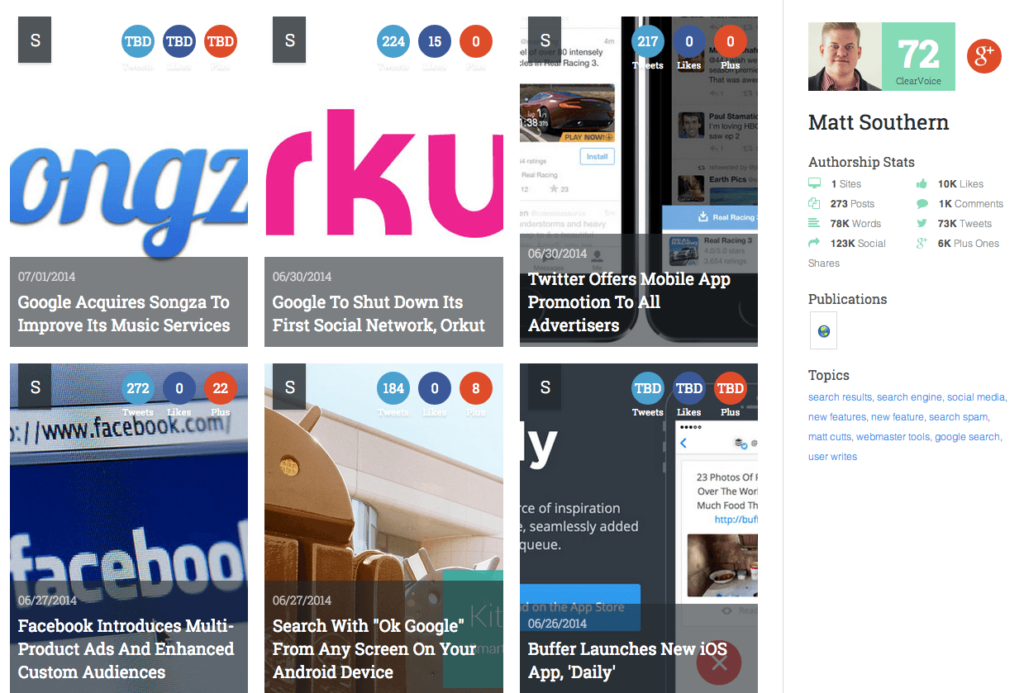 The key components of the ClearVoice consist of:
ClearVoice Search: The search is an index of more than 90,000 author profiles. ClearVoice indexes content in near real-time from digitally signed content with Google Authorship, Schema or a Twitter Card.
ClearVoice Score: The score, based on a value of 1 to 100, is calculated based on an author's total content output, the prominence of the publisher(s) hosting the author's content, the total diversity of publishers hosting content and the social reach of the content created.
ClearVoice Profile: Authenticated authors can claim, access and update their profile, which showcases recently published content, social interaction of content, biographical information and subject matter expertise.
Jay Swansson, CEO of ClearVoice, provided this quote to SEJ in an interview on why the ClearVoice score is important to the writers:
The ClearVoice score was created to showcase authoritative writers and drive real economic value to the content creators. Using semantic markup or, as we call it, digital signatures, the score shows how closely a writer's social profiles are linked to the content they create. The result is an objective and transparent view of how a search engine, social network, or machine might measure and connect the person and authority behind the content.
To get a glimpse of your content authority, or to search for the profiles of your favorite writers, give the new ClearVoice tool a try right here.
Disclosure: Allie Freeland, PR Director at ClearVoice, is a contributor to SEJ. However, I chose to write about this tool solely based on the fact that I believe it is valuable to writers and content marketers.