Looking for new tools that will help you monitor the presence of Google's Chrome browser on iOS? Well, look no further. Chitika Insights has just released the Chrome iOS Adoption Tracker as the only tool that allows users to track the rate of Chrome adoption in real time!
On June 28th, Google announced the availability of its Web browser, Chrome, on iOS 5, which over time may serve to shake things up. Until now, Safari has seen little to no competition from mainstream browsers in the iOS environment. While iOS users do have alternate ways of surfing the Internet, such as through an app or Facebook referrals (to name a few), Safari has experienced an effective monopoly in the iOS browser market.
With the introduction of Chrome on iOS, Safari now has a legitimate competitor in the mobile browser market, and that is always good for consumers. After its initial release, Chrome for iOS held a top position in the rankings for free apps in the iTunes market, and it continues to post moderate levels of growth.
Chitika Insights has been tracking the launch and adoption rate for the new Chrome for iOS browser to determine how much share they are taking from Safari for iOS and how quickly. Chitika Insight's latest Live Tracker has just been launched for the purpose of measuring Chrome for iOS adoption rate in real time.
The main pie chart featured on the Chitika Insights Chrome iOS Tracker shows current shares of browser usage on iOS 5. The three fragments we are analyzing include Safari, Chrome, and "Other," which is comprised mostly of app traffic, as seen below. (Note: Image below represents data on July 16, 2012.)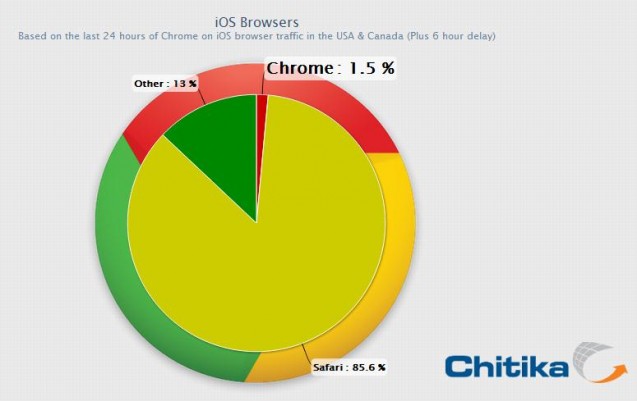 Directing your attention below, we have highlighted a few interesting data points revealed by the tracker as of July 17, 2012:
Chrome's share of iOS traffic is just over 1.5% of all iOS web traffic. However, considering it launched just over two weeks ago, this current figure and the continued growth that has been seen on a week-on-week basis means that share is on the rise.
14.5% of iOS users chose to surf the web on a platform other than Safari. This statistic helps expose the greater story of how consumers interact, share, and navigate the web using smartphones and the constantly increasing number of applications that are available to them.
The second element of the Chitika Insights Chrome iOS Tracker analyzes historical browser usage for iOS. With this dynamic chart, we can infer Chrome's adoption rate in real time (with a six-hour delay to ensure the accuracy and integrity of the data).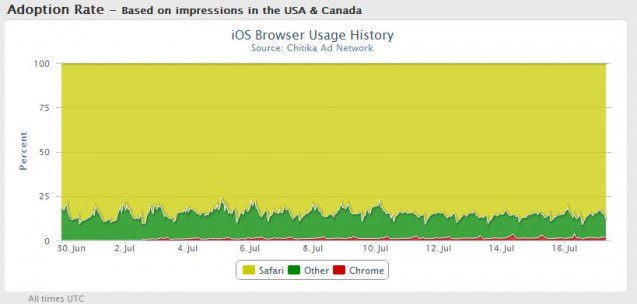 In addition, users can filter out individual browsers to get a more specified perspective of a browser's recent activity.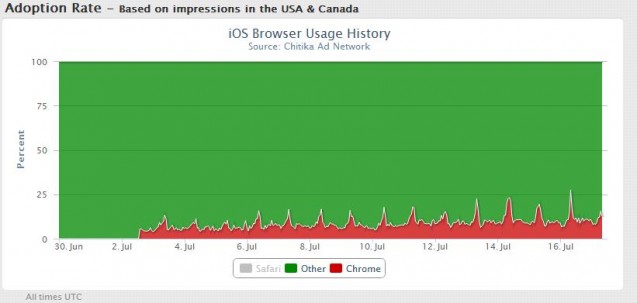 A few insights pulled from the tracker's historical data include:
Chrome didn't make an impact on Chitika's network until July 2, but its share of traffic shot to more than 1% between July 2 and 3, which may be due to word of mouth and its high profile status in the app store.
Chrome's traffic share tends to fluctuate daily. Its current prime usage hours occur between 7 AM and 10 AM when it peaks at around a 2% share, but then it slides back down later in the day. This indicates a high degree of morning use and can be correlated with consumer behavioral patterns in mobile usage.
If Google Chrome's share of Web traffic continues to grow on iOS, it will be particularly interesting to see if it cannibalizes share from other browsers or starts cutting into Safari's lead. Will Apple respond to this new competitor by introducing new features to their Safari mobile browser and making other long sought after improvements? With this new tracker, we will now be able to see whether Chrome on iOS is a contender or a pretender, as well as what effect it will have on the overall market – in real time.
Visit Chitika Insights Chrome for iOS Adoption Tracker by following this link:
http://labs.chitika.com/chrome_ios/
A full methodology for the tracker can be found here:
http://insights.chitika.com/2012/chrome-for-ios-adoption-tracker-methodology