Whether you're a startup or just looking to improve your e-commerce store, the first step is make sure you choose the right key performance indicators (KPIs). Knowing what to measure will ensure you know what you need to change or revise for improvement, which is of course critical when it comes to growing an e-commerce business.
It is important to keep in mind that KPIs will change based on factors specific to your company, but knowing the right KPIs for your business can help make sure you are not going off track.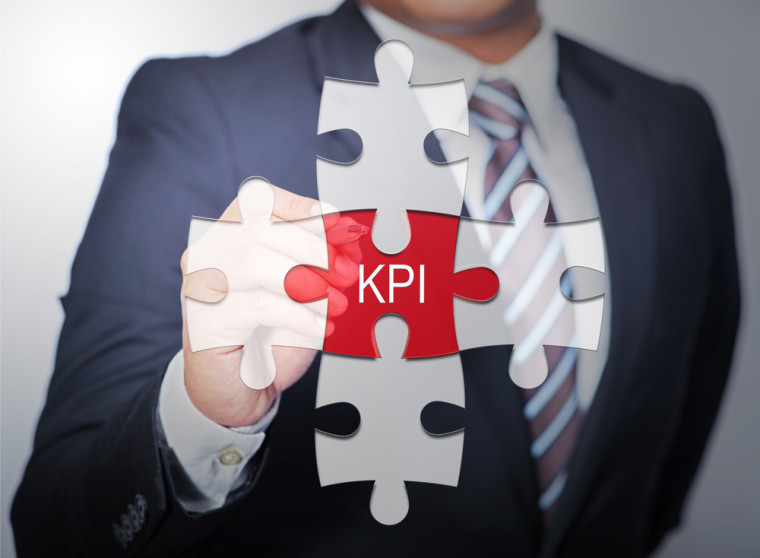 One of the biggest mistakes small businesses make when it comes to KPIs is they measure everything. But what you're measuring can't be "key" if you're measuring everything, so this can quickly become overwhelming. Having all of this data available through Google Analytics and other platforms is a fantastic resource, but you only need to look at a few key insights to truly measure your performance.
So of course the question is simple: How do you choose the right KPIs to focus on for you business?
Top Ways to Make Sure You're Choosing the Right KPIs for Your E-commerce Store
The short answer is that it really depends on a variety of factors. While there is no step-by-step process for choosing the proper KPIs, there are a number of things you should always take into consideration. Below are some of the top ways you can make sure you're choosing the right KPIs for your business and to make sure you are using them correctly:
Define Your Business Objectives First and then Choose KPIs Based on Your Goals
The most important thing to keep in mind when it comes to KIPs is the idea that you really can't start your business by deciding what KPIs you want to measure. KPIs are important in e-commerce, but you have to first define your objectives and then link your KPIs to those objectives.
In other words, you don't want too many KPIs at first—less really is more in the beginning. For most businesses, four to ten KPIs is enough. For example, a KPI could be related to your goal of increasing sales, improving the return on investment of your marketing efforts, or improving customer service.
When I was looking in to some of the top goals that businesses have (and their associated KPIs) I came across this article from HubSpot on choosing the right KPIs. They cite Mark Hayes, Shopify's Director of Communications, and his post titled 32 Key Performance Indicators for e-commerce, where he addresses examples of common e-commerce goals and related KPIs. I found four of these to be very helpful:
Goal 1: Boost sales in the next quarter. KPIs could include daily sales, conversion rate and site traffic.
Goal 2: Increase conversion rate in the next year. KPIs include conversion rate, shopping cart abandonment rate, associated shipping rate trends, competitive price trends.
Goal 3: Grow site traffic in the next year. KPIs include site traffic, traffic sources, promotional click-through rates, social shares, and bounce rates (these aren't always the best KPIs for all companies, however, which we discuss in the next section).
Goal 4: Reduce customer service calls by half in the next six months. KPIs include service call satisfaction, identify of page visited immediately before the call, or an event that leads to the call.
As discussed above, the potential KPIs listed in the four examples are directly related to a core business goal. The goal came first and what you need to measure to meet that goal (KPIs) came second.
KPIs are Different for Every Industry and Business Model
One thing to seriously note (in addition to KPIs being about your goals) is that the KPIs you choose will be greatly influenced by your organization's business model. They will also be based on the industry in which you operate. For example, consider the difference between a B2B software-as-a-service company choosing to focus on customer acquisition, while a brick and mortar retail company might focus on sales per square foot or average customer spend. Totally different goals and objectives, yet KPIs are still important.
Always Segment Your Data (and Never Focus on Averages)
It is really important that you segment your data if possible. For example, conversion rate can be segmented by email, blog content, PPC, etc. If you are unfamiliar with segments on Google Analytics, you can visit here to learn more. It is incredibly important to not just look at the average of your data because the results you get will be skewed. In general, this rule will go for every KPI you've come up with, so spend some time on this point.
Don't Forget: Only Focus on a Few Key Metrics
Inbound marketing has many benefits; one being that you can measure everything with very detailed metrics. As you begin to identify KPIs for you business you should be aware that less is more. Ultimately, you should really try to focus on just a few key metrics.
As we have discussed, with every business and industry having drastically different yet important KPIs, it can be hard to say definitively which you should be focused on for your "few." In most cases you should aim to identify somewhere between four and ten KPIs. Below are some ideas for both bad and great KPIs for an e-commerce website. The ideas for these KPI metrics are credited to E-commerce Influence (find the full article here).
BAD KPI's for an E-commerce Website
According to the article mentioned above, some e-commerce companies are turning some readily available metrics into bad key performance indicators. Because they are using these KPIs to measure the success of their business, this is obviously bad news. A few examples of bad KPI's include: number of visits, page views, emails sent, Twitter followers, Facebook fans, time on site, bounce rate, and revenue.
While you might want to monitor these data points, they shouldn't be a KPI for your e-commerce success for a few reasons:
There is very little that can be learned about these metrics that impact the bottom-line.
According to Jason Hawkins, e-commerce specialist, "Most of these metrics are actions taken by visitors at the top of the funnel. However, while important to get traffic, getting people to show up to your site, check out a few pages, and stay a bit longer are not end goals." KPIs should be selected with end goals in mind.
With these types of KPI's people make a false assumption that more is better, or that more= success, but that is not always the case.
Great KPI's for an E-commerce Website
Similarly, E-commerce Influence wrote about some great KPIs for an e-commerce website. Again, this is not a one-size fits all list, but these tend to be helpful. We have included some of their examples in our post as well as a few examples of other ways to track KPIs:
Conversion Rate: Conversion rate is an awesome KPI metric to focus on because it is focused on outcomes (back to our discussion of long-term goals you can see why this is relevant). Also, remember to break it down into email registration conversion rate, email conversion rate, checkout page conversion rate, Bing versus Google pay per click conversion rate, referral program conversion rate, etc, in order to get the most out of this metric.
Average Order Value (AOV): Making AOV a key performance indicator and using the data to test up-sell, cross-sell, and other promotional marketing methods to increase AOV can significantly, and positively, impact your business.
Cart Abandonment Rate: Ultimately, visitors who made it to the cart and/or checkout page were ready to hand over their money to you, but they left! Thus, measuring cart abandonment, and then taking action to improve, will have the most financial impact in the shortest amount of time.
Visitor Loyalty: This key performance indicator measures how often people are coming back to, and engaging with, your site.
Task Completion Rate: Measuring task completion rate will give you the exact reasons, straight from the customers themselves, about how your site is performing. This allows you, as an e-commerce site, to make changes the customers want you to make, not what you think you should make.
The Takeaway
In the end, for an e-commerce business being specific in your KPI selection and going with the "less is more" mentality really helps and goes a long way. The great thing is that you know that there is endless data available at your fingertips, but measuring all of the data out there is only going to make things worse. Focus on determining your business goals and then select your KPIs accordingly. It is also important to keep in mind that you should reevaluate your KPIs every few months.
Do you have experience selecting for KPIs or e-commerce application? I would love to hear from you, so share your story and thoughts in the comment section below.
Image Credits
Featured Image: Sergey Nivens/Shutterstock
In-post Photo: enciktepstudio/Shutterstock
Screenshots: The Miami SEO Company taken 8/13/2015