CheckUserNames.com : A new tool to Check User Names across multiple social media sites.
Registering and securing your company's name across various social networks is not just a way to build links to your site or get some nice branding results in Google, but it's also a defensive measure to make sure that YOU own your brand on social media sites.
It's way too easy for your competition or affiliates to secure your company name across hundreds of social media networks, and take advantage of that buzz with false posts or affiliate sales posts which do not truly represent your company.
How do you make sure that your brand is protected across social networks? CheckUserNames.com is a quick and useful tool for checking your brand across major social networks, in one simple search.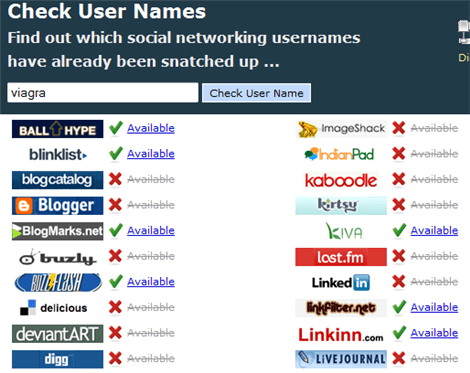 They currently list about 60 social networks, and hope to add hundreds more. Just do a search and CheckUserNames will tell you if your brand has a social profile on one of these networks. If a social profile exists which uses your brand (like twitter.com/gmail) , CheckUserNames will place an "X" next to the social site. If your name is available on a social profile site, they link to the registration page so you or your staff can easily register and secure your brand.
Check Usernames today before someone else does!