This week, Search Engine Journal would like to recognize our digital marketing community in a unique way. There are many great digital marketers out there, but with Armed Forces Day on Saturday, I would like to acknowledge the digital marketers who have direct experience in the Armed Forces or who have family members with direct experience in the Armed Forces.
In particular, I asked these digital marketers one question: did your experience or the experience of your family members in the Armed Forces affect your digital marketing career and if so, how?
In this post, I would like to share the wonderful answers I received, and I would also like to honor all of those in the digital marketing world and beyond who have offered their services and their lives in the Armed Forces worldwide.
Angie Schottmuller, @aschottmuller, Growth Marketing Advisor of Interactive Artisan

"I originally wanted to be a doctor/veterinarian and served with the 452d Combat Support Hospital, US Army Reserves, NCOIC of Patient Administration, Sergeant (E-5). Near my 4th year in college, I changed to a business degree. My medical education and experience provided insight into physiology and psychology factors that I've uniquely woven into conversion optimization frameworks for persuasive design and content."
Douglas Karr, @douglaskarr, CEO of DK New Media

"I was a Nuclear Electrician, so discipline, analysis, and troubleshooting were the foundation of my work every day. I brought that same tenacity to marketing strategies when my career shifted from connecting and analyzing data for machinery to human behavior. I'm a veteran of Desert Shield and Desert Storm."
Susan Dolan, @GoogleExpertUK, Google Expert UK at SEO Web Marketing

"My Granddad, Frank Dolan, was an amazing, honest, strong man who was a boxer and fought Randolph Turpin during the war. When he was shot the Queen's surgeon was flown to Balmoral to save him. My Granddad taught me fairness and to help your fellow man while standing up to people who do wrong in the world. Social Media is changing the world, and I so am proud to be part of it. His generation gave me liberty. God bless their souls."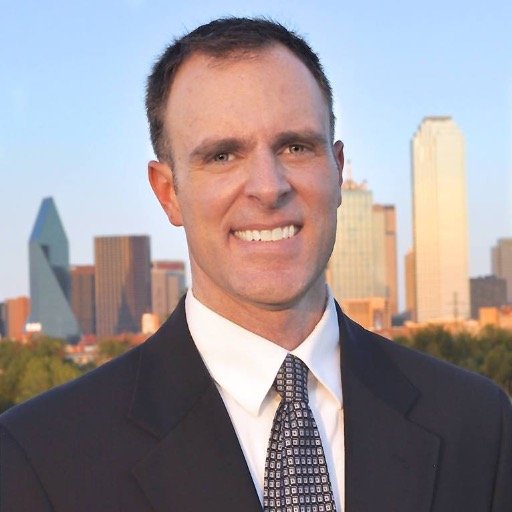 John Sparks, @IAmJohnSparks, CEO & Founder of Online ImageWorks
"Attitude & persistence are key in any effective social media strategy."
Douglas Burdett, @ArtilleryMarket, Principal at Artillery

"Three things: 1) leadership, 2) creative problem solving, and 3) the ability to quickly learn and master technical subject matter (but then again, high explosives really make you pay attention to what you're doing)."
Stephen Floyd, @Search_Evolve, Owner at Search Evolve

"As a war-time member of the United States Army Airborne Infantry, I learned to work as part of a team and to accomplish my mission no matter what. SEO has very much in common with warfare. For example, you must be prepared to fight the long fight; SEO is a marathon, not a sprint. In the Army we had air support, artillery, and infantry…in SEO we have onpage, links, and social. Also, in combat you must be able to adapt to change quickly…the same is true for SEO, Google changes it's algorithms frequently, and those who fail to adapt will fail."
Layne Harris, @hellroy, VP of Innovation Technology at 360i

"Exposure to different types of people and problem-solving opportunities."
Steve Wiideman, @seosteve, President of Wiideman Consulting Group

"US Army Enlisted (PFC, 1-22 Infantry 1994-1998) I was part of Task Force 21 in 1995, training Infantry soldiers on how to use laptops and satellite technology to target enemies. I earned an Army Achievement Medal for field performance and helped our battalion offices earn a 98% efficiency in MARKS organization. Now I help a small army of SEO's use digital to target competitors in search results. Beyond that fun similarity, the Army taught me how to face challenges rather than work around them, get through tedious tasks without complaining, and use integrity in every speech, pitch, and report."
AJ Ghergich, @SEO, Founder of Ghergich & Co.

"My father was in the military and recently retired as a Lieutenant Colonel in the Army. We moved around about every 2 to 3 years and you learn to quickly get along with new people and appreciate the time you have with them. You also get a first-hand look at the insanely hard job the military does for us and the hardships that are put on their families when one or both parents is being deployed overseas. Growing up an Army Brat had a big impact on me, that I would not change for anything. I am proud of my father and thank him for his service and sacrifice."
Chad Pollitt, @chadpollitt, VP of Audience, Co-Founder of Relevance

"My service in the US Army and a tour of duty in Iraq taught me life's most valuable lesson — how to 'Embrace the Suck.' The details of which can be found here.
Aside from learning to embrace the suck, my tour of duty in OIF3 (2005) made me discover a love for writing. I read every book I could get my hands on and magazines cover to cover. In between I spent time writing to newspapers around the world about my thoughts while in Iraq. By the time I got home my articles were published dozens of times around the world.
Shortly afterward, I started blogging about my civilian passion — digital marketing. Ten years and nearly 900 articles later, I'm being featured in this article. Without my tour of duty I don't think I would have ever started blogging. I owe my entire civilian career to Uncle Sam."
Michael Donnelly, @MichaelDonnelly, SVP and Group Head of Global Digital Marketing at MasterCard

"I was given a long string of unrelated characters as a young Military Intelligence Officer before and during Desert Storm that allowed me to communicate with others on this thing called ARPANET which later became more commonly known as email on the Internet… I was fascinated and became hooked for life."
Drew Sanocki, @drewsanocki, Founder of Nerd Marketing
"I was an intel officer, so it taught me how to conduct a great analysis."
Ana Hoffman, @AnaTrafficCafe, Founder of Traffic Generation Café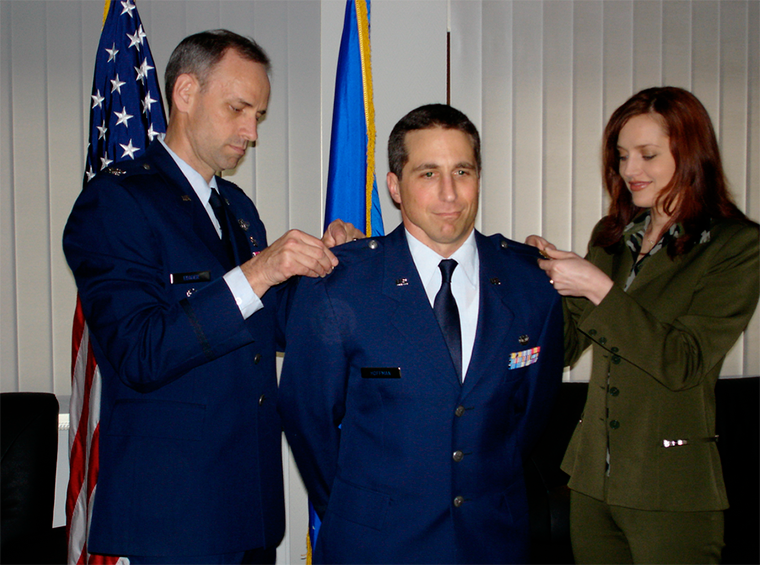 "Traffic Generation Café wouldn't have existed today but for my husband's Air Force service.
As you may know, military personnel moves around every 2-3 years. When you are a military wife, you have to learn to do the following two things and do them very well: to stretch your budget (you know… too much month at the end of money?…) and to find a way to supplement it.
A traditional career is out of the question for most of us. But an online career, that goes where you go, that adapts to your lifestyle, that can be done in the middle of the night when everyone else is asleep. That's how I ended up in online marketing and then blogging specifically."
Kristi Hines, @kikolani, Freelance Writer

"My mom was a multichannel communications equipment operator in the Army. This made her eligible for company organized computer training and ultimately led her into a career in computer programming. As a result, I got my hands on a computer at the age of three and was programming in my teens. This eventually led me to web design, building a quasi-blog site as early as 2001, and ultimately into freelance writing and digital marketing today."
Jason Wright, @marketingbydata, Owner of Marketing by Data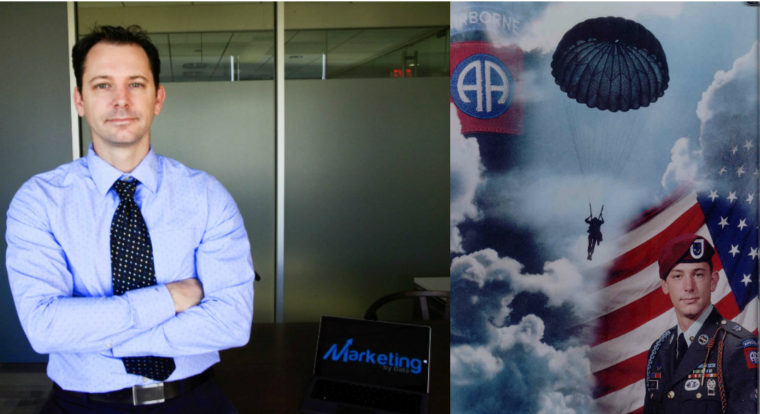 "As an airborne infantryman in the 82nd Airborne I learned to "shut up and suck it up." Life is a marathon and you have to be able to endure the worst in order to enjoy the best.
The military gave me the confidence to believe that I can achieve anything. I learned how to lead a team and be accountable for our results.
After the Army I advanced quickly through undergrad and graduate school. I was also lucky enough to gain marketing expertise with companies such as Disney, Myspace, and Playboy.
Now I own a company that leads a team of highly skilled professionals and business owners. We help them in their conquest to conquer their competition through creating and executing digital marketing strategies.
'Airborne All The Way!'"
In Conclusion
Again, I would like to say "Thank you!" to everyone who has served in the Armed Forces. If you would like to share how something you learned from the Armed Forces affected your digital marketing career, please be sure to do so in the comments below!
Image Credits
Featured Image: Image by Aleh Barysevich
All in-post photos are used with permission.