Users are the most important "elements" (forgive me the "impersonalization") of any websites (especially social media ones of course): that's them who build content and promote it by spreading the word. Quite naturally, getting the users to join and participate is the first and more important step in launching a (social media) site.
One of the easiest and most effective ways to engage the users is by rewarding them with cash – let's see how existing social networks reward their users to get them to participate.
1. Reward users by simply paying them
The simplest and the most straightforward (if this word can have the superlative form) model. There are a couple of networks trying this method – sadly (or quite understandably) none of them got popular enough:
Yuwie.com is one of the examples: users are paid by the number of monthly page views you generate. In addition, you can increase your commission by getting your friends to join and participate.

MyLot is a similar site with a more intricate rewarding system. Users are paid for being "useful" – the "usefulness" of each member is estimated based on DRS (Discussion Rating System) – which is generally the overall rating score given by other users and evaluating users' comments, topics and responses.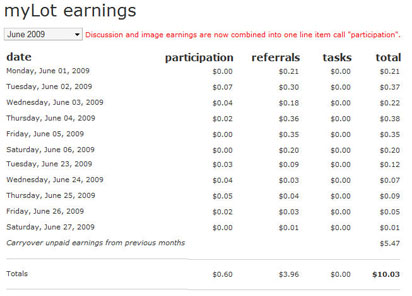 Drawbacks?
There is the reason why this model hasn't become too popular yet: it just doesn't feel natural. It may be effective as long as you pay – but it will be difficult to ever switch to the free participation model: so you may be forced to pay your users for the project lifetime.
2. Reward users by letting them compete for the prize
Running regular (or ongoing) contests is another way to engage your users.
A contest is a very effective "viral" tool in itself – and additionally it can be a great way to encourage them to get active.
Buxr is a great example of how a contest can grow a high-quality user-generated site: it pays-out daily for the best online deal shared and lets users track each other's progress via the public contest page, blogs and forums.
Drawbacks?
This model is less dangerous than the previous one – as users consider the reward to be a gift rather than the obligation. The only trick here is to feel the community well enough to be able to set up engaging contest and promote it effectively.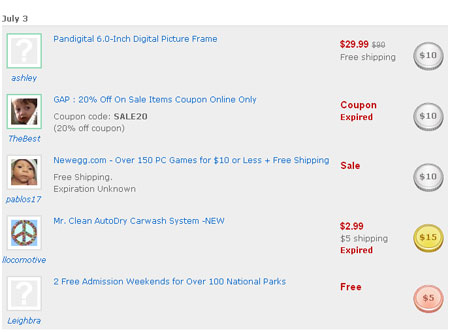 3. Rewarding the users by sharing the revenue
A well-known, highly effective model which is more often used in eCommerce social networks (e.g. Amazon) but can also be leveraged in community-based user-generated sites.
The new generation of article directories has one trick to get the users not only submit articles but also drive lots of traffic to each: they share Adsense revenue with them.
Drawbacks?
Paying users for promoting the content has one huge risk: your users may use dangerous tactics for promoting it. All active social media users know what "Bukisa spam" means. Social media spam like that (or search engine spam) may get your domain banned from popular social media sites or search engines – and it will take ages to recover.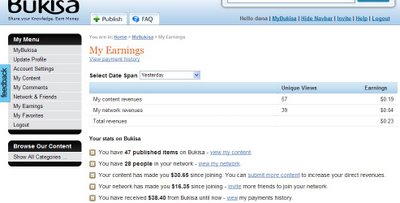 Additional reading: