More than half of consumers worldwide are willing to pay more for products and services from brands that are committed to making a positive social or environmental impact, according to a global survey conducted by Nielsen, which is why giving back is no longer just a non-profit business model.
Similarly, BDC-Ipsos released a survey that found that 60% of Canadian shoppers were willing to pay an additional 5% for products and services that were considered ethical. The same survey also reported that consumers would stop purchasing from a company with irresponsible business practices; and I don't think the results are simply because us Canadians are so nice, eh.
These surveys were discussing exactly the types of for-profit/for-change hybrid businesses that this article is focusing on. The new super-breed of business, a hybrid between profit and purpose.
Welcome to socially-responsible for-profit businesses that have had "change the world" written in their business plan from Day 1. These new-school companies don't just donate, they've developed a business model that inherently makes the world a better place and it's not all kumbaya and granola.
With Purpose, Comes Advantage
BDC points out that this unique business model actually gives these hybrid companies an advantage over the competition. They say "socially responsible companies are able to establish a clear point of brand differentiation that helps shield them from lower-cost competitors. Their mission also helps them to attract and retain motivated employees. Then, of course, there's the benefit of building a fiercely loyal base of customers who will act as brand advocates." BDC is making a case that comes to point when you look at the rising trend of socially responsible for-profit businesses.
Defining the Socially Responsible
So what is a socially responsible business? For-profit companies often engage in "cause marketing" or "charity marketing" campaigns like partnering with a food drive around Christmas to show good spirit. Similarly, other companies give and invest in social causes; hence the coining of "philanthrocapitalism." Even in SEO, there are many articles that provide advice about techniques to build brand mentions by partnering with or sponsoring a charity in the name of the brand.
However, even though these types of efforts are charitable, they are typically to position a brand strategically for the purpose of public relations and are not what this article is talking about.
On the opposite end of the spectrum, there are thousands of nonprofit organizations like Greenpeace or World Wildlife Fund that create highly effective marketing campaigns all year long. Their marketing campaigns work because their purpose is to incite an emotional reaction from their target audience in order to gather support for their important causes. By creating campaigns that speak to the audience's heart, nonprofits are able to break through all the noise of marketing to better reach people who care about social, ethical and/or environmental issues and want to make a difference.
Nonprofits rely on the support of others to stay in business and continue to create positive change in the world. Donors and fundraising has been the cash flow model for nonprofits for decades, while profitable businesses are a completely different story and do not rely on the support of others. The non-profit organization and the traditional business model have remained relatively unchanged and unchallenged…until recently.
Let's take a look at five profitable businesses that are challenging the business status quo and sharing their wealth with the people, places, and organizations that need it most!
TOMS

Toms made a name for themselves not just by creating attractive footwear. Toms is a brand and a successful business who from day-1 has been donating a pair of shoes to a person in need each time a pair of their shoes is bought. Their commitment is as follows: "With every product you purchase, Toms will help a person in need. One for One."
Founder and CEO of TOMS, Blake Mycoskie, came up with the One for One business model that is now a registered trademark for their brand after his heart broke watching children in Argentina in hardship without shoes on their feet. He solved the problem with a revolutionary business idea to create a company that made money, instead of a charity that relied on donations. And change the world he has! Since 2006 TOMS has given millions of shoes to children who need them and has found new ways to improve the lives of those living in hardship.
Following the worldwide success of Toms shoes, the brand expanded their operations into other products like sunglasses and bags. With these products they are continuing their initial One for One mindset, giving the gift of sight for each pair of sunglasses bought and providing a "safe birth" to an expecting mother in need for every bag bought. Toms has also created and contributed to programs that provide clean drinking water and another that addresses bullying. What can't they do?!
Ten Tree

Literally inspired by TOMS shoes, Ten Tree is a company that gets to the heart of this article in their raison d'être, being founded on the premise that every consumer wants to know that they are contributing to the wellbeing of the planet. Ten tree is a clothing company that as the name alludes, will plant 10 trees for every purchase of their products.
Despite the fact that Ten Tree has partnered with NGOs to meet their goals, as a business, Ten Tree is profitable while making a huge impact around the world. Customers are simply willing to pay slightly more for their garments to know that ten trees were planted for their purchase, allowing the company to cover the costs of buying the trees to plant.
After only three months in business, the company had generated over $120k CAD in revenue and was then propelled into the next level by partnering with Dragon's Den angel investors. Ten Tree also partners with nonprofit WeForest to be able to plant trees in 14 countries internationally. Since their inception other for-profit businesses have followed suit and created companies where by partnering with the same non-profit, they will plant trees for every purchase made – there is even a search engine that plants trees now!
Indeed the system works, but Ten Tree takes it a step further and is focused on changing lives with the benefits that trees provide. They point out that reforestation can revitalize dry arid soil, provide cleaner air to breathe, provide wood fuel to burn, food products for people and livestock animals, it can provide employment for locals and habitat to creatures all while helping to combat climate change.
The company focuses on planting in regions that need it most like Ethiopia and Madagascar using only native species of trees. In Madagascar for example, mangrove forests have been devastated wiping out thriving ecosystems and leaving locals with infertile land. The situation in Ethiopia isn't any better where entire forests have been removed resulting in flooding and farmland washing away. The 9,078,100 trees planted by Ten Tree will live for decades helping to spread their seeds and grow more trees.
Ten Tree products also have many seals of approval to protect their integrity during the manufacturing process. All of the garments are made in Portland, Oregon by a company that uses solar panels to power the factory and has an environmentally friendly waste-process. The stylish and earthy clothing that Ten Tree produces is also all manufactured with WRAP approved partners and has reduced the impact their shipping has on the environment by 15%. All you have to do to be part of Ten Tree's important work is buy a sweater, or a jacket..or both like I did!
Feed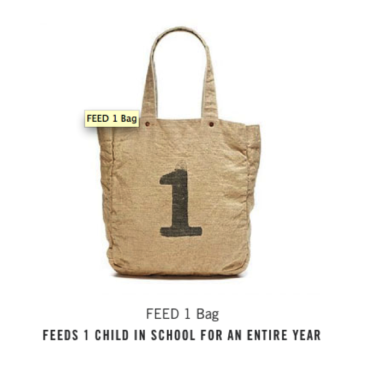 Feed is a for-profit company that creates a line of stylish totes and other bags that ensure a portion of every sale contributes to feeding the world's children, a notion built into the fabric of the brand's identity. Each time a bag is purchased, a portion of the sale goes to buying meals for children in Rwanda through the UN's World Food Program. The first generation bag, featured above, provided meals to a child in Rwanda for an entire year when purchased.
Feed bags are also hand-made by cooperatives in Colombia, Haiti, Guatemala, India, Kenya and Peru, providing jobs and income for under-served communities. The company obviously commits to fair labour conditions in these locations and goes even further to use organic cotton and burlap as much as possible.
The CEO of Feed, Lauren Bush, rejected the idea of charitable business because she didn't want to beg people for money and would rather sell them a valuable product instead, reported The Atlantic. Bush frames this as a new model for sustainability, one that encourages people not to feel guilty for their materialism but instead to embrace cause-branded marketing and help turn a profit for businesses while also giving and making the world a little better. So far, the Feed company has given more than 94 million meals to children worldwide.
Ivory Ella

Ivory Ella is a clothing, apparel, and accessories company that is the love child of five elephant-loving entrepreneurs. With a passion for protecting elephants connecting the bunch, the Ivory Ella team is proud to make "Good Clothes for a Good Cause." Ivory Ella donates 10% of their profits to Save the Elephants and other charitable organizations. In just over one year, the company has raised:
$511,000 for Save the Elephants

$14,179.51 for the Elephant Crisis Fund

$21,826.16 for the American Heart Association

$16,287.55 for Home for Troops

$28,841.12 for the Breast Cancer Research Foundation

$2,200 for the Local Breast Cancer Foundation

$7,000 for Toys for Tots (+$500 in toys)

$1,000 for Mad about Madeline
While Ivory Ella gives to many important causes with the money made from their clothing and merchandise sales, the clothing styles and information on their website reflect the Save the Elephants central theme and cause. The donations made to the Save the Elephants organization go towards strengthening anti-poaching forces. Their anti-poaching support is mostly concentrated in Sambaru and involves the supply of vehicles, equipment, mobile shelters, and tracking technology.
Twice as Warm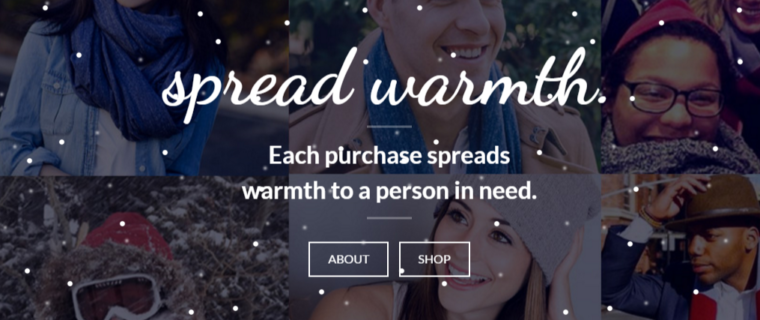 Twice as Warm is a US-made and led clothing company whose mission is to make America's less fortunate a little warmer. Similar to TOMS, each time a new winter clothing item is purchased, the company will donate the same winter garment to a shelter. Anyone who has passed a homeless person stuck outside during a winter storm has certainly felt the same need that Twice as Warm did when they got started.
The company is led by Brian Lieberman, who was 24 when it all began with a simple inventory hats, scarves, and gloves available in navy or black only. He was dropping off a bag of donation clothes himself to the Interfaith Works Clothing Center in Rockville when he noticed that despite people's good intentions, many of the clothes were not winter-appropriate and in some cases had holes.
He commented that the other aspect of Twice as Warm is allowing the person being donated to, to have some dignity, as often the donation is a large trash bag of "crappy, used clothing." Lieberman, who also volunteers at homeless shelters, set out make a difference with a sustainable business model that provides a homeless person with the same winter gear you would want to wear yourself.
Twice as Warm has been successful locally. Their first season the company donated 210 winter garments to shelters in their community. Since then, they have been featured on ABC News, The Huffington Post, The Washington Post and other major news sites. One article pointed out how winter is the holiday season and a time that many of us struggle with materialism. Since Twice as Warm is focused on winter garments, their brand can respond to this concern at the best time of year, when people feel the most generous and are also taking time to reflect on the well-being of others.
Most recently the brand partnered with Olympic medalist Terrence Jennings to create a limited edition T-Shirt that states, "We Are USA." While the T-shirt deviates from the winter themed merchandise, this T-Shirt idea came from Jennings, who wants to connect the world through sports while giving back. The profits made from the sale of the T-shirts during the campaign were used to buy hats, gloves, and scarves for people living at the Carpenter House in Virginia, the athlete's hometown.
Today the brand carries stylish items like chunky knit scarves and striped beanies. Just in time for the upcoming holiday season, get your gift on with Twice as Warm or any of the other generous retailers listed above.
Get Inspired!
If you're inspired and looking to create a brand that is more meaningful and actually want to shift your business model for the better, Forbes says that creating high-impact partnerships that tackle tough issues is the most effective way to do just that. Beware though, another Forbes article warns businesses about the rise of low-profit limited liability companies (L3C) where the hybrid of nonprofit and for-profit companies can complicate taxes. Those who are just starting out as entrepreneurs or those who are wishing to change their business can learn from the examples above. Ten Tree founder, Derek Emsley, shares some advice on how to run a socially responsible company. He says:
Understand the expectations around what you're selling and giving to (don't be a hypocrite!)

Tell a great story and communicate your brand's impact in a simple and engaging manner.

Social media is a cost-effective and high-potential form of marketing

Always remember the bottom line and if you find yourself in a position that isn't aligned with where you began, stop it.
As Mark Echo said at the Next Gen: Charity Conference "The future of non-profit is for-profit." I completely agree and support this new frontier of business. My personal thoughts on the matter were actually summed up perfectly by a commenter on this article, who says "This movement isn't only about generating additional 'social' capital. It's about transforming the way our economy functions in order to positively impact the environment and society through commerce. I don't believe this erodes charity. I think it opens the door to a new group of people who otherwise would not be giving back at all. All that being said, it is faulty logic for anyone to declare that buying a socially responsible t-shirt is all we have to do to save the world. But then again, it's not the worst place in the world to start."
Image Credits
Featured Image: Francis Duval/Unsplash.com
All screenshots by Chandal Nolasco da Silva. Taken August 2016.