You should have several well-compiled online resumes even if you are not looking for the job and are not planning to. The main reasons why I am maintaining and updating carefully my online resumes are:
Google SERPs reputation management: these resumes are usually very well ranked for your name in Google;
Social media marketing: online resumes work great for aggregating, interlinking and promoting your social media profiles.
Today, I am sharing an awesome tool for building and hosting your online resume:DoYouBuzz.
The Best Thing About the Site: User-Friendly Design and Structure
I really loved the way the site is built from the very registration page where one could clearly see which further steps he should to take and what is going to happen: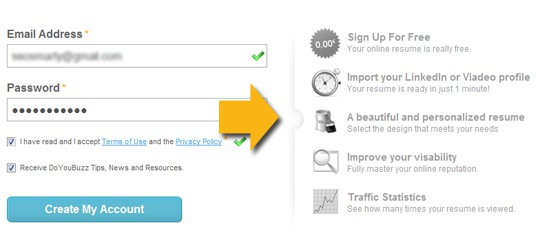 To all further steps:

Including the initial resume information set-up (where you can clearly see which information was already submitted correctly):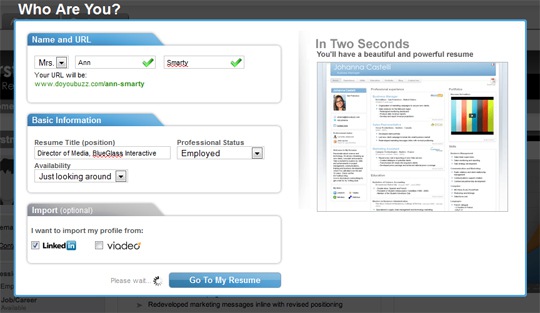 It is a rare case when I come across such a user-friendly and appealing site – definitely a win! Both Facebook and LinkedIn have a good sample to learn from.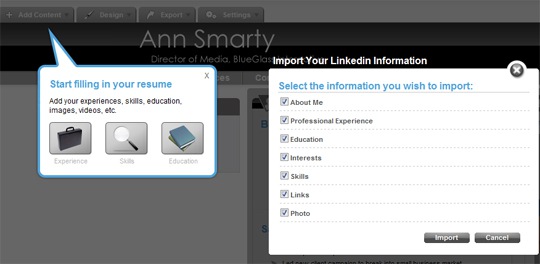 The resume is built in seconds. After importing your LinkedIn profile you have quite a few other options to fill in about yourself.
You have also a few design customization options where you can select a template and choose the color palette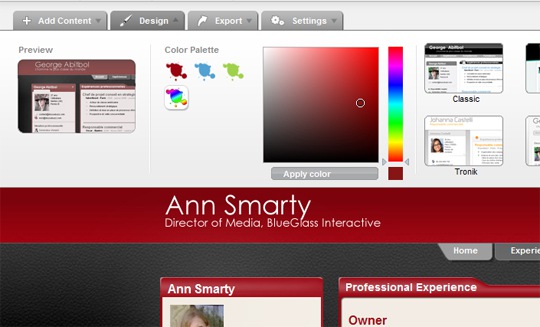 The resulting profile looks really nice (again something to learn from):
Sample
Some Other Things to be Aware of
I've been browsing the site, F.A.Q. and other sections and have come across some really interesting things, for example:
1. Your resume will have nocache tag in the header "so that potential employers and other visitors to your resume will not be able to access previous versions of your resume." – smart, isn't it? (that's what I call caring about your users)
2. Your resume can be exported to your Facebook profile and will appear as a separate tab (the process is as well very well-outlined):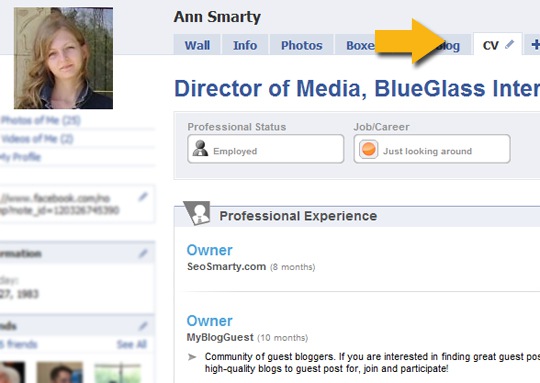 3. Your resume has various options of visibility and privacy:
Published Resume, Public Search Listing: Anyone who knows your resume's URL is able to access your resume. Your resume will also be submitted for public search indexing. This means that your resume may appear in search results for keywords such as your first and last name.
Published Resume, No Public Search Listing: Anyone who knows your resume's URL is able to access your resume. However, your resume will not be made available to search engines.
Published Resume, Access Code Required: Your resume will not appear in search engine results. To access your resume, visitors will need to know the URL and an access code determined by you. If someone wants to access your resume, they will need to fill out a contact form. We will forward their message to your email address on their behalf. If you choose to allow them access, you will need to send them your code. Remember this is not your DoYouBuzz password.
Unpublished Resume: Only you can access your resume by logging into your DoYouBuzz account.
To add some insight to this review, I got into contact with Evy Wilkins, COO, DoYouBuzz, Inc. for a brief Q&A about the service. She was very quick to get back to me with the answers:

Please tell us about yourself. How long have you been with DoYouBuzz?
I'm a former natural sciences junkie turned project manager turned marketing and business development pro. I have been with DoYouBuzz since the summer of 2009 and have helped expand the service to the U.S. (We were founded in Nantes, France). If you're looking for a fun fact – I've lived and worked on three continents including Europe and Africa.
When the tool was launched and who is the person behind the initial idea?
DoYouBuzz was launched in France in 2008 and in the U.S. in April 2010. We're coming up on our two year anniversary! Ludovic Simon, the founder & CEO, is the driving force behind the startup. He created DoYouBuzz to bring innovation to online recruiting and make it easier to find talent and jobs.
You guys have just AWESOME usability. How many times had the interface been changed until it became that perfect? How did you come to realize what features, tools and user experience elements needed to be added and how to make the tool that usable?
First, thanks for this super question and nice compliment! Usability is at the heart of everything we develop. The application, in its current state, was achieved by taking a really close look at resume builders. We were looking for all of the reasons why resume writing is such a pain, why online employment forms are so burdensome and why resume builders often leave professionals extremely frustrated.
We went through many iterations during development and private beta – making tons of minor changes to just about every piece of the application, several times over. For example, we went through at least five or six versions of the drag and drop feature before we were happy with it. Our goals was to provide creative freedom and structure so that a professional would know how to use the tool, how to present his/her experience and also be inspired to show off their uniqueness. All this while ensuring that the end product would please recruiters and fit in their work flow. Suffice it to say, we are obsessed with UI and UE!
Do you plan any other features added? Maybe Twitter integration or something?
Yes! There are many features on our todo list. Users most often request a recommendation tool. That's on the horizon. We are also working on some cool stuff that will allow professionals to distribute their resume with ease. We are focusing on integrations and powering professional communities on other sites and services.