So BP's reputation is obviously on the line. Well, "on the line" is a gross understatement, but you know what I'm saying. And in the search engine marketing world, many have taken notice of their aggressive efforts to manage their reputation online. According to a recent Search Engine Watch article, estimates near $1M a month in spend between Google AdWords and YouTube advertising. BP has also contracted for $50 million worth of television advertising to help manage their reputation throughout the fiasco. Finally, BP has been quite active in the social media sphere, with a Facebook fan page, Twitter account, YouTube channel and Flickr profile.
To be truthful, the search engine marketer in me can't help but be somewhat impressed and surprised by their proactive and progressive online approach. I'm used to most companies being so far behind the curve when it comes to online reputation management (ORM), and they really have it dialed. But with that said, as an average American, I'm completely offended. The other day, I was watching a video on YouTube and I see this: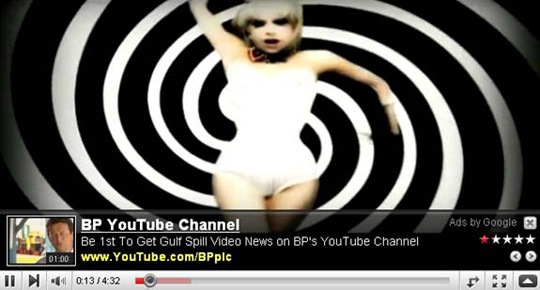 Really? First of all, BP is the last thing on my mind when I'm watching Lady Gaga in all her creepiness. Second, (and I'm kicking myself for not taking a screen shot) the other ad messaging that I saw was "Friend BP on YouTube". What? BP wants to be my FRIEND right now? Talk about poor timing. Furthermore, if I want the low down on the oil spill, I'm certainly not going to trust the offender as my source of news, and I'm insulted that BP thinks I would. Their channel views (about 800,000), speaks to that – given the massive international coverage of the spill, seems to me a pretty low number.
The content BP has posted on Facebook, Twitter, Flickr and YouTube is all centered on the "progress" they are making.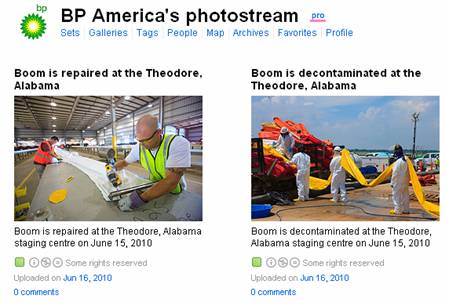 I think what their PR team is missing here is that the public knows that there is no progress. That the reality is the spill and the details surrounding it keeps getting worse, and for BP to act like it will all be fixed in no time is a joke.
What BP and their PR team needs is complete transparency. Andy Beal has a great start on some ORM tips. Report the good news and the bad news, and address the bad news in a forthright and truthful manner. I understand what they are trying to do, and this strategy is what most marketers would come up with (a review of their efforts can be found here – full disclosure that this is an article from my company's blog). But in this case, the only way their reputation stands a chance is to start telling the truth. Oh, and maybe take the millions they are spending on advertising and give it to the families that are losing their livelihoods. That would be some good ORM.