Want to effectively drive more ecommerce sales?
Have you tried Twitter?
Consider this:
Twitter users shop online at least 6.9 times in a month, while non-users shop online only 4.3 times per month.
Plus, 49 percent of female shoppers on the platform say they have been directly influenced to make purchase decisions after seeing Twitter content.
Twitter lets you engage with – and win over – your target audience.
You can entice Twitter users with content that showcases your products in the most positive light.
The ecommerce opportunities on Twitter are virtually endless.
Here are 11 of the most effective ways you can skyrocket your ecommerce sales using Twitter.
1. Start by Building Interest
You can't just post photos or videos of your product and expect people to start buying. There's a lot more to selling on Twitter than that.
You have to begin by creating your brand presence and then building interest in your product.
You must establish yourself as a company or brand they can relate to.
Want to engage with potential customers and get their attention on Twitter?
For example, you could:
Create relatable memes or posts that are relevant to your industry or your products.
Watch for trending hashtags that will enable you to join popular (relevant) conversations.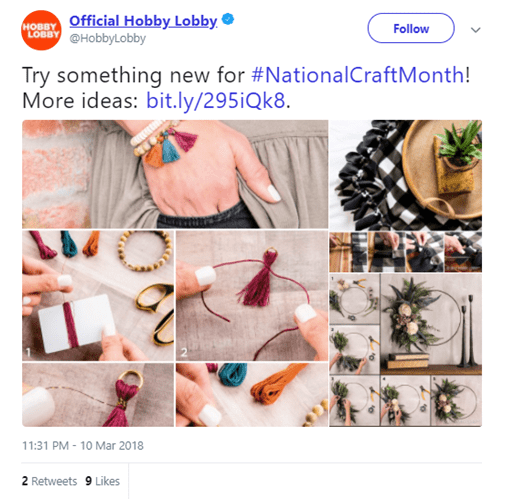 Hobby Lobby, for example, makes use of the #NationalCraftMonth hashtag, which is perfect for their store.
Their tweet contained a picture collage of crafting ideas and a link to their DIY Crafts Pinterest board.
This is likely to provide interested users with craft inspirations that could compel them to make a purchase.
2. Create a Hashtag Campaign
One of the best ways for brands to build their Twitter presence is by creating their own hashtag and making it trend.
This can help you gain plenty of recognition and attract potential Twitter followers – and hopefully more sales.
There are a few rules to successfully executing a hashtag campaign on Twitter.
The hashtag should be:
Unique.
Relevant.
Simple.
Catchy.
The goal here is to compel people to create content and use the hashtag so you can gain visibility on the platform.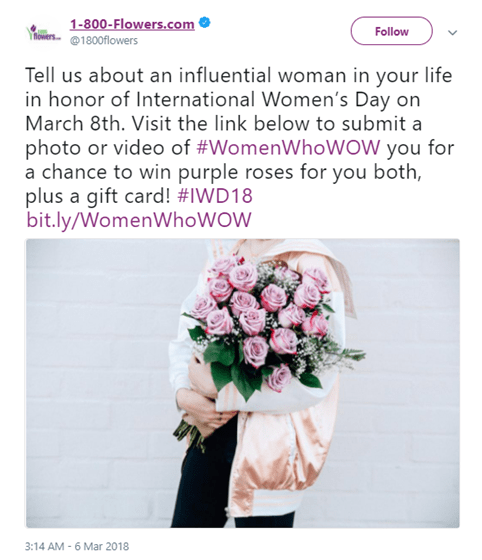 Hashtag campaigns when there's a chance for users to get rewarded for using the hashtag.
1-800-Flowers, for example, ran a #WomenWhoWOW hashtag campaign on occasion of Women's Day. Participants stood a chance to win purple roses and a gift card.
3. Engage with Influencers
Influencer marketing is a smart way to promote your content or products, depending on your agreement with the influencer.
This will improve the visibility of your brand and help you gain the attention of an enthusiastic audience.
But it's crucial that you work with influencers who are relevant to the products you're selling, so you can reach an audience that will be interested in the promotion.
Here are a few tools you can use for identifying and engaging with relevant influencers:
Grin is an excellent platform for identifying influencers according to a relevant category. It allows you to narrow down your search using location filters, engagement rates, etc. You can manage campaigns and keep track of your ROI right on the platform.
Socialpeeks uses mentions, hashtags, and keywords to help you discover the most relevant influencers you can partner with for your campaign. A team will also handle the process of building genuine relationships with the influencers on your behalf.
NeoReach offers a wide range of filters such as locations, demographics, interests, etc. so you can effectively narrow down your search. You can also easily manage your contracts and influencer relationships right on the platform.
HYPR is another handy influencer marketplace that you can use for discovering relevant influencers for your campaigns. There is a detailed audience analytics of each influencer profile, so you can clearly see which influencers your target audience likes.
BuzzSumo is another excellent platform for discovering Twitter influencers. The tool displays useful stats about each influencer such as Domain Authority, Page Authority, Retweet Ratio, Average Retweets, etc.
4. Engage People Using Twitter Chat
Twitter chats are perfect for encouraging conversations between brands and consumers.
They help you prove just how responsive your brand is, while you gain a better understanding of how people feel about your brand.
You can use the opportunity to:
Solve people's issues.
Provide answers to their queries.
Get to know your audience better.
In short, organizing Twitter chats on a regular basis will enable you to build a strong relationship with your audience. This improves your chances of winning their loyalty and in turn, encourages them to make repeat purchases from your store.
There are several tools you can count on to successfully organize a Twitter chat.
TweetChat is easy to use, allowing you to filter conversations by hashtag. You can also pause the tweets or slow them down so you can take your time reading them and responding to them.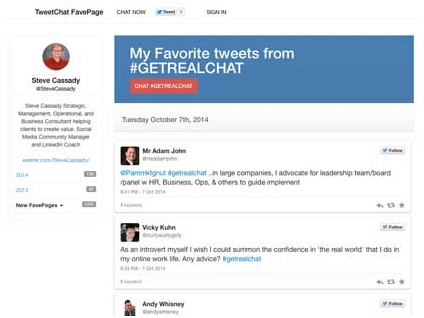 Tchat.io is another one of my favorite tools for organizing and managing Twitter chats. Its clean interface makes it easy to navigate. It allows you to easily switch between multiple hashtags that you're managing.
5. Learn from Your Competitors
If you have competitors who are already performing really well on Twitter, you should make an effort to learn from them.
Do you notice that their tweets are getting plenty of engagement? Try to see what they're doing differently.
Maybe they're using more pictures or maybe they're adding fun CTAs to their tweets.
Try to implement their ideas in your own Twitter marketing effort.
You could also monitor their posting frequency and posting schedules. Maybe their timing is just right to engage their audience and you could try following the same schedule.
In addition, try to analyze the audience of your competitors and see how you can engage with them.
Tools like Twitonomy are ideal for competitor research on Twitter. Just enter the Twitter handle of people you wish to research and you'll be able to view their post frequency, followers, and following. You can even gain information about the users they interact with the most.
6. Showcase the Different Uses of Your Product
If you want people to buy your product, you need to help them understand all the ways in which they can use it.
Use Twitter to showcase the different benefits and uses of the products that you sell. The goal is to instill a desire in people to try your product and inspire them to make a purchase.
Bath and Body Works does a great job of displaying their products in a highly appealing manner.
They try to showcase all the different contexts in which people can use certain products.
In the following tweet, for example, they've shown a product in a way that makes it perfect for use during Spring Break:
7. Target Relevant Users with Sponsored Tweets
In spite of all of the effort you've put in to attract a relevant audience, there are times these users still won't notice you.
But there's a way to ensure that you attract and engage your ideal audience.
With the help of sponsored tweets, you can target users whose characteristics are similar to that of your best customers. You can make sure that these users notice tweets that are relevant, relatable, and engaging and eventually compelling them to buy from you.
Retailers such as UNTUCKit have been able to experience the benefits of sponsored tweets.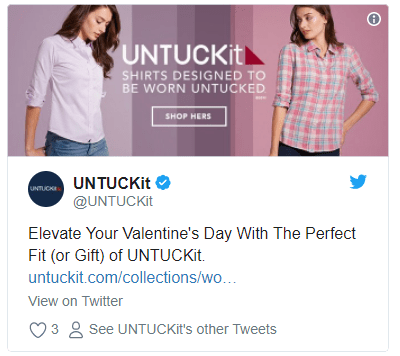 In addition to running an always-on campaign, UNTUCKit launched seasonal campaigns to encourage users to shop for gifts. They experienced impressive results from the campaign, reducing their cost per acquisition by 12 percent.
8. Improve Your Targeting with Twitter Remarketing
To further enhance your targeting efforts, you can set up Twitter remarketing and reach users who have shown some interest in your products.
Instead of simply showing your ads to each and every user, you can increase the likelihood of conversions by displaying them to people who have visited your site before.
This will also help you reduce expenses on clicks that don't turn into conversions.
Clothing retailer iClothing was able to increase their Twitter engagement significantly with the help of remarketing. In addition to testing different creative elements in their ads, they also focused on reaching users who have already shown an interest in their products.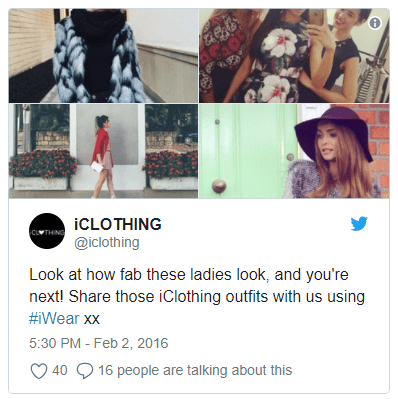 iClothing targeted users who have visited their website or made a purchase from them in the past. They also targeted users who have added some items to their cart.
Their goal was to reach an audience that's already primed to make a purchase. As a result of this campaign, they were able to reach an engagement rate of 25 percent.
9. Improve Visibility with Twitter Cards
Twitter cards are perfect for ecommerce stores that will improve the visibility of your products in tweets.
Having them enabled on your website will ensure that when someone shares your product page on Twitter, it will display some of the useful information about said product.
In other words, it displays a snippet of the product page, showcasing details such as stock availability and product pricing.
This is useful for ecommerce websites since there is a limit to the number of characters allowed in one tweet. So these Twitter cards will make up for the limitation by ensuring that your audience can get more detailed information about what you're selling.
Brands like MVMT have been able to leverage Twitter cards along with their Twitter advertising campaigns.
Their campaign resulted in a 353 percent increase in their Black Friday and Cyber Monday sales. Their traffic also increased by 189 percent during this period.
10. Keep Track of Performance Using Twitter Analytics
In addition to learning from your competitors, you can learn from your own performance.
Use Twitter Analytics to understand how your different tweets have been performing over time.
You can gain a better understanding of which tweets tend to engage your audience the most and which users seem to be the most engaged.
All of these stats will help you determine ways to switch up and improve your content mix.
11. Don't Hesitate to Apologize for Mistakes
Everyone makes mistakes. Brands owning up to their mistakes and resolving to correct it can win consumers' trust significantly.
You too can leverage this and make use of Twitter to apologize for your mistakes and resolve customer issues.
This is a great way to publicly display just how dedicated you are to helping your customers, which can win over other potential customers as well.
Here's Zappos wowing us again with their personalized and considerate customer service.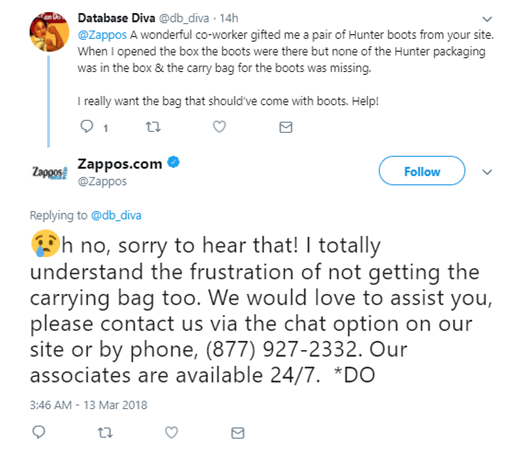 Conclusion
These are some of the best ways you can skyrocket sales in your ecommerce store with the help of Twitter. Some of these tips are more about building relationships as opposed to making direct sales. But it's vital to build these relationships now because you can ensure loyalty and repeat purchases later.
---
Image Credits
Featured Image: Shutterstock, modified by editor
Screenshots: Taken by author, March 2018