Google Maps is rolling out a global update to its ride services mode which brings a new design and the ability to book rides directly within Maps itself.
Google Maps' ride services design is a more mature version of its old one. Instead of returning a simple list of ride options in your area, the new design includes a map which displays cars near you, just as if you were using the ride service's native app. In addition, Maps will also highlight promotions when applicable.
Here's a comparison of the old design (left) versus the new design (right):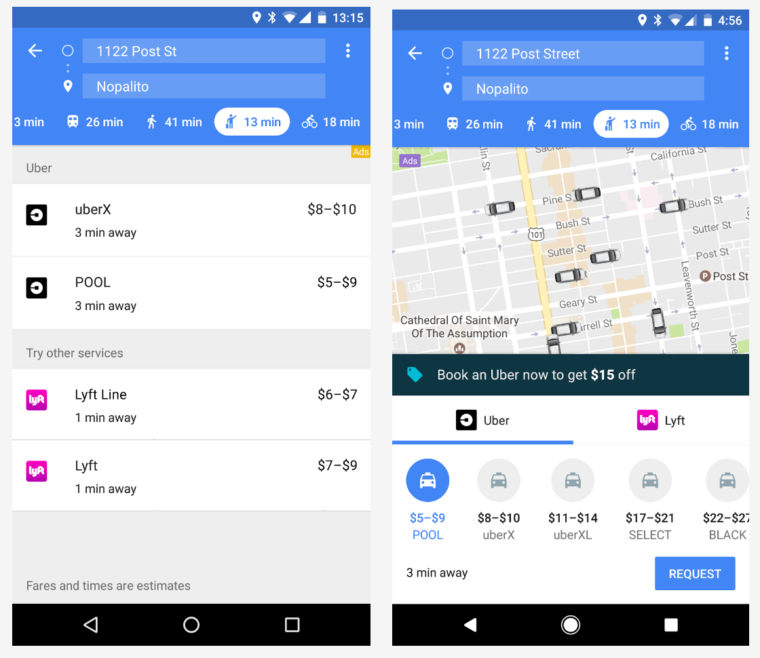 If you look closely at the image above you will see there is a "REQUEST" button underneath the Uber listings. It's now possible to book and pay for a ride with Uber directly in Google Maps. Moreover, you don't even need to have the Uber app installed on your phone, Google Maps can do everything for you.
In fact, using Uber through Google Maps comes with an added bonus that Uber doesn't provide. While on the way to your destination, Maps will pull up pertinent information such as menus, hours, and anything else you may need to know.
Google Maps has a number of other ride service partners across the globe, but currently Uber is the only one that can be booked and paid for within Maps itself.