Here's some more Black Friday-related search statistics to digest. The Google Retail Advertising Blog (Yup, there is such a blog on Google) is reporting that online shopping searches on Thanksgiving Day and Black Friday were at its all time high this year. Searches for "Black Friday" increased by more than 20% year over year, while searches for "black Friday sales" and "black friday ads" also increased by more than 50% YOY.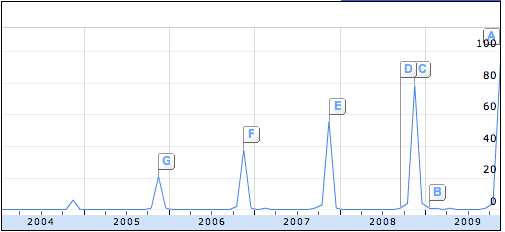 Likewise, fast rising search terms are also Black Friday-related and retailer specific. These include – "Walmart Black Friday", "Kohls Black Friday Ad", "Sears Black Friday Sales", and "Target Black Friday Deals Online". Amazon, which was the most visited site during Black Friday was not searched that much, may be because it was pretty much aggressive informing registered consumers of its Black Friday deals.
Another interesting thing to point out is the fact that value minded searches such as "printable coupons" and "sales" are also up with 50% and 25% increase YOY, respectively.
Likewise, searches for bargain deals on apparel and toys were also pretty hot with specific search for "Toys R Us Black Friday Sale", "Best Buy Black Friday Deals" and "Black Friday Computer Deals' as the fast rising searches during on Thanksgiving and Black Friday.