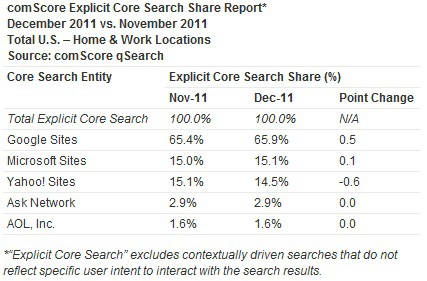 According to data recently released by ComScore, Microsoft Bing has finally surpassed Yahoo as the number two search engine for the first time in history. In December of 2011, Bing and Microsoft properties received approximately 2.75 billion total searches and Yahoo properties received only 2.65 billion total searches during the same time period.
Bing's growth, which is at the expense of the former number two search engine Yahoo, is not cause for celebration at Microsoft. During December, Yahoo and Microsoft sites combined for 29.6% of the search market compared 30.1% the prior month (November). Since Microsoft powers both Yahoo and Bing searches, the overall number of Microsoft powered searches dropped.
Google, who is the undisputed market leader with nearly 66% of the search market, was not harmed by Bing increasing its market share. Instead, Google received over 12 billion searches during December of 2011 and increased its market share from 65.4% in November to 65.9% in December. However, the search giant did see a slight decline of approximately half a percentage point compared to December of last year.
Overall, Americans increased the number of explicit core searches by 2% from 17.89 billion searches in November to 18.24 billion core searches in December, which demonstrates that the overall search market is healthy and growing.
Since 2007, Microsoft search engines have lost over $9 billion! Recently, I wrote an article on how Bing was bleeding cash at a rate of over $11 million per day and stated that Bing must develop and execute a strategy to capture market share from Google. Until they can increase their market share at Google's expense, they most likely will not be profitable and their long-term existence is at risk.
[Article/Image Sources Include: ComScore]