This week, at the Bing Ads Next conference held at the Microsoft Campus, Bing Ads announced a bold new ad format, called "Bing Hero Ads". The new ad format is currently visible on exact match branded keyword searches conducted within the recently released Windows 8.1.
Bing Hero Ads provide an aggressively branded, visual landing-page like experience for branded searches – take a look at a photo from the event: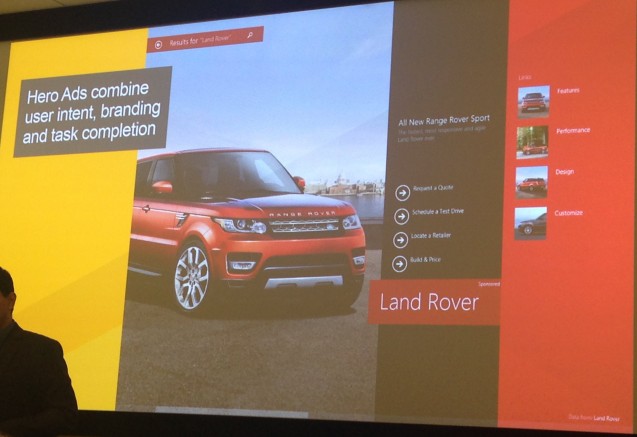 The Bing Hero Ads pilot project is currently limited to a small number of big brand advertisers, including the Home Depot, Land Rover, Radio Shack, Volkswagen, Disney, and several others.
It's important to note that the ads only appear in searches conducted in Windows 8.1 in the US – and even then on a small subset of branded searches – and that the ads do not yet show up on the more widely used Web version of Bing Search.
Bing Hero Ads: Hero or Villain?
It's a safe bet that brand advertisers are going to love this new ad format. Companies with strong brands would definitely be interested in providing a stronger branded experience than just a standard 25-character text ad headline.
And Bing stands to benefit from incremental monetization of branded keyword searches which account for as much as 1 in 5 searches. But what about Bing users – are they better off or worse off with these huge new Hero Ads?
Branded searches have navigational intent – meaning the user is almost always simply trying to navigate to a brand's website. This is known to be true because Bing analyzed what users clicked on immediately after searching on an exact match brand term and users overwhelmingly clicked on the link to the homepage of the brand.
If that's true, then the Hero Ad format is actually more aligned with the intent of the user search (which is to navigate to the brand's web site) and even aids with task completion by providing deep links into the site (eg: Request a quote, contact us, find a store, etc.)
What do you think of Bing Hero Ads? Or the recent Google banner ads in search results page experiment, which is pretty similar? Is it the end of branded organic search? Let me know your thoughts in the comments below!