As if integrating Twitter to its search results was not enough, Microsoft announced today that it is also collaborating with Wolfram Alpha – thus bringing its computational knowledge to Bing's search results.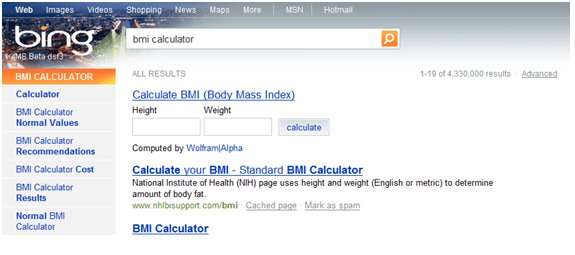 The new feature will be rolled out in the coming days to U.S-based Bing users. The roll out will be gradual starting off with nutrition and fitness and some mathematical computational technology with the hope of helping users make some more informed decisions as soon as they've done their search on Bing.
Honestly, I'm not a big fan of Wolfram Alpha and its computational algorithm technology. And I'm not particularly sure how this integration will play up with the over all Bing SERPs.
The Bing Community Search blog put up an example illustrating how Bing and Wolfram Alpha will interplay with each other once the Wolfram Alpha is fully integrated with Bing. You may check it out here.
Right now, I'm thinking whether this will actually give Bing any good. Don't get me wrong I think Wolfram Alpha is a pretty innovative and powerful computational engine, but it might be too complex for the ordinary search engine users who may may just be looking for straight forward answers to their straight forward questions. Given that Bing is still struggling to gain loyal users, the integration of Wolfram Alpha might drive away potential users. Or am I missing out on the potential of this integration?