Bing is enhancing search results with a new "spotlight" on news topics.
Spotlight is designed to give Bing searchers a detailed overview of a news story in a minimum amount of time.
This is accomplished by grouping multiple components of a developing news story together at the top of search results when a topic is searched for.
A Bing spotlight contains:
A carousel of the latest headlines
Various perspectives providing different points of view on controversial topics
A rundown of how the story has developed over time
Relevant social media posts from around the web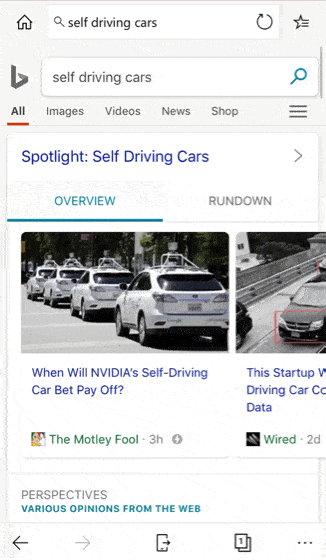 Bing details how it's able to provide such depth to its news coverage:
"To start, Bing monitors millions of queries and news articles every day and identifies impactful stories that evolve over a period of weeks or months. We look at various user signals such as queries and browser logs, and document signals from publishers such as how many publishers cover a story, their angles, and how prominently they feature the story on their site."
A set of criteria called the Bing News PubHub guidelines defines what is considered a high quality source.
In short, it's based on a combination of originality, readability, newsworthiness, and transparency.
Bing goes on to explain the technical details behind how it indexes news stories:
"Behind the scenes, we leverage our deep learning algorithms and web graphs of hundreds of millions of web sites in the Bing index to identify top sources for national news, per category, query, or article. Our goal is to provide broader context for impactful stories, from politics to business to major disasters, and much more."
Spotlight is currently available on Bing desktop and mobile web in the US. It can be found in the main search results, as well as the homepage carousel.