Bing Ads is rolling out a couple new features. Structured Snippets is now rolling out in the U.S., and the Bing Ads app now has bulk editing.
Here's what's new.
Bing Ads Structured Snippet Extensions
Bing Ads advertisers have a new extension: Structured Snippets. These snippets are a great way to highlight what brands, products, or services are available at your location.
Here's what the structured snippets look like:

As the image illustrates, Structured Snippet Extensions appear below your ad description. However, unlike other extensions, searchers can't click on this extension.
The Structured Snippet is made up of a header and a list of between 3 to 10 items. In the example image, the header is "Brands" and the list is Windows, Xbox, and Skype (which are all Microsoft brands).
Bing will show as many snippets "as space allows" on desktops and tablets. The info in the snippets should be different from what appears in your ad, according to the Bing Ads announcement.
No more than 20 Structured Snippets can be associated with campaigns and ad groups, according to Bing.
The Structured Snippet Extensions are now available to all U.S. advertisers now and will become available internationally in the coming weeks.
Bing Ads Bulk Editing For Mobile Apps
Bulk editing is coming to the Bing Ads iOS and Android apps. You can now enable or pause multiple campaigns, ad groups, ads, or keywords, according to Bing's announcement.
"We've made it easier to manage multiple campaigns at the same time by introducing bulk editing on the mobile apps, Bing said. "Previously, you were limited to pausing only one campaign or keyword at a time, and when you're in a pinch, you know how time consuming this can be."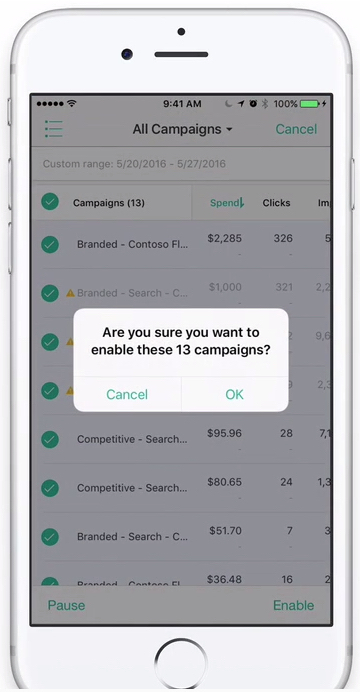 Bing Ads advertisers can look forward to more new features in the near future. Those are:
Bulk and shared budget management for your campaigns.
Bulk bid management for ad groups and keywords.
Image Credits: Bing Ads