The New Year brings some new services from Google Adwords, which will take you beyond your basic PPC ads. Google has be working hard to bring us new services, like Google Adwords Product Extensions, Adwords Site Links, and their current beta service called "Remarketing." We will go over the new services, how you can enable them and begin using these services on your current PPC campaigns.
Google Adwords Product Extensions
Adwords Product Extensions is a new feature that allows Adwords advertisers the ability to display multiple products from their Google Merchant Center (formerly Google Base) as part of one ad on Google.com search results. Product extensions will display relevant products along with your text ad on relevant user queries. (Note: Ads do not display on Search Partner sites or Google's Content network).
The first step to activate Adwords Product Extensions is to link your Google Merchant Center Account with your Adwords account. Once you are logged in, you will need to enter your Adwords Customer ID under "Add an Adwords Customers ID:" and click "Add."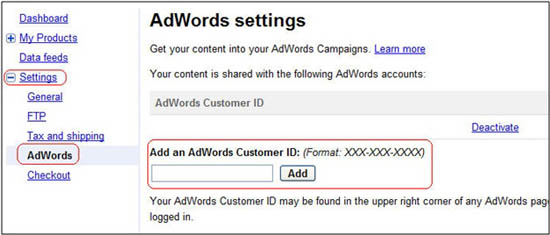 Once the Google Merchant Center account is linked to Google Adwords, you can enable Product Extensions at the campaign level. Login into your Adwords account; go to "Campaign Settings" tab for the campaign with ads you would like to update with product offers from your Merchant Center.
In the "Networks, devices, and extensions," under "Ad extensions," select the option to add product information from a Merchant Center account. Adwords will display any Merchant Center accounts that are connected to your Adwords account; from here you will choose the account you would like to link.
Once you have completed those steps you will begin seeing relevant products from your Google Merchant Center appearing on user queries. Below you can see an example for the jewelry company JRDunn for the term "John Hardy." Note that the user must click the "+" in order to display the related products; some ads do display the products automatically, but this is part of the Google Affiliate program.
To include offerings from your Merchant Center account as product extensions in your Adwords ads, you must include attributes in your Merchant Center accounts for each product listing (link, price, product image, description, and title). Additionally you can include one or more optional attributes to help Google better match products to search queries; here is a list of available attributes.
Sites Links In Your Ads
Introduced a few years ago, Google has been displaying "site links" on organic search results. The site links are usually directed to most important links on the site. Google introduced this option in Google Adwords for keywords that qualify.

The terms must rank in the first position for paid search results in order to display site links and must have a high quality score.
The first step to activating this feature is logging into your Adwords account, and selecting the campaign on which you would like display site links. From there you will click on "Settings" and scroll down to the "Networks, devices, and extensions" section.

In this section, you will click on the "edit" button associated with the "Ads Extensions" category. This will bring up editable fields, where you can manage your Adwords site links.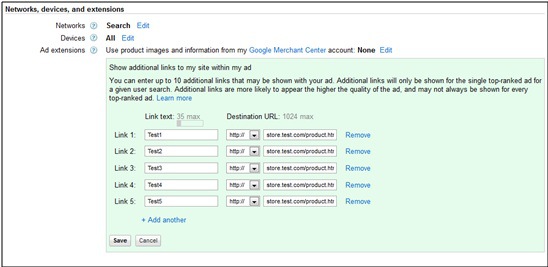 Once you have completed adding all the internal site links and relevant titles, you can click "save" and Google Adwords will start displaying your ads. Remember, your campaign must qualify and the amount of links that display may be dependent on the quality of your ad.
Re-Marketing With Google Adwords
Remarketing is a new beta service offered by Google to qualified Adwords' clients. It is used to drive increased conversions on the Content Network using display ads. The product helps you reach users who have previously visited your web site.
You will be able to define groups of users that you want to target, such as shoppers who have abandoned after adding items to the cart. For example, Google Adwords will serve display ads to them as they browse other sites on the Content Network after leaving your site. You will be able "re-market" your products to visitors in real time. All you will need to do is install a small amount of JavaScript onto your site to provide tracking and to configure Adwords to target specific users. Grant Keller's article on "What Remarketing Will Mean to Marketers" gives a great explanation on how Remarketing works and the benefits it will provide merchants.
If introduced to the public, this would be a highly valuable service for merchants by Google Adwords, which will give merchants, higher ROI on ads, improve conversions rate and provide the ability to bring a bounced user back to their site. Google Adwords has been reporting higher conversion rates for clients testing this service. Currently this service is being tested by selected product-oriented sites and we may see a public release sometime in late 2010, hopefully before the next holiday season. We continue to report on "Remarketing" as Google release more information in the future.