Want to talk about Star Wars with strangers? How about discussing hot political issues? Would you like to listen to experiences and stories from people across the globe? The new social audio app Anchor has come onto the digital scene in a big way, allowing people to connect on a greater level.
With a tagline of "radio by the people," Anchor is giving individuals an opportunity to share soundbites versus text or visuals. Per an article Anchor posted on Medium, audio has been a challenge, as "you can either be a professional radio broadcaster, or a podcaster — both paths fraught with countless hurdles."
Radio doesn't provide a way to interact, making it more of a one-sided conversation. That is where Anchor stands out as an audio platform. Be aware that the app is only available on iOS at the moment. The company has plans to bring the app to Android devices, but an exact date hasn't been given.
Social Audio Makes Waves
Anchor isn't the first company to explore audio broadcasting on a social platform, as there have been a few others before it. Time will tell if Anchor will emerge as the leader in social audio, but the company certainly has all the right pieces in place. Nir Zicherman and Michael Mignano are the co-founders of Anchor and previously worked together at Aviary, a company acquired by Adobe. The two co-founders wanted to do something that would incorporate their love of radio and Anchor was eventually born.
The app launched in February 2016 and while it is unclear how many people have already joined the platform, it appears to be gaining in popularity. Some well-known brands have already gravitated to Anchor, including General Electric, Experian, Buffer and WNYC (WNYC is an official launch partner).
Anchor is similar to other platforms, such as Twitter and Instagram, where you follow people and people follow you. However, it is packed with some pretty cool features and it is easy to get started. Through Anchor, you can record 2-minute soundbites, known as waves, which can be shared within the social audio app and on other platforms, such as Twitter. Anchor subscribers, known as anchors, can respond back to your waves with their own audio clips. For a full tutorial on how to use Anchor, be sure to read: Getting Started With Social Audio on Anchor.
Below is a great example of a conversation, which was prompted by Zicherman's Star Wars wave:
Don't Sit on the Sidelines, Jump In Early
You might be asking the question: Is Anchor another shiny new object or worth your time? This question is obviously not a simple one to answer, but it should make you think. It should also make you at least look into Anchor, as you have the opportunity to be part of a new platform as it grows. There is something to be said about early adopters of social media platforms, especially if those social sites take off.
Those early adopters are very often the ones who become influencers and strengthen their brands—both personal and business—as the social platform grows. It has been only weeks since Anchor launched, so you still have the chance to join early and get plugged in as the community grows. I am a newbie on Anchor, but as I have already pointed out, it is easy to use—I mean, really, to create a wave you hit the big red button. Plus, if you get lost in the weeds, there is enough support to help you through. The community is also quick to embrace you.
Big Advantage of Anchor
Anchor provides a way for people to connect on a more personal level. Hearing someone's voice, including the inflections and tone, creates a degree of intimacy. You are able to engage in a vocal discussion, even if those people are on the other side of the world. It gives greater context to the voice and is a powerful way to draw people in. Think about radio. If there is a program you listen to regularly, you start to feel as though you know the radio host or DJ. Yes, video provides the same benefit, but not everyone feels comfortable getting in front of the camera. Many of these people feel more at ease recording audio.
Grow Your Brand Using Anchor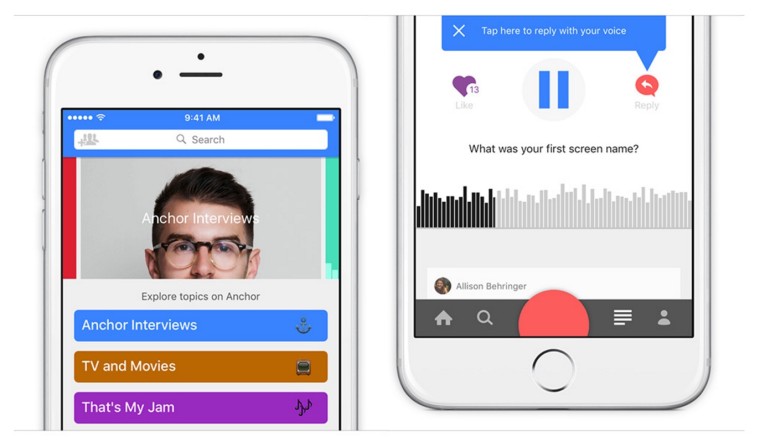 If you are looking to grow your personal or business brand, Anchor could be a good avenue for you. Here are a few ideas on how you can get involved on Anchor and build brand awareness:
Share your thoughts: Are you an expert in your field? Record waves that allow you to generously share your expertise with others. Because you record two minutes at a time, it is really easy to come up with various topics and tips. If you want to take it a step further, do an AMA with your listeners. An AMA gives back to the community and also showcases your knowledge.
Get to know your audience: Social platforms have allowed businesses to engage with their customers, but Anchor takes it to a whole different level. Because it is designed to encourage conversations, you can interact much better with your audience and the extra bonus is the personal feel that audio provides. You can pose a question to your audience and get audio responses. Your participation shouldn't stop there, though. Don't be afraid to join in on other discussions that interest you. Search on Anchor using hashtags, which will put you on the right track to finding discussions you can join.
Conduct interviews: Interviews make good branded content. Through Anchor, you can communicate back and forth with someone, which will generate a conversation that other anchors can listen to. You can also develop what is referred to as a one-wave interview.
Repurpose your content: One of the biggest challenges for content creation is coming up with topics, which includes social media posts. If you have written a lengthy article about a subject, why not take parts of it and turn them into waves? You should also point anchors to the original article and encourage even more engagement with your brand.
Now, Go Join Anchor
If you have iOS, go download Anchor and give it a try. For those of you already using the platform, feel free to share your experiences in the comment section below.
Image Credits
Featured Image: rzoze19/Shutterstock.com
Screenshot by Mindy Weinstein. Taken April 2016.