Today Ask.com has launched its highly anticipated new local search & mapping offering, AskCity. Considered in part to be a replacement for CitySearch, but much more now that it is also the local arm of Ask.com, AskCity.
Using a 'one click' technology merged with Java and Ajax, AskCity keeps the user inside one browser window while simultaneously searching, sifting through local business listings & reviews, customizing maps or their own navigational mashups, while also planning a calendar of local events or putting together directions based upon a set schedule or local itinerary.
The interface itself is remarkably user friendly, and quite reminiscent of GMail. If Google revolutionized email with GMail, then Ask.com has done the same to local search with AskCity [link should be active by Monday morning].
Essentially, AskCity integrated four local search services into one multi-paned offering:
Businesses and Services
Probably the most used and desired aspect of local search is the Business Search, where we can look for local businesses and services, read reviews of these companies or contractors, see where they are located, and take the appropriate steps to contact them.
A simple search on AskCity for local restaurants in the San Francisco area serves the user a merge of mapping, reviews and photographs of the establishments.
How does Ask.com rank the businesses which are served via a local search on AskCity?
Ask.com uses a multi-tiered dynamically determined ranking based upon overall relevance to the search term, business reviews (quality & quantity) across multiple content providers, destination relevance and address / zip code information.
Ask.com expands the success of its SmartAnswers onebox program by partnering with numerous nationwide and local content producers for a vast array of reviews, ratings, mapping info and information. Although AskCity could easily pull such info from its CitySearch property, Ask.com has taken the effort to look for the best content partners for AskCity to enhance the user experience beyond IAC properties.
AskCity Business Search content partners include :
* Business listings and ratings from Citysearch
* Event information and ticket purchasing from Ticketmaster and TicketWeb
* Detailed information about local service providers from ServiceMagic
* Movie reviews and content from Tribune and movie ticket purchases from Fandango
* User reviews from Yelp!, Tripadvisor and 20 other top sites
* Campground reservations from ReserveAmerica
Events & Movies
AskCity lets users search for local events by event type, artist name, venue name, date or location; while letting users make reservations or buy tickets.
One aspect I like about this is the venue name search. Say you live in New York and want to plan upcoming shows by nearby venues, in this example Madison Square Garden, by search for the venue and dates, AskCity delivers all upcoming shows at Madison Square Garden:
As an added bonus, say that you wanted to check all of the local shows or movies which are in 20 minute walking distance from your apartment, using AskCity you can define you own mapped area for searching, and plan your evening around grabbing dinner, a movie, a show or whatever, all within your own customized area. Adding a bit of social value, that map can be saved and then forwarded to friends who may also be attending. And yes, movie tickets can be purchased via Ask.com's relationships with Fandango and other services.
And if you're too lazy to draw your own map, just search by neighborhood, so someone living in downtown Baltimore can search for events, businesses, shows and restaurants which are only in Fells Point or Little Italy!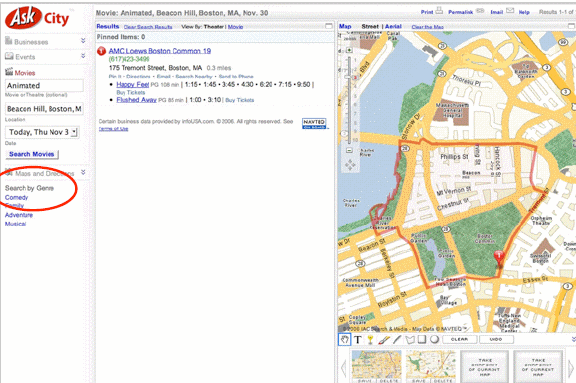 Customized Mapping from AskCity also includes the ability to label your own map destinations, write on maps, or draw your own navigational routes.
Maps & Directions
Like Ask.com's AskMaps, one can use AskCity to plan directions via automobile or walking. On top of those nifty features, say you are planning multiple events or to visit different places within a specific time period. AskCity lets users plot up to ten points on any AskCity map and get directions between each one. By using AskCity, you can prioritize your travels by ranking which locations you plan to visit first, and then map out directions from location to location (even by driving to a location, and then walking to another area);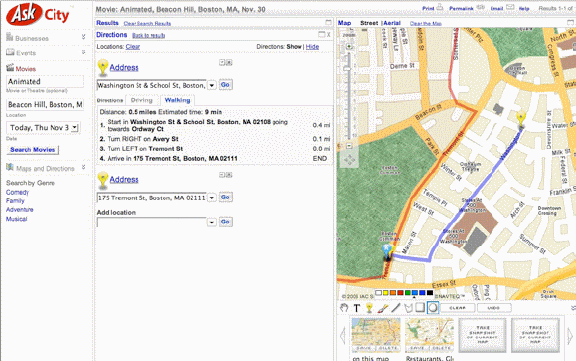 More dandy & useful features from AskCity:
* Mark-up Tools:
AskCity lets you use online maps just like you are used to using paper maps draw circles around locations, trace distances, write notes using either a normal map view or even an aerial image of your search location. For example, draw a big red X at the entrance to the Oakland Coliseum where you want to meet for the game with a note that says meet here. Trace a path between Friday nights Death Cab for Cutie concert and your favorite sushi bar. Make a notation at the gas station where your guest should turn right.
* Sharing
Maps, directions, business listings and all kinds of local information found via AskCity can be sent to friends via email or to mobile phones, using a Send to Phone function.
* Saving Maps
Users can save customized maps by taking a snapshot of them complete with as many search results as they like, their location pins, directions between them, and to or from home, and mark-ups & notes that have been made for each. Ask.com does not require that users register, log in or download anything to use these features.
* Location Disambiguation
Say a user (who is not logged in) performs a search for businesses in a town named Springfield, Madison or Paris. AskCity serves a nice little drop down letting the user choose between locations such as Springfield, MA or Springfield, VA. Searches performed for such popular town names do however always default to the most populated US town or city, unless user location is specified by some other means.
AskCity Partners
As stated previously, AskCity goes beyond standard IAC content properties and works with the following partners (this list is ever expanding) for local information:
* ChefMoz
* Judy's Book
* InfoUSA
* Teleatlas
* UrbanMapping
* StepUp
* MuseumTix
* OpenTable
* ClubPlanet
* Hawaii Ticketing
* StubHub
* Ticketsnow
* Telecharge
* GoCard
* Wcities