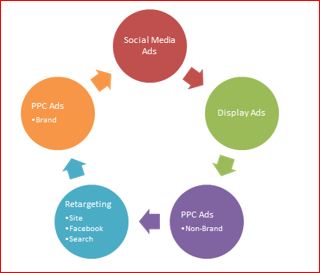 Paid advertising made the change from the idea that 'clicks were most important' to focusing primarily on conversions and return on ad spend (ROAS). This change occurred quickly after conversion tracking was made available to advertisers. Although conversions and returns are the most important; touting this as the only benefit/purpose of paid advertising will be detrimental to the growth of your company or client's business. Paid advertising is all about the ability to target and get in front of the right audience, which leads to new customers over time.
Many online advertising professionals (or their superiors) expect every paid advertising tactic to have an immediate and positive return on their investment (ROI). This restricts companies from testing out new ways to drive demand, sales, and revenue for their business. Some paid advertising efforts are needed to fuel future growth. This seemed to make sense before online advertising was popular with traditional forms of marketing, such as TV, Radio, and Print. Since online advertising is much more measurable & trackable; it is held accountable with higher expectations. The expectation by most is that every paid advertising effort should have a clear and measurable ROI immediately, and if they don't, then they are failures.
It's no secret in Search Engine Marketing (SEM) and Search Engine Optimization (SEO) that branded 'keywords' are what's driving the majority of 'last click' conversions; they also tend to have the highest conversion rates with the highest return on investment. What advertisers should be asking each other is "how can we drive more branded searches"?
The answer to this question is having a full online advertising acquisition strategy with several strategies/tactics working together that involves display, social media advertising, paid search marketing, retargeting (site and search), and more. Different tactics are used for different users (top of funnel vs. bottom of funnel) in the decision making process and it's important they are used in conjunction with one another!
If companies want to see substantial growth in the near future in paid advertising, then they must be willing to invest in tactics that might not always lead to a sale today, this month, or even ever. It's about taking risk and doing things that your competitors aren't doing, in order to increase your market share.
In conclusion, I believe every company needs to set aside two different paid online advertising budgets every year, with completely different expectations for each.
Paid Advertising Performance Budget

– This budget is directly tied to generate leads, transactions, sales, and revenue. These are quantitative goals you must accomplish. Tactics involve mostly search engine marketing, search engine optimization (SEO)/content marketing, retargeting, and email marketing.

Paid Advertising Engagement Budget

– This budget is directly tied to generating awareness & engagement for your company. It leads to additional impressions, likes/followers, clicks, and most importantly, an increase in your branded search terms. Tactics involve display advertising (interest/category, contextual, search retargeting, etc.), social media advertising (Facebook, LinkedIn, Twitter), YouTube advertising, and even bidding on very general (but relevant) head terms via paid search.
In conclusion, it's extremely important to explain to your company or your clients the different paid advertising options that are available, the benefit of each tactics, and how they can directly or indirectly fuel growth. After this, request a budget for each!