You read that right! A few months after its two-year run, we are rebranding our beloved Marketing Nerds, Search Engine Journal's weekly podcast, where we interview an expert in the realm of SEO, paid media, social media, entrepreneurship, and content marketing. With 25-40k unique downloads each month, we've loved bringing you insight from influencers like Jay Baer, Frances Donegan-Ryan, Eric Enge, and more on all things marketing and digital trends.
Since then, we've made the exciting, yet difficult choice to narrow down the focus and frequency of the podcast. Marketing Nerds will now be known as Search Engine Nerds, and the podcast will take on its new form of being more search-oriented.
Starting this Friday, we are officially rebranding to: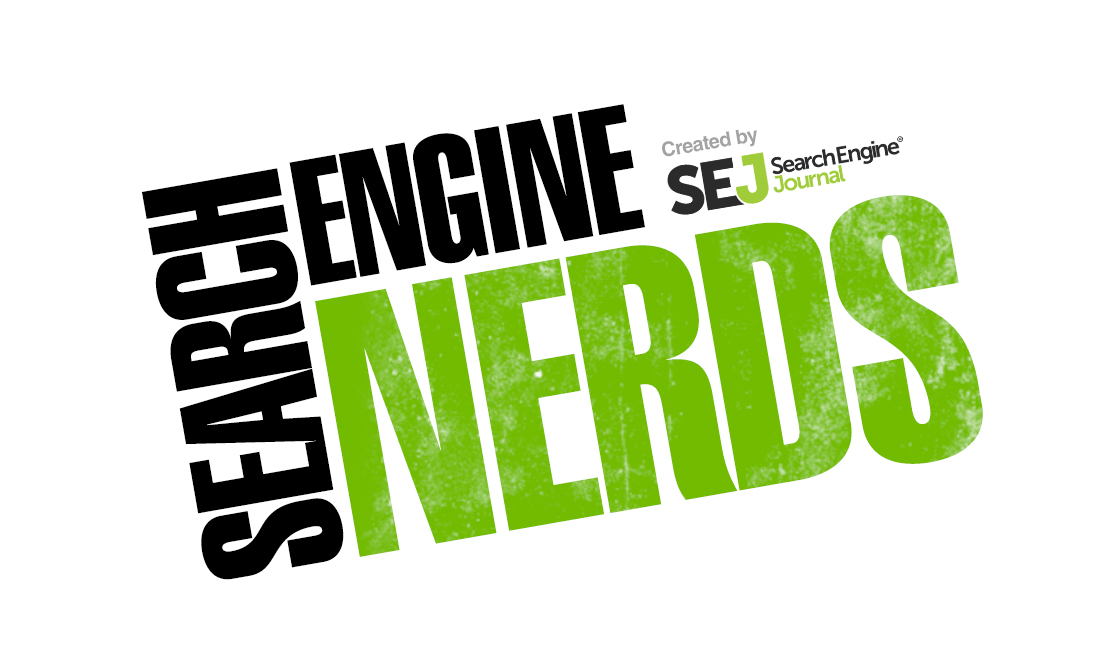 We'll switch it up a bit and focus on all things search — SEO, PPC, local search, international search, mobile search, voice search, search tools and analytics — and everything else in between. This means that future episodes might include something on how virtual reality could affect SEO, but it wouldn't include podcasts about social media strategy.
We are also making an additional change: taking our publish frequency down to bi-weekly instead of weekly. This means you'll get 2 to 3 episodes per month, instead of 4 to 5. With so much blood, sweat, and tears going into our podcast, we wanted to trim down the frequency to continue to make it the best product possible.
From Marketing Nerds to Search Engine Nerds
The name you choose can make or break your brand or business. At SEJ, we knew that we wanted our podcast to be more search-focused, so we came up with a few podcast name options to reflect our goal. While each team member had their vote, we decided a better way would be to ask the SEJ community and let them decide on what name works best.
We are rebranding our #MarketingNerds podcast to be more search-focused. Which name is your favorite?

— SearchEngineJournal® (@sejournal) January 20, 2017
When the results came out, Search Engine Nerds was the clear crowd favorite. As Stein Broeder put it, the name provides continuity:
@sejournal Keep nerds in the name. Will provide some continuity.

— Stein Broeder (@steinbroeder) January 21, 2017
We are officially launching this Friday, Feb. 24.
Marketing Nerds Greatest Hits
While eagerly awaiting the launch of Search Engine Nerds, here are some of our most downloaded episodes of the Marketing Nerds podcast to tide you over:
Crafting the Perfect Content Strategy
Brody Dorland talks about how to craft a content marketing strategy, what types of content you should be creating for your industry, and how to repurpose content in different ways to make it last longer.
Setting Up Internal Agency Teams for Success
Chris Boggs discusses building internal SEO agency teams and how to set them up for success in this episode of Marketing Nerds.
How to Network Like a Boss
Amanda Russell and Debbie Miller share their most awkward networking experiences, how to feel more confident networking, and what to do to be less uncomfortable when meeting new people at conferences or networking events.
The Future of Search
Tom Anthony talks about the future of search, other technology trends, and how to put it all together to understand the main trajectories in the industry.
Why Data Is So Important in SEO
François Goube talks about the importance of data in SEO, how you can use it to prove ROI, and what types of data you should be paying attention to.
How to Create a Social Media Strategy for Multiple Locations
Cynthia Johnson discusses why having a set social media strategy for multiple locations is important, as well as how it ties into local SEO.
How to Succeed at Twitter Marketing
Madalyn Sklar talks about how to grow your Twitter followers and thought leadership, as well as tips for better engagement, images, and community building.
On Thought Leadership and Marketing Strategy
Whether you are building yourself up as a thought leader, or you want to start implementing more marketing campaigns, it's important to develop a strategy. This is what Scott Monty talks about in this Marketing Nerds episode. He also shares insights on growing your personal brand, as well as social media strategy.
Google Tag Manager
Steve Guberman breaks down what Google's Tag Manager is, what it can do for publishers and businesses, as well as providing some interesting uses you may just want to try yourself.
How to Make the Leap to Full-time Freelancing
Danielle Antosz talks about her experiences in taking the leap to full-time freelancing. She also shares the bookkeeping and invoicing tools that work for her, and discusses when it's time to quit your full-time job.
Why Build a Subscriber Mailing List That Purposely Doesn't Make Money
Ryan Holiday talks about the surprising benefits of writing on what you're passionate about and how marketers can build genuine relationships with their audiences without thinking of sales as their top priority.
How GoDaddy Built Their Own Search Engine
Charles Beadnall and Mike McLaughlin talk about some really cool stuff surrounding GoDaddy's search engine, its effect on the company's bottom line, and how it's able to help their end users.
Can Google AdWords Customer Match Take Your PPC to the Next Level?
Larry Kim gives an overview of AdWords' new feature, how businesses can use it, and why it's better to choose niche PPC audiences over widespread ones.
We look forward to learning more with you as we continue our podcasting journey with Search Engine Nerds!
Get Your Fill of Search Engine Nerds!
Sign up on IFTTT to receive an email whenever the Marketing Nerds podcast RSS feed has a new episode
Think you have what it takes to be a Search Engine Nerd? If so, message Kelsey Jones on Twitter, or email her at kelsey [at] searchenginejournal.com.
Visit our Search Engine Nerds archive to listen to other Search Engine Nerds podcasts!
image via Paulo Bobita