At LouderOnline, we develop digital marketing strategies that include everything from SEO to content marketing to growth hacking for clients around the world. But no matter what particular combination of techniques we recommend or what industry the clients we serve operate in, the one consistent challenge we face is the need to create content – and lots of it! Our campaigns often include blog posts, infographics, social media updates and more, depending on the client's unique objectives.
To meet these needs, we rely on a team of top freelance workers based all around the world. One of the great things about the Internet is that gives businesses the opportunity to work with the best talent out there – no matter where around the globe these people are located.
Say one of our content marketing clients sells equipment to the construction industry. It's a niche market, but when we need to find writers to develop blog content on the subject, we aren't limited to Australia alone. We can look all over the world for the best writer to handle the project.
From a human resources standpoint, this lets us take on customers we'd never be able to support with in-house talent alone, and it allows us to deliver incredible value to these clients by opening our hiring process up to the best candidates out there, regardless of their geographic location.
But from a management perspective, working with remote contractors can be a big challenge… that is, unless you take the time to develop the necessary internal systems.
Having strong internal systems and processes is the key to being able to harness the power of freelance workers around the world in an efficient, effective way. In our particular case, that involved addressing three key challenges facing our business:
We needed a centralized location to share project details with workers so that we weren't wasting time on communication. Since we're located in Australia, jumping on a Skype call to discuss project details with our worldwide outsourcers isn't always a possibility.
We wanted to be able to empower our remote workers by providing them with enough information that they would be able to work independently. Hand-holding just isn't an option when those hands could be located thousands of miles away.
We needed our process to be scalable. The last thing we wanted to do was develop a system that would have to be reworked for every new client we took on. Our current process applies to every industry we serve and lets us get up and running with new clients with just a few clicks of the mouse.
The Louder Online Content Strategy Template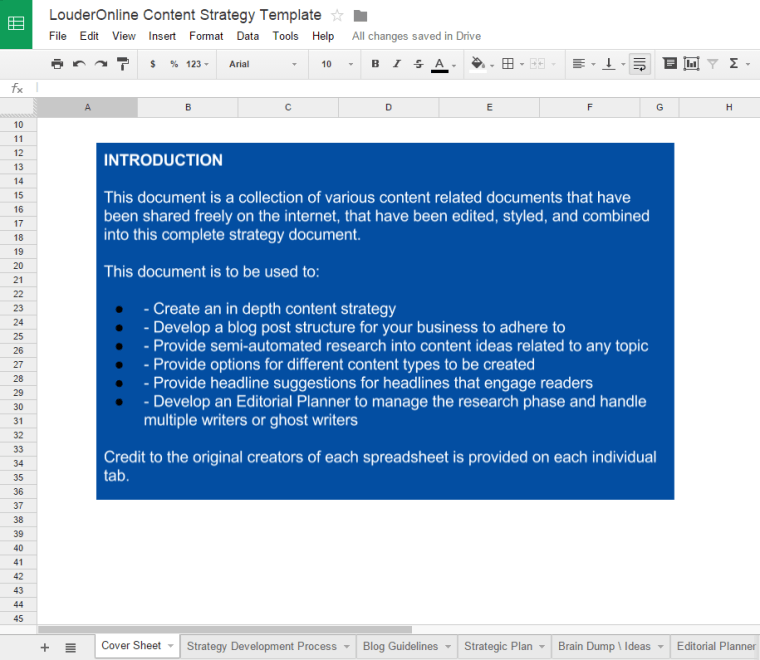 These considerations led to the creation of our Content Strategy Template. It's built as a Google Docs spreadsheet and helps with all of the following activities:
Creating an in-depth content strategy
Developing a blog post structure for our customers to adhere to
Providing semi-automated research into content ideas
Providing options for different content types to be created
Providing headlines suggestions that will engage readers
Creating an editorial planner to manage the research phase and deliver information to multiple writers or ghost writers
In its current iteration, the document includes the following tabs:
Blog guidelines: Because the document is built in Google Docs, we're able to share it with new customers and have them collaborate on strategy development. In this particular tab, we ask them to elaborate on brand-related considerations, including the tone they prefer, what categories should be addressed, how they'd describe their brand and more. This input will be used to shape the style guidelines we give to the writers we work with.
Brain dump: On this particular tab, we ask clients to list any ideas they have for possible marketing materials. Later, we'll refine these topics and turn them into specific content deliverables as we build our strategic plan.
Strategic plan: This worksheet helps us outline the types of content we'll create, what channel they'll be deployed to, how often we plan to publish and what we hope to achieve through our marketing activities. We also use this section to describe how we'll measure the success of each content type we deliver, which we'll later report back to clients to help demonstrate our value.
Editorial planner: In this section, we break general ideas into the specific content pieces we plan to create and store important management details, such as who will be creating the piece, when it must be delivered and where it is published. This tab in particular is critically important when it comes to managing a worldwide workforce – especially one that involves multiple writers.
Editorial calendar: On this related tab, we look at our content creation plan from a timeline perspective, rather than a management viewpoint. This helps us ensure that we're meeting the content mix goals outlined in our strategic plan and addressing all the different topic ideas outlined in our editorial plan.
Quora and Reddit content inspiration: We use tools developed by John Doherty and Seer Interactive that allow us to pull threads from Quora and Reddit based on certain keywords to better understand what audience members in a given niche are discussing. Although it might sound simple, we've found that answering the questions people are already asking can be an incredible effective content strategy. At the same time, viewing the results of these tools helps us to determine whether or not a hungry audience exists for the type of content we're planning to create. Documenting these results also gives us a place to come back to for insight into how our content pieces should be marketed once they're finished.
Headline templates: In this section, we draw inspiration from the Headline Hacks guide published by Jon Morrow of Copyblogger to brainstorm attention-getting headlines for the content pieces we plan to deploy throughout our marketing efforts.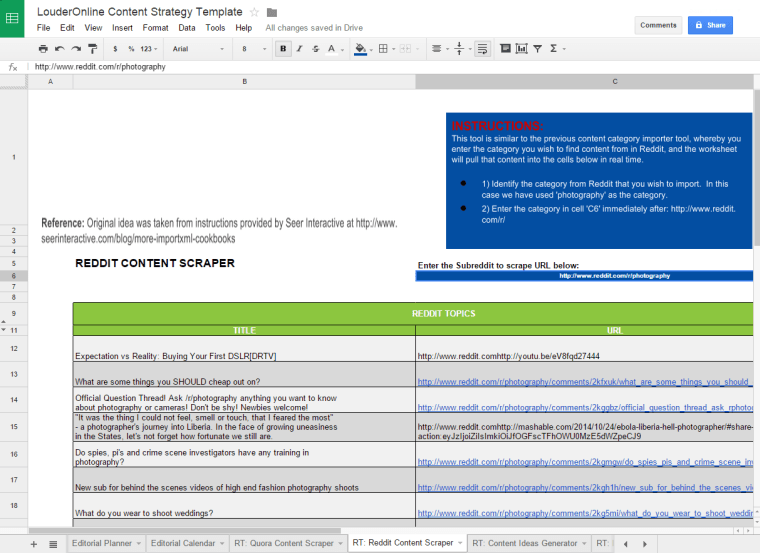 Another tool we make extensive use of – even though it's not referenced in our Content Strategy Template – is Buzzsumo.
First, we use the program to generate a list of the most shared articles on a particular topic or keyword.
From there, we're able to refine our results by date published or type of post, giving us a clearer idea of the content formats that are currently performing well, as well as how these trends have changed over time.
We also use the tool to conduct competitor analyses for our clients. Buzzsumo lets us evaluate the content on a customer's website and compare it to the pieces found on the competitor sites we specify, helping us to quickly identify content gaps that should be addressed in our strategic plan.
Taking all of this information into consideration, we can determine whether potential topics are viable or overdone.
We can identify popular posts that could be leveraged, and we can uncover issues that have been addressed, but could use further clarification through our content.
And best of all, we can send the writers we work with to the site and encourage them to do their own research before they begin creating content for our customers. This cuts down our research time and lets our writers produce killer content every time.
How We Use It
As far as our process goes, once we bring on a new client, we create a copy of this template for them and help them fill out each tab in order to develop the overall strategy we'll use on their campaign.
Then, once the client side is finished, we loop in any remote content creators we'll be working with – whether they're writers, graphic designers, videographers or other professionals.
Because all of the information they need – from topics to style guidelines to deadlines and more – is gathered in this central location, they're able to get started with minimal input on our end.
How to Create Your Own
There's no doubt in my mind that having our internal process mapped out in this structured way saves us time and minimizes headaches for the freelancers we work with.
If you think this type of system would benefit your company in the same way (and I can almost guarantee it will), I'd like to offer the following recommendations:
Match document tabs to your business processes: The tabs I described above work for the way we do business, but your needs may be completely different. To create your own internal process document, take a close look at each step you take when working with a new customer and translate these actions to individual document tabs.
Use an online system that's accessible to all parties: We use Google Docs because it's free and easy to manage sharing permissions. But depending on your needs, you might find that tools like Basecamp, Asana or Trello are a better fit.
Ask for feedback: Any new system you implement is going to have some hiccups. You'll probably notice things you've forgotten to add right away, but it's also a good idea to ask your customers and the freelancers you work with for their suggestions. Remember, better tools mean happier customers and outsourced workers who are happy to partner with you again and again.
Always be refining: We've been using the current iteration of our Content Strategy Template successfully for a while now, but I still don't consider it "finished." As our marketing strategies evolve, and we gather feedback from all the parties that use the template, we'll continue to make changes to it to make it even more helpful for our internal staff, the customers we work with and the freelancers who help us support them.
At the end of the day, our results using this process have been staggering.
We're able to seamlessly manage content strategy for more than two dozen different clients, using writers from around the world – all while maintaining client visibility over the content production process.
We're also able to identify the marketing angle of each content piece we plan from the start so that the materials we create are virtually guaranteed to get noticed by the customer's online audience.
When it comes down to it, this centralized system helps us be more awesome to our customers and the freelancers we work with – and it can do the same for you.
So now, I want to hear from you. Do you have something like our content strategy template in place to help you manage tasks across a worldwide team? If not, share any other strategies you use to work effectively with outsourcers in the comments below!
Image Credits
Featured Image: Sean McGrath via Flickr
Image #1: Flickr
Screenshots taken 10/27/2014 from LouderOnline internal resources