SEO is a special field of endeavor. We don't just get gifts for the same holidays as everyone else. We get them all year long. And while some people might consider them anything but gifts, I see them as some of the best gifts I've ever gotten.
So rather than my typical technical article, or one of my more opinionated rants, this week's article, my last for SEJ in 2010, is going to be something different altogether. It's going to be a list of some of the gifts we SEO's have received throughout the year…
Above All Else, We Are Blessed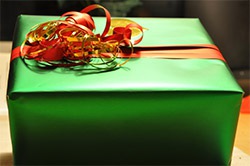 While the overall economy continued to stagnate and struggle in fits and starts, early indications showed that our industry was about to experience an epic year as far as an influx of new business, and more business from existing clients. At least from an anecdotal perspective those indications came true. Personally, I'm more than grateful to report that 2010 was an epic year for business growth.
And if the formation of Blueglass Interactive this summer, and the expansion of AimClear just recently, is any indication, some companies are definitely looking to take advantage of that and find ways to better serve their clients as our industry continually offers new challenges and new opportunities.
The Coffee Got Stronger
Google kicked things off this year by pumping up the Caffeine. Whether it's all about a faster index for it's own sake, or was really just the foundation for other gifts throughout the year, this was the first significant change Google made in 2010 that meant the SEO industry would have to do more evaluating and testing, and change our ways and recommendations.
Save Our Ship
The May Day update, quick on the heels of the roll out of Caffeine, was, as far as I'm concerned, a vindication of my 'from the beginning' belief that quality content, based on highly refined topical focus, is and will remain, for ages to come, a critical factor in SEO. The days of thin content and weak internal linking tactics became numbered with the May Day Roll out, and I'm truly grateful for that gift.
A Moving Target
Mobile Search gained a lot of ground this year. For one of my bigger clients, mobile accounted for a full 20% of their site visits, an exponential growth year over year. If you're like me, you saw the opportunity writing on the wall, and got up to speed on how to optimize for mobile.
Just Add Hot Water
Google Instant was clearly an outcropping of Caffeine. So I think of it kind of like Sanka – that coffee-wanna-be that you spoon into your mug, and just add hot water, to end up with a supposedly better solution for the masses. Well, whether it's better for the masses or not I can't truly say, because I'm not one of the masses. So where's the gift to SEO in this, you ask? For me, it's all the people in our industry who suddenly tried to figure a way to optimize for Instant search. Yeah, you keep doing that – let that shiny object distract you. My clients and I thank you for it.
Yahoos like Cherries in their Kool-Aid
Yahoo finally bailed out of the search business with the Bing roll out this year, and for that I'm very happy. Although it was more like learning you've got a gift in your Christmas stocking, only to learn it's coal. Because Yahoo's reach is very different than Bing's, which means paid ads you optimize for Bing, at least in some markets, are not going to get the same quality results when they're displayed on Yahoo properties. But hey, I'm just an SEO audit guy, so honestly, I don't need to worry too much about that. And MY work did get a lot easier with the integration.
The Great (Bing) Pretender
Google first tried to steal the thunder from Bing by adding custom backgrounds. The very next day after they rolled it out, they quickly quashed it, though you can still go there if you really think you need your own image when you're searching. (Yeah, okay, right…) In 2010 though, Google somehow actually recognized that one of the best features at Bing is the previews. Of course, they failed miserably in the implementation. Instead of elegant, it's borked – klugey, clunky, and downright annoying. But hey, it's one more shiny object many SEOs are scrambling to expend otherwise critical real SEO efforts on, so yeah, I'm very pleased with this "gift".
And uh, someone forgot to tell Google about Google Instant Preview. I mean – the fact that Flash doesn't show up there.

Location Location Location
Google literally changed the SEO game in an epic way when they migrated maps results to the front page of the SERPs for local and moved the 7 pack (which I now lovingly call "the floater") to the right side, ABOVE the AdWords. This one change alone has opened up a massive new opportunity for SEO professionals to broaden their service offerings, and to help that many more business owners who will struggle on their own to figure out this SEO thing.
The Belle of the Ball
While many of us speculated it's a factor now, Bing and Google have now both confirmed that Social signals matter to SEO. Which means that if you're an SEO professional, you either need to get up to speed on Social, or at the very least, collaborate with someone who is. Because it's the sites that are the stand-outs in Social that will benefit from this new facet of the ever changing business we're in.
It's Not All Roses
Sadly, we also lost a couple of our own this year as well. Jaamit and G-Man both had a significant impact on a lot of people in our industry, and both will be truly missed.
An Even Brighter Future
Yes, by all indications, 2010 truly has been an epic year for SEO. With all of these changes, we may be more pressed than ever to stay ahead of the curve, yet it means our futures are further secured than ever before…
A Chance To Become Famous
What epic changes do you think are on the horizon? Share your thoughts in a comment here – and if I think you're right about that, or even if I think you're way off base, I'll write about it in an upcoming article, and provide credit to your contribution to the dialogue. And until we meet here again in 2011, I sincerely hope you have a very happy, magical New Year!
________________________
Gift photo courtesy flashfire