I have once looked at the three ways to display related posts in WordPress. I have also described that will help your site performance by leveraging your old content and increasing:
Click-through;
Crawl depth;
Possibly, rankings.
Today I am sharing another WordPress plugin that may be used for that: "Where did they go from there".
In essence, while the three plugins I listed in my previous post are based on thematic relevance, this one relies on "behavioral" relevance:
When a visitor views a blog post, the plugin checks to see if the referrer is another blog post on your site. If this is the case, then the referring post is updated with a reference to this post. And, the process continues as the visitor moves through the blog.
So after some time of this plugin being installed, each of your posts will have a list of blog posts that people tend to click to after reading the current one.

From the tool settings you are able to:
Set the number of posts to display;
Add the list to posts or any other page types;
Add the list of posts to the blog feed;
Display list of posts in Edit Posts / Pages;
Give credit to the creator;
Set the heading for the list of posts;
Exclude pages from the list;
Show post excerpt in the list;
Customize the output look;
Add each post thumbnail;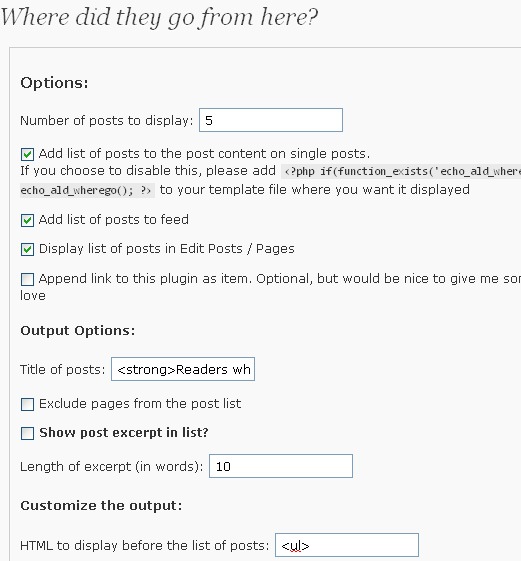 After using this plugin for a few days I found it is really great for:
Giving your readers an alternative option to go further to (along with thematically related posts);
Analyzing your readers behavior;
Analyzing your internal linking strategy (which links seem the most attention grabbing).
It doesn't seem to affect the site speed dramatically either, so you may give it a go!