Displaying links to previously published related posts in the bottom of each article has numerous benefits:
(!) Dramatically increase click-through (people who are very interested in the topic are most likely to want to read more on this);
(!) Increase the crawl depth by introducing additional inter-linking;
(!) Leverage your old content (you are likely to see your older posts commented, tweeted and stumbled).
Anyway I see no reason for not doing that. So go ahead and try introducing "Related posts" to your blog now. And here are 3 ways to do that:
| | | |
| --- | --- | --- |
| Tool | Relevancy | Customization |
| Yet Another Related Posts Plugin | High | Highly customizable |
| Arkayne (related posts on your blog + links to other sites) | High | Customizable |
| Google Related Links (beta, by invitation only) | Very high | N/A |
1. Yet Another Related Posts Plugin
Yet Another Related Posts Plugin is the most popular and widely used method to bring up previously published content.
It has a wide variety of options and settings; some of them include:
Set which web page elements you want to take into account when calculating relevancy. By default the tool analyzes:
Titles;
Bodies;
Tags;
Categories:

Set the match threshold: the higher the match threshold, the more restrictive, and you get less related posts overall. The default match threshold is 5. If you want to find an appropriate match threshold, take a look at some post's related posts display and their scores. You can see what kinds of related posts are being picked up and with what kind of match scores, and determine an appropriate threshold for your site.

And of course you can customize the look and feel of the related posts block by:
Setting the list type;
Creating the intro;
Showing / hiding excerpts;
Setting the number of posts to display, etc.
2. Arkayne
Arkayne is another WordPress plugin that can be used to interlink your older posts. Arkayne allows to link to related posts on your own blog as well as on other blogs in your chosen trusted circle (it can thus be a powerful networking tool).
I have reviewed Arkayne in much detail previously, so here are only most essential takeaways.
According to their own words, Arkayne uses an advanced algorithm to define relevancy:
Instead of relying on tags, Arkayne automatically examines every visible word on a given post. After examining every post on your site Arkayne compares every post to the others to determine how contextually relevant they are… Please note Arkayne ignores all JavaScript content, and meta tags are not included in the contextual comparison
The links settings can be customized by going to your online Arkayne account and selecting the options there "Plugin settings" page:
Set the introductory header for the links (i.e. create an introductory phrase, like "Related posts ");
Add nofollow attribute to all external links pasted on your pages;
Add some additional URL parameters for tracking;
Set the number of cross- and innerlinks.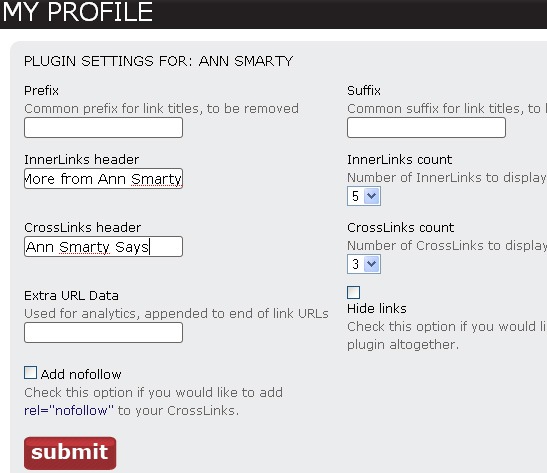 3. Google Related Links
Google Related Links is one of the most recent Google labs projects. It is executed as the javascript widget, so it can't be crawled by search engine bots but the post relevancy is really high.
Try it here.
*Currently, only invited users can use Related Links. To apply for an invitation, you will have to email Google stating your Gmail address, website domains and approximate pageviews per day.*
In my humble opinion, this Google gadget should be installed at least for the sake of self-education: it may help you better understand how Google might understand your blog content.
Optionally, the gadget can also suggest searches that users can run within your site to find even more related pages: