I love reading Internet discussions. That's a source of inspiration, news and post ideas.
There are so many sites where people can share their opinions on any article (popular social voting sites, micro-blogging platforms, etc), that it might be time consuming to check them all.
Here are two tools that aggregate comments fro a number of platforms:
ConvoTrack
ConvoTrack is an online comment aggregation tool that collects discussions surrounding any blog article from the following sites:
Twitter,
FriendFeed,
Digg,
Reddit,
HackerNews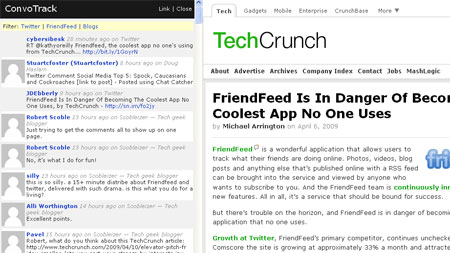 It also offers a very handy bookmarklet that opens a sidebar featuring comments for any post.
Benefits:
Sort comments by the source (Twitter, FriendFeed, or blog link);
Opens in a sidebar, so you can see comments and the post itself simultaneously;
Bookmarklet for quick access (FireFox and Internet Explorer compatible).
YackTrack
YackTrack is my recent discovery I keep blogging on. It aggregates opinions on any post from a number of social media sites. For any URL you enter you will be able to see:
Twitter mentions (including TinyURL backlinks);
Actual on-site comments to the post;
Comments on Mixx;
Reviews on StumbleUpon;
Google reader comments;
Comments on Digg.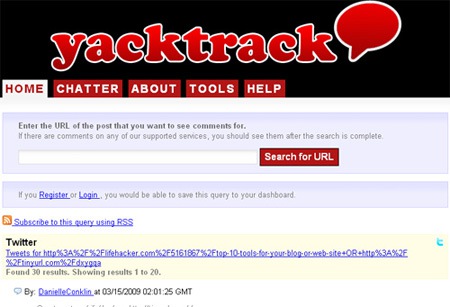 Benefits:
Seems to return much more comments than ConvoTrack;
Offers IE and FireFox bookmarklet.