One of the growing recommendations for clients who are upset by competitors stealing away traffic by bidding on their brand is why not trademark it? Looking at the conversion/goal data you can see, for most clients, a large number of the converting phrases revolve around their brand/trademarks. So, making sure they catch a larger share of this traffic is in the best interest of your clients.
Why enforce your trademark in AdWords?
One of the big reasons is that much of your offline and external marketing strategies help increase the volume of branded search traffic which you can ensure you capture via AdWords. You'll also find that branded search traffic converts better than generic terms but you get a dual benefit as typically AdWords also uplifts CTR of your organic results. Another reason to enforce trademarks is that it keeps your marketing campaigns from failing when marketers continue to use call to actions in media campaigns such as "Google us" or "Find us online". These risky strategies are a gold mine for your competitors but if you enforce your trademarks it limits how much they can steal your thunder by just buying AdWords traffic around your brand terms during the media campaign.
External Solutions to monitor brand use?
There are a number of platforms designed to both monitor your trademarks but also how your current affiliates, partners or competitors might be leveraging this traffic for higher sales often at your clients expense. There are certainly valid reasons for allowing a small subset of partners/resellers to use a limited number of your brand phrases in their PPC campaigns but it can be easy to ensure they use "brand" broadmatch negative keywords if you don't want to bid against them.
AdGooroo offers a Trademark insight feature
MarkMonitor offers enterprise Brand Protection
Some Advertisers discourage targeting competitors
A new strategy being employed by some advertisers actually prohibit their affiliates/resellers from actively buying traffic around their competitors brands/products so this is another reason why you should consider monitor brand use across PPC. My feelings is the real reason that you might want to discourage buying competitors traffic is that it can start an arms race that drives down ROI for both parties and you blow out your CPC KPIs because your quality score sucks and you both lose out. A longer term issue is that buying traffic around competitors products/services may not always offer the best possible experience for visitors as your products will vary in features/benefits but maybe even quality, and are you that confident in their product?
Official Google AdWords Solutions?
In most regions of the world including US/UK/EU Google will only investigate use of trademarks in text, which does not stop bidding on your brands/trademarks. This is great for business but sucks for trademark holders who find their claims ignored once ad copy is changed to no longer use trademark terms. In a few regions of the world Google will investigate both the ad text and the keywords that are being bidded on, if you are in these regions you might have felt the impact of this on your campaigns.
What are these lucky regions?
Australia
Brazil
China
Hong Kong
Macau
New Zealand
North Korea
South Korea
Taiwan
How does this effect me?
Let's say that you are currently bidding on trademark terms of your competitors because they are a lot cheaper and still offer a very high conversion rate. Once a trademark has been enforced your campaigns will be progressively reviewed and any infringements will be disapproved and all existing ad copy until changed. It can also jeopodise current affiliate arrangements but longer term place roadblocks in your way if you ever want to discuss partnerships once you have been caught infringing on their trademarks.
How can I limit the impact of a enforcement?
One way that is usually effective is to make no changes to the trademark keywords or Ad copy, this avoids the automatic review process but eventually you will find a manual review will notice the infringements and enforce them. Once you have been flagged any infringing Ad Copy or Keywords will be set to disapproved and you will have to look to apply for permission or move on to different keywords or change your Ad Copy.
How can I get around trademark enforcements?
The following method while not ethical is still fairly commonly used if not intentionally to get around trademark enforcements. Google will not allow broad use of trademarks to be enforced so the way to get around the enforcements is to use smart broad match strategies. Another point is that many companies will only have a limited range of terms/brands actually trademarked so by having a great knowledge of their products or trolling what is not covered by a trademark along with some ppc testing you will easily find other keywords to bid on.
Example 1: You sell VMware but are unable to bid on brand terms but really want that traffic. I would suggest the creation of an ad group targeting broadmatch terms such as "Virtual Server" with specific landing page for VMware products but would list all their competitors as negative keywords: Symantec, Citrix, Rackspace.
Example 2: You license Apache proxy software and are unable to bid on brand terms and want more brand traffic. I would suggest the creation of an ad group targeting misspellings and typos of Apache such as: Apachee, Apach. Since it's not a common word to all languages I would also look at international mispellings possible with something like Google Translate. Keep in mind that there is a limited amount of traffic for these terms as Google usually understands user intention and offers "did you mean" results and a good Google account manager will catch onto this eventually and can examine these misspellings in a manual review.
One reasonable use of these 2 methods is if a brand/company has given written permission to use their trademark but you are waiting for the rest of the paperwork and approval forms to be process by their or Google's legal team before you can bid on their trademarks officially.
What about resellers/informational sites?
These sites often managed to skirt around trademark's as Google views these types of sites as within it's advertising policies, Google can at their disgression offer a limited invistigation of infringements but don't expect much.
Their policy covers most types of sites that you would be losing branded ppc traffic to including:
resellers of trademark goods
sale of replacement parts or components
informational sites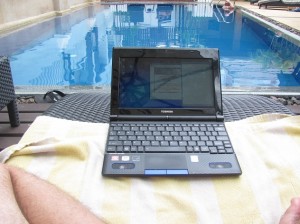 This post was mostly written up on my last day of holidays in Karon Beach by the hotel pool, so I was unable to provide some more real world data as I would have liked but I hope you enjoyed it. Hopefully you are able to start more discussions around how you can use trademarks to benefit your clients/campaigns or help your strategies to combat them.