We consume so much info on the web that it is absolutely impossible to do without some smart bookmarking tools.
FireFox built-in bookmarking feature is one way to go: the browser bookmarks can now be organized by folders and tags and they are always by hand. And what's more, there are a few addons and tools that help make sense of them:
Delete Dead Bookmarks
What is not good about FireFox bookmarks is that it is easy to lose control over them (well, that's the problem with any bookmarking tool). One day you turn out to have hundreds of saved links: you have no idea what some of them stand for and why you have saved them. And what's worse, plenty of them are not valid any more and they just add a lot of mess.
Luckily, here's one handy tool to help you filter out those useless and dead links: AM-DeadLink (compatible with FireFox and Internet Explorer).
AM-DeadLink is a free desktop utility that detects dead links and duplicates in browser bookmarks and text files. If a bookmark has become unavailable you can verify and delete it permanently. Additionally you can download FavIcons for all your Favorites and Bookmarks.
Start by downloading and installing the tool;
Choose the browser in the drop down;
(With FireFox) point it to the desired profile;
Click check, sit back and wait;
See the status and error report for each link in your bookmarks: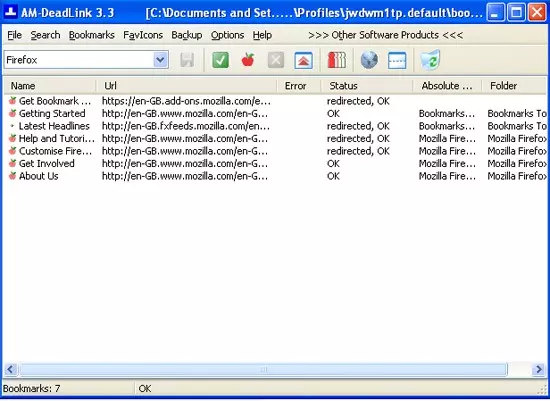 An alternative tool for that: CheckPlaces (FireFox addon) that does basic check of your bookmarks, with the following options:
Check that the pages still exist,
Check for duplicate bookmarks, and for empty folders.
Use it to restore favicons that have gone missing.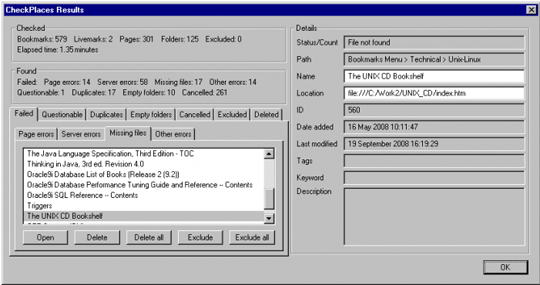 Synchronize Bookmarks
Xmarks started as a simple FireFox bookmarks synchronizer and later got another cool feature: Google SERPs assistant (shows which pages in your Google SERPs was favorited by many tool users).
Keep in mind that your bookmarks will be stored online, so mind your privacy. The good thing is that you can access them from any computer: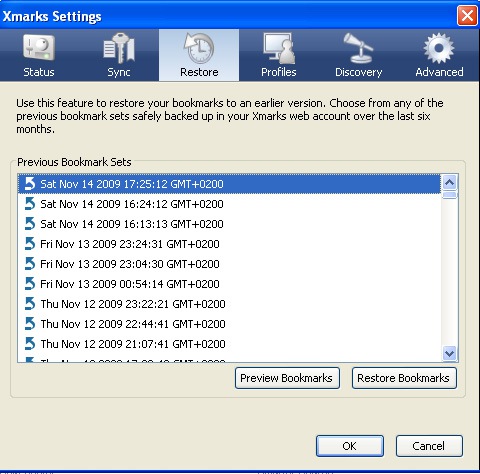 Optimize Bookmarks
Smart Bookmarks Bar (a handy Bookmarks toolbar optimizer) – It hides bookmarks names and only shows icons.
Bookmark names will be displayed on mouse over.
Well, despite the fact that I mostly have folders in my bookmarks toolbar, this still proves really useful as I can clearly remember which folder stands for what info, and besides I can see details on hover over:

Move Bookmarks
The following addons allow to access bookmarks from alternative places:
Context Bookmarks: Adds bookmarks to context menu so you can access them by mouse right click.
All-in-One Sidebar: Loads bookmarks in the sidebar.
If you are using any advanced hacks to manage and organize your FireFox bookmarks, let us know!