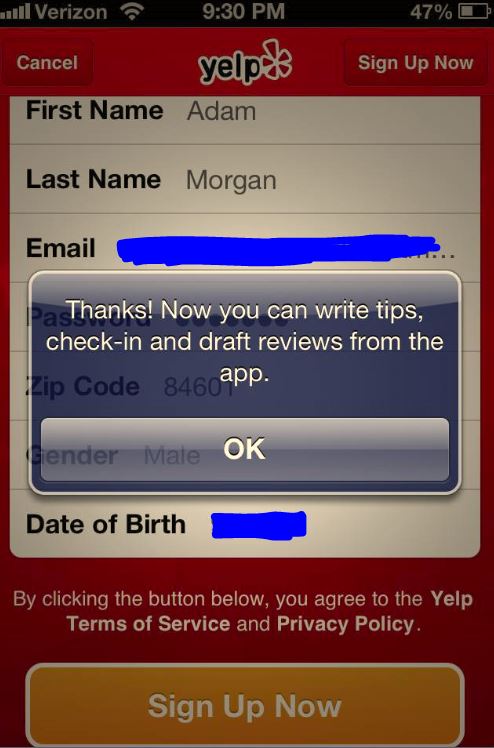 Not too long ago, Jeff Chiarelli, taught us how simple it is to claim a Yelp profile. Did you take his advice? Today Yelp released an update (specifically to iOS devices first) to the mobile app that will allow you to draft reviews directly from your mobile device. This is something that many 'Yelpers' have long requested.
After reading what Eric Singley, the VP of consumer and mobile products, had to say, it makes me feel like they've been wanting to add it for a while, but didn't exactly know the best way to go about it. Here's what Eric said:
We occasionally hear from other passionate Yelpers on why we haven't enabled review publishing from our mobile applications. There are several reasons why we do this…Well imagine what it would be like if reviews were done in SMS shorthand: 'OK so, IANAE, but AFAIC this place has THE best Cfood. It was gr8! ADBB'

Um, yeah.

We love the witty quality of the reviews and the insight that Yelpers share in their detailed accounts of their experiences. We've found that Quick Tips and Draft Reviews [two pre-existing short features] are mobile features that provide eager Yelpers with an outlet to catalog their immediate experiences or jot notes that they can then add to or edit when they get back to a computer. While we're not saying that writing Yelp reviews on your mobile device is out of the question, we feel very strongly about maintaining the high level of content you all provide.
Once you complete your draft from your phone, you will be directed to the website to finish it. This is because they want to ensure that the reviews are high quality and useful. I confirmed the update when I installed Yelp on my iPhone and was able to screenshot the picture you see above.
Yelp knows that mobile is the fastest growing segment and making such an update will not only impact their bottom line, but also create more user engagement. It will cause users, like ourselves, to spend more time on the app. Doing so will boost their advertising revenue. Not a bad move.
What do you think about this new draft review ability?