Remember the scene in "Minority Report" where Tom Cruise is in a mall, all the while personalized advertisements are literally calling out to him as he walks by?
Is this our digital future? How exactly does behavioral retargeting work, and does it deserve to be controversial? Search Engine Journal sat down with Adam Berke, cofounder of ad retargeting platform AdRoll, to shed some light on the business.
How ad retargeting works
"Retargeting helps companies advertise to website visitors who leave without a conversion — about 98% of all web traffic. This is done by displaying ads to the prospect as they surf the internet via various ad networks that the agency buys media from on behalf of their Business Customers. Retargeting is only serving banner ads to people who have shown at least some amount of engagement in your brand. This makes retargeting a smarter spend than most other display ad campaigns as it focuses on your brand's engaged userbase." Source: Wikipedia
AdRoll was founded in 2007 with one goal: to make display advertising effective, which at the time was "the red-headed stepchild to search marketing". At the time, e-commerce and SMBs were not investing in display, as it didn't yet have the ROI of search-based advertising.
By focusing on refining the behavioral advertising experience as well as creating a self-service platform for advertisers, AdRoll is now a San Francisco-based team of 45, growing by 10 advertisers a day, with venture funding from top-shelf VCs such as Accel and high-profile angel investor Peter Thiel.
AdRoll claims that by being able to reach 85-90% of a retargeting list, they are able to generate a true +5% incremental increase in sales with a well-optimized retargeting campaign. "The dirty little secret of retargeting is that many of the conversions that providers take credit for would've converted anyway. Sophisticated advertisers should work with providers who understand how to generate incremental conversions, not just deliver the lowest CPA or CPC possible."
Apparently retargeting is effective, with the right strategy. So how do advertisers get it wrong?
#1 Mistake of retargeting
According to Adam, the most common mistake is also the most obvious: not taking the user into consideration. "What's surprising is how often people ignore well-established, best practices. I think marketing managers feel compelled to jam in a bunch of rich media animation and social media sharing features into creative, but what generally works best is simple, striking creative, that has a clear message and obvious call to action. People aren't waiting around for your ad to load and animate to figure out what they should do."
Timing is everything
Running a close second is the timing of the retargeting campaign. It can give an impression of "creepiness" when a banner ad follows a viewer (seemingly) endlessly from website to website. AdRoll advises clients to "think of cookies like email". Imagine if you could get the email address of every person that visited your site. How do you market to your email customer base, and how often? You wouldn't bombard your email list with hourly exhorts to buy, buy, buy– and you shouldn't annoy your retargeting audience by doggedly showing up wherever they go, over and over.
Retargeting: Privacy invasion or misunderstood?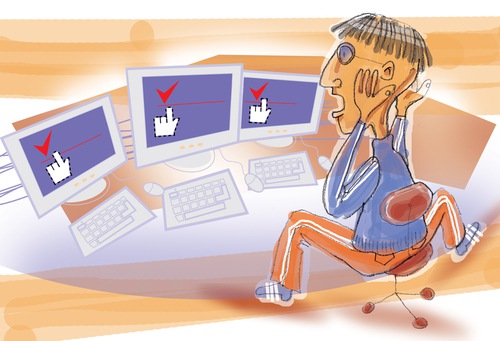 Retargeting uses cookie tracking, which does not identify the user nor discloses any personal information. However, some critics feel like they are being stalked not only when ads follow them, but also when the ads show the very item that they were considering purchasing, thanks to dynamic retargeting.
Adam responds "…The good news is that AdRoll is perfectly aligned with users when it comes to these issues. We want to deliver ads that are useful and relevant. … We think this is a major improvement over the dancing aliens and 'punch the monkey' ads users would see otherwise. (But) the last thing I want to do is to serve an ad to a person that will generate a negative reaction. That's a waste of money for us and our client. …If you want to stop seeing ads from a particular advertiser, PLEASE opt out! That just helps us optimize."
Future for behavioral retargeting: calling John Anderton?
Dynamic retargeting serves up personalized ads based on visitor intent data. A web surfer looking for blue dress shirts will later see an ad featuring the very same shirt he had been browsing. Today's dynamic retargeting ad creatives tend to be "ugly", according to Adam, often shoehorning in distorted images into static backgrounds that don't always match the product. Additionally, dynamic ads usually require product feeds from the advertiser which break often.
AdRoll is beta testing a personalized dynamic ad service that more seamlessly blends just-viewed product images with complementary ad backgrounds, and no feed is necessary. So far he says, they've seen a 3x improvement over conventional retargeting.
A more realistic future: Opt-in display advertising
Imagine a world where visitors can sign up for an email list, and click an opt-in button for sales that are only available via retargeting. Or ad units that function as interactive carousels that allow the viewer to browse and shop around, in the ad.
Adam says "I think the next phase will actually involve the user. Traditionally, advertising tech companies have optimized for either the publisher or the advertiser. However, with personalized ads, the user needs to be taken into greater account. AdRoll looks forward to thinking of creative ways to give users controls to ensure they see more relevant and useful ads. This will drive better results for advertisers, who will then want to pay more, resulting in more revenue for publishers."
Retargeting quick tips
Retargeting is especially effective for e-commerce.
If you are promoting an impulse buy, you should time the serving of a retargeted ad sooner than say, a luxury goods item, which typically has a longer sales cycle.
B to B is trickier as the sales cycle is longer and often isn't an immediate online transaction. Define your transactions differently such as a white paper download or demo registration.
Test, test and re-test. A/B or multivariate your "free shipping" | "no sales tax" | "sale today only" offers. Segment off a control group versus a retargeted group to find out what's really converting.
Got the traffic, but can't get any nibbles? Check out 7 Things You Can Do When Your Conversion Funnel Sucks.