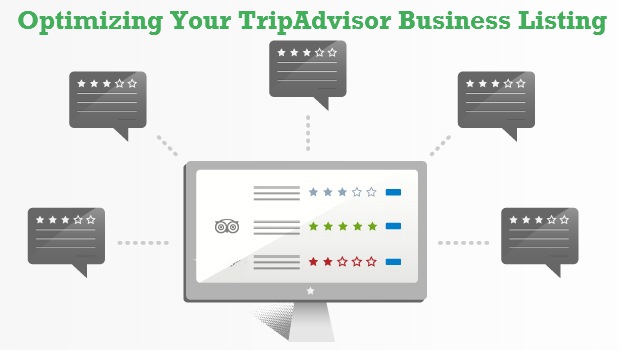 In the age of the internet, travel planning has evolved. When today's travelers are looking for a place to eat, sleep, or visit, they look to online review sites like TripAdvisor. In TripBarometer, an accommodation and traveler survey conducted by TripAdvisor and market research firm StrategyOne, 93 percent of the respondents said that their booking decisions were impacted by online reviews.
These reviews have a significant impact on visitor traffic and conversions. If people find you on TripAdvisor, then they at least have to choose between you and a competing business. If they don't find you, it is as if your business does not exist at all.
If you are a business owner or manager that caters to travelers then it is absolutely critical to get your business listed on TripAdvisor and optimize your TripAdvisor Business profile page. Read on for a list of ways to get started.
Write detailed descriptions. After you've claimed your business listing, spend some time writing a detailed description of your business. Avoid sales pitches and cliche ad copy, instead focus on highlighting the key features that distinguish you from your competition. For example, nearby attractions, popular amenities, and a convenient location. According to TripAdvisor, 92 percent of travelers choose a business that posts detailed property descriptions over one that's missing info. Bottom line, the more detailed your page is the more likely potential customers are to choose you.
Keep your info up-to-date. Do you know that 43 percent of all US businesses have at least one incorrect address on an online business listing or review profile page? In total, about $10.3 billion worth of potential annual sales are lost because of wrong/inaccurate local data. Which is senseless, because it's an easy fix. If you have changed your business address, website, or phone number, then make sure you update it!
Add keyword-rich text. TripAdvisor listings regularly appear on search engine results pages. Do a bit of research to find your industry's most relevant keywords (use the Google Keyword Tool or a similar service) and make sure you add some of these to your description text, but don't overdo it. Keyword-stuffed descriptions don't read well and actually work against you in Google rankings. Keep it simple and readable. By being equally search-engine-friendly and visitor-friendly, you put yourself in a good position to convert TripAdvisor users into customers.
Upload photos. According to TripAdvisor, travelers engage 150 percent more with pages that have 20 or more photos. Add authentic and high-quality images that showcase your businesses location and special features. Forget the corny shots of popped champagne bottles and the predictable pictures of rose petals on the bed. If you're managing a hotel, then show off your rooms, your lobby, and your service facilities. If you're a restaurateur, then display pictures of your dining area, your exterior, and your most popular dishes. Don't forget to add descriptive, keyword-rich captions!
Change your primary listing photo regularly. Did you make renovations to your hotel, restaurant, or business location? If so, then be sure to show people what it looks like right now. Keeping your info up to date applies to photos, too! Let visitors know about your remodel or new dish by regularly updating your primary listing photo on TripAdvisor.
Establish best practices for managing online reviews. Optimization of your Trip Advisor page is all about increasing visibility and communication. That's why it's so important to have an online review management strategy in place. It helps create the positive impression that your management team is engaged and that you actually care. Track your reviews regularly. Listen to customer feedback and respond to reviews whenever necessary. If you're not satisfied with the number of reviews and ratings you're getting (the volume does affect rankings), then we suggest signing up for TripAdvisor's free Review Express service, which is designed to make it easier for your business to generate new traveler reviews.
Make your page more social. Not all potential customers will find your TripAdvisor page; instead, they find you on Facebook, Twitter, or your company blog. To ensure greater online visibility and improve overall search performance, add TripAdvisor apps or links across your social networks. This will expand your reach outside of TripAdvisor.
Show off your honors. TripAdvisor regularly rewards the best-reviewed and most highly-rated businesses with badges like "Travelers' Choice" and "Certificates of Excellence". If your business has been honored, then let people know! TripAdvisor offers press release templates for Certificate of Excellence recipients and other top businesses. You can also visit the TripAdvisor Widget Center and display your awards on your business website. These widgets are linked to your TripAdvisor page where potential customers can click through to browse your reviews, information, and photos.
Integrate booking or reservation links. TripAdvisor has partnerships with industry sites like Expedia, Agoda, Hotels.com, GetYourGuide, and OpenTable. For a TripAdvisor listing on steroids, ensure that your business is listed in these partner sites so that you can get a "Book Now" or "Reserve" link on your TripAdvisor listing.