As a product manager at Bing Ads, I spend much of my time better understanding customers' needs by collecting feedback from the PPC community, studying industry trends, and diagnosing campaign performance. Across these mediums, I found a set of distinguishing characters among campaigns which dominate their vertical in impressions and clicks. I would like to share my top 3 findings with you, so that your campaign can join the club.
Finding #1: High-performing campaigns are built on top of well-established websites delivering unique value through a strong user experience. Ad copy sets appropriate expectations for visitors, with the right offers – together they effectively convert visitors to customers. Additionally, favorable user experiences tend to transform each customer into a life-long customer.
Do you already own an elite campaign? There are a couple of ways to find out:
1) Check the bounce rate and exit rate on your website using Bing Webmaster Tools or your site's analytics software.
In general, a lower bounce and exit rate imply your website engages well with visitors. Even if there is no universal benchmark to compare those rates because different natures of search queries (commercial, navigational, informational) have different user engagement paradigms, you can still use them to compare the performance of individual pages within your site to identify the weakest links. For reference, according to RKG's Digital Marketing Report, Q3 2012 , the average organic search results' bounce rate on PC traffic is about 40%, and 45% for mobile traffic.
Exhibit 1: Visitors like landing pages which offer unique values and take actions to purse those values.
Exhibit 2: Bounce: Visitors left landing page without visiting other pages.
Exhibit 3: Exit: Visitors left the site.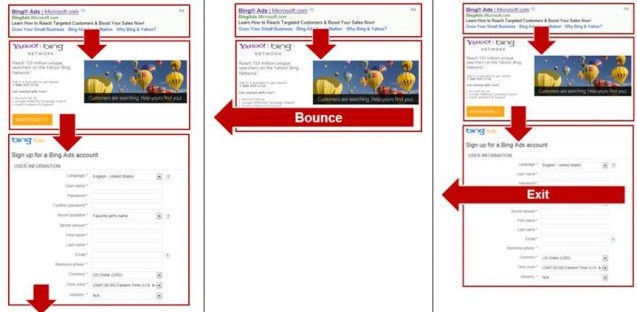 2) Check out your campaign's Landing Page Relevance Score.
Landing Page Relevance measures whether your landing pages could properly engage with visitors' intents. Here are tips to improve your landing page relevance.
Exhibit 4: Bing Ads provides Quality Score at the campaign, ad group and keyword level.

Finding #2: Those high-performing campaigns were well organized, enabling the account manager to:
Easily prepare campaigns to engage with any comprehensive promotions across real world and on-line stores to maximize the ROI of their overall advertising efforts.
Effectively conduct experiments and identify improvement opportunities.
Create ad copy that presents a specific value proposition to the target audience and drives a higher CTR.
Tightly manage traffic quality with targeting and negative keyword function without generating negative conflicts.
Have more opportunities to create exact match keywords to control ROI. A recent Bing Ads internal study conducted in March 2013 shows that elite campaigns are very efficient at using broad match keywords to explore a wider range of search terms to identify exact matching opportunities, and have a higher percentage of exact match keywords to compete in the marketplace.
Exhibit 5: Comparing match type distribution of performing keywords (i.e. keywords generated impressions) and average Quality Score.

Finding #3: High-performing accounts aim for the best seats in the house to collect more clicks.
A recent whitepaper published by compete, "Seeing Between the Lines…of the Search and the Click", points out that 85% of paid search clicks happen in the top positions, with that top (#1) position collecting 59% of overall clicks, followed by 15% of clicks by #2, and 9% of clicks by #3. These top three positions are the best seats in the house and those high-performers are after them. After achieving a higher revenue-per-click (RPC) by establishing value-driven websites and well-organized campaign structures that earn some of the highest rankings in Quality Score, they bid competitively to secure those top position on the search result page to collect even more clicks.
Exhibit 6: Clicks distribution on the search result pages.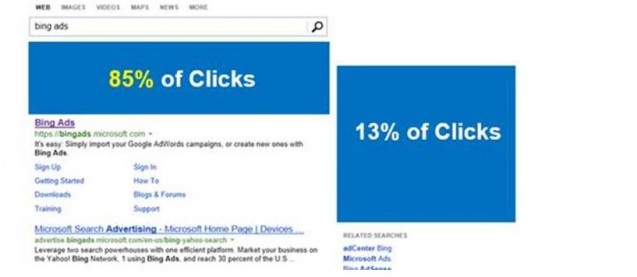 Takeaways:
Your profit margin is greatly influenced by your website. Work on landing page relevance before driving traffic to it.
Timing is of the essence in advertising. An organized account will help you catch and capitalize on every opportunity.
Money can't buy campaign quality, but it can help quality campaigns collect more clicks and generate a higher profit.
Remember, a solid foundation with a good campaign structure is key. I hope these insights help improve your campaign's performance from the ground up and secure long-term success.