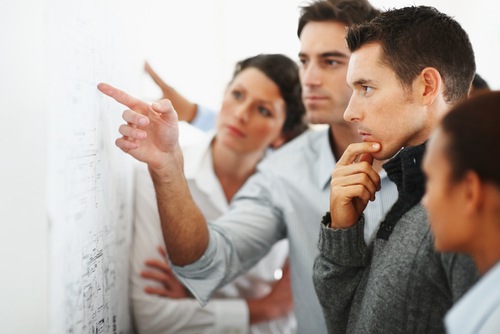 Working in the field of website optimization may be many things, but it's certainly never boring!
If you're new to the industry and wondering what your day-to-day activities should look like, consider the following elements for guidance on how good SEOs structure their word days:
Link Building and Monitoring
Because link building plays such a vital role in website success, all good SEOs try to make this practice a part of their daily routines. The only exception to this rule occurs in large SEO agencies, in which workers are specialized to handle different aspects of the SEO process—whether that's content creation, on-site optimization, link building, or some other element of the digital marketing process.
In all other cases, SEOs are constantly looking for new opportunities to create links, reading industry blogs to find new link building ideas, or tracking existing links in order to monitor and correct changes in a website's backlink profile.
Education and Community Interactions
Because the Internet marketing industry is constantly changing, ongoing education is an important part of any SEOs work day. In most cases, this takes the form of perusing industry blogs to stay abreast of any major algorithm changes or newly discovered SEO techniques.
At the same time, SEOs may leave comments on these articles, post messages in community forums, or ask questions on social media websites. Not only do these techniques help to expand an SEOs knowledge, they're also great for building up a reputation and a perceived level of authority in a sometimes cutthroat industry.
Testing SEO Theories to "Learn by Doing"
Good SEOs put their SEO theories to practice on their websites in order to determine conclusively what is and what isn't working at any given time. Because Google and the other search engines never fully reveal all their secrets (and because not all of the advice found on industry blogs is legit or trustworthy), real SEOs know that they'll only uncover the truth about what components cause a website to rank well in the SERPs by experimenting in real world settings.
Tracking Rankings, Traffic, and Conversion Rates
Probably the most boring part of any SEO's day is the time spent tracking ranking, traffic, and conversion rate metrics. A good SEO relies on complete sets of data, and unfortunately, there are really no shortcuts when it comes to compiling and analyzing these figures.
But however mind-numbing this data collection may be, SEOs recognize that it's vitally important. Staying on top of even minor downturns in Web data trends can help SEOs to nip potentially serious problems in the bud by taking corrective action before serious search engine penalties can be assessed.
On-site Optimization<
On-site optimization is never over. No matter how many code corrections, content tweaks, or image updates an SEO makes, there will always be new elements to optimize and others that can be optimized better.
For this reason, many agencies will expand their team of on-site analysts before growing any other part of their companies, especially considering that changes made to on-site elements often result in the fastest improvements in a site's performance. Unlike backlinks, which may take time to index and value, on-site changes can make a significant difference in how well the search engines can read a website, making these tweaks a top priority for any SEO—agency-based or otherwise.
Monitoring Website Competitors
Paying attention to changes made on competitor websites offers a number of different benefits to working SEOs. Carefully monitoring a competitor's backlink profile may expose weaknesses in the company's strategy that allow the working SEO to surge past his opponent in the SERPs. For example, if a competitor's link graph shows no evidence of social media marketing, focusing on this strategy could give an SEO the edge needed to attain even higher natural search rankings.
At the same time, monitoring a competitor's activities may reveal information on new strategies that either work or don't. It can be time-consuming to monitor both in-house websites and competitor pages, but good SEOs know that there's plenty of quality information to be gained if they're willing to put in the effort.
Collaborating with Internal Development, Marketing, and Product Teams
Today, SEO is about more than just backlinks and on-site optimization. A good SEO campaign requires collaboration with development teams (to ensure that a site's code is functioning optimally from an SEO standpoint), with marketing teams (to identify any branding elements that should be used appropriately on the website), and with product teams (to enhance product sales pages in order to create a stronger on-site user experience).
As a result, all SEOs must spend time collaborating with relevant parties, either with fellow in-house employees or by setting up meetings with client departments. While these activities do take time away from "hard SEO," they're important as they can ultimately result in a stronger website that appeals better to both the site visitors and the search engines.
Oh, the email … As pretty much anyone who works online knows that there's never a shortage of email messages to check. From client communications to internal company updates and from industry newsletters to social networking profile notifications, all SEOs spend at least part of their days checking and responding to email.
Networking
Spending time connecting with others in the industry isn't just important for agency-employed SEOs, who often rely on these casual contacts in order to drum up new business and learn new techniques by "talking shop" with one another.
As an added bonus, getting out there and shooting the breeze with others can be one of the easiest ways to build links ever. I can't tell you how many lunch meetings or happy hour cocktails I've had that have turned into powerful, high value backlinks pointing to my company's website.
Having Fun
Of course, it's not that there's anything wrong with having a little fun alongside SEO work. In general, I've found that taking breaks throughout the day to do things like play pool, work out, study French, or do anything else that's away from the computer helps to keep me fresh and focused throughout the day—ultimately making me better at my job.
Obviously, most in-house SEO employees won't be able to get away with most of these activities while on the clock (unless they have a fun boss like me!). However, if you manage an internal team of SEO workers, be aware that taking short breaks from total productivity helps to clear employees' minds and make them better at their jobs. SEO can be highly technical, which is why this refreshing downtime is so valuable in preventing burnout and helping to bring about website breakthroughs.
Now, whether you're using this list to consider whether a job in SEO is right for you or to better understand your in-house SEO or external consultant, be aware that day-to-day activities will vary slightly based on the management structure of your organization, the number of meetings the SEO is require to attend, and whether or not the SEO is employed in-house or by an agency. Indeed, there may be some days when you focus exclusively on on-site optimization and others where your total focus is on link building campaigns.
However, this outline should give you a better idea of what responsibilities SEOs have—no matter where or how they work. I hope you find it useful when it comes to working more effectively with these important team members!
image credit: Shutterstock / Yuri Arcurs