Facebook has announced starting January, they will be ramping up efforts to inflict even harsher punishments on brands for posting too much promotional content. Facebook's raising the bar by including posts pushing users to enter contests or sweepstakes under the umbrella of practices worth penalizing. Facebook-baiting (blatantly asking for clicks, likes, and comments) and spammy strategies won't cut it anymore.
Making Facebook work for businesses is getting harder each month. Facebook has been slaughtering organic post reach for brand pages, which has made getting your posts in front of Facebook users akin to climbing Mt. Kilimanjaro. There is some glimmer of hope though: quality, cream-of-the-crop content marketing.
Success on Facebook now requires businesses bring their A game and deliver valuable, quality content that will naturally excite Facebook users, trickery aside.
How do you rock content marketing on Facebook? Try out these 9 tips.
1. Create Custom Content Images For Social Media
I don't need to tell you how powerful images are on social media – but I'll tell you anyway! There's tons of data showing how crazy people go over visual content. Recent studies have shown that Facebook photo posts get 120% more engagement than an average text-based post.
Our brains go ballistic over images. In a sea of text, pictures are what stand out and grab our attention.
Even the highest quality content won't get noticed if it's marketed and packaged poorly. Presentation matters. No one feels great receiving a gift delivered in a plastic CVS bag, but throw some wrapping paper and a ribbon on it, and you've increased enjoyment and gift appreciation by at least 70% (note: gift appreciation may vary depending on individual).
Your content marketing efforts on Facebook can be greatly improved by creating custom social media images to complement your content.
Users love seeing these kinds of images. They are bright, eye-catching, and offer a quick headline of what your content piece is about. Think of these photos as the book covers for your online content. Now we aren't supposed to judge a book by its cover, but if you've ever wandered around a Barnes & Noble, you understand how certain book covers draw you in, while others end up on the clearance rack.
Making these super clickable cover images is easy. There are many tools available online that make it easy to craft your own content-complimenting images.
Two free tools I'd recommend checking out are:
Canva: Canva lets you choose backgrounds, stickers, and 120+ different fonts to create high-quality social images. Canva couldn't be simpler – you just click and drag the elements you want to use.
It's easy to make images using free elements, but there are plenty of paid, ultra-targeted image elements as well if you want to crank things up a notch. You can even choose Canva layout designs based on which social media channel you want to share your image on, so you'll never have to sacrifice to the bizarre social media cropping gods.
Share As Image: Share As Image has less customization than Canva, but it's often faster than Canva's feature-heavy interface. Just find a photo you want to use, open the Share As Image app within your browser, and click away. Create several different text boxes and vary text size, font, and color. The paid version lets you take advantage of free stock photos, pre-designed templates, and even add your own logo.
It's fast, free, and easy to create these quality content cover images. Give them a try and watch your engagement metrics go off the charts.
2. Some Kind of Image, Any Kind of Image
Sometimes you can't go through the effort to create a custom social media image to act alongside your content, and that's OK.
Even if you aren't able to craft a custom quality content cover image, you need some kind of visual element to draw in users, which is why you need to make sure your Facebook link preview looks good.
If you publish with WordPress, you can choose exactly which image from your linked content you want to show up in your Facebook link preview. For best results, try using a square image, as they tend to look best in the link preview box.
3. Keep Your Posts Short
You don't need to post an entire synopsis of the content you're linking to on Facebook.
Shorter posts tend to perform much better than longer ones. Keeping your posts under 250 characters can result in 60% more engagement! It pays to be concise.
Just stick to the basics – give a quick rundown of what your content piece is, why it's valuable, and go no further.
4. Pay Up for Promoted Posts
The honest truth may burn your ears, but it's time to face the facts – with Facebook giving little to no real-estate for organic brand posts, it's next to impossible to get any results on Facebook without upgrading to paid Facebook advertising.
Promoted Posts is a great place to start. Just choose a post you want to promote, set a budget, target specific audiences, and you're off! Facebook has some pretty great targeting options you can take advantage of.
One great strategy I recommend is creating a custom audience by uploading your opt-in email list. This means your post is only targeting users who have an existing relationship with you. This keeps your costs down and promises better engagement. Plus, whenever users engage with your paid post, their actions generate organic visibility through their Friends network. Not a bad deal!
5. Leverage the Power of Trending Topics
In further efforts to deliver content users actually want to see, Facebook is now focusing on the timeliness of content, seeking to boost hot, trending topics to the top of News Feeds.
This means you should be making an effort to craft and share hot topic content that is news-worthy and corresponds with what's trending on the web.
Take an example from my friend and colleague, Perry Marshall. He recently crafted a Facebook post that generated 1 million likes! He was able to achieve this by leveraging the power of a trending topic (in this case, Robin Williams remembrance). This is definitely a smart strategy and one with replicating.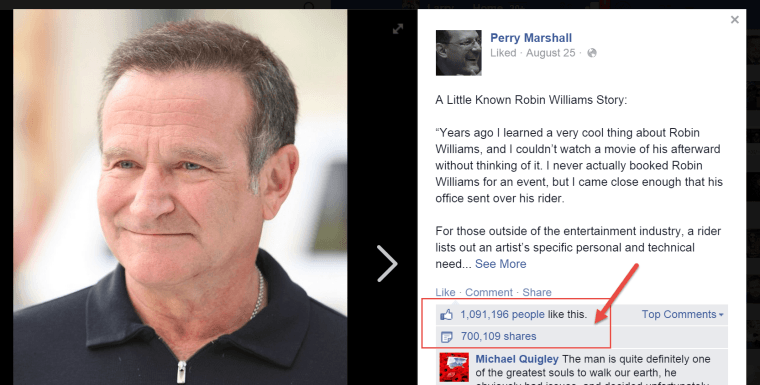 6. Take Advantage of Insider Syndrome
Post special content that's "exclusively for Facebook fans" and you'll likely see your content getting more attention than it might otherwise. Everyone wants to feel important – by having Facebook fans feel that they are part of a special group getting a better deal, they'll be more likely to take advantage of your offer.
For example, if you have a downloadable white paper with "6 Strategies for Better Email Marketing Campaigns," consider adding two more additional tips and repackaging the white paper as a Facebook fan exclusive
7. Promote Major Content on Your Cover Photos
If you have a really fantastic piece of content you're proud of, don't be afraid to go all out in promoting it. Create a big Facebook cover photo showcasing your new piece of content. Put that big banner space to use!
8. Drop the Sales Pitch
Facebook has declared all out war on overly promotional posts. Brands will no longer get away with posting salesy promo content. If you want to promote a service or showcase a new product, you better restrict those posts to paid ads.
Industry experts are now endlessly debating the topic: is Facebook marketing dead and buried? Some believe that this separation of promotional content from quality content that users actually want to see isn't such a terrible thing. It's frightening, yes, and many businesses will struggle to adapt. Some won't be able to at all. However, the businesses that do choose to take on the task will be pushed towards more creative storytelling and experimentation.
Smaller businesses can expect to have a harder time adjusting than large companies, who are more likely to have the budget and resources to craft copious amounts of quality content.
The good news is, in creating high-quality content that will perform well on Facebook, you'll also be creating resources that will perform well across all aspects of your marketing efforts.
9. Wash, Rinse, Repeat
Experiment, see what works, and replicate success. Once you figure out a formula that works, you're set.
Entering the New Facebook Era
Businesses have been horrified as numbers continue to creep in – Facebook organic reach for pages is dropping faster than an anvil on Wile E. Coyote. The writing is on the wall – users don't want to hear sales pitches, and Facebook is making good on its efforts to improve user experience.
Inbound marketing has been in the spotlight for years, with pushy, overly promotional sales pitches already passé. Facebook is reinforcing what most marketers hopefully understand by now – users want to be educated, delighted, and engaged.
These are dark days for brands on Facebook, but content marketing can clear the way for a bright future. Never give up, never surrender!
Image Credits
Featured Image and Image #1: Created by author for Search Engine Journal
Image #2: Screenshot taken January 2015