By now, you've probably heard about the tiny little Google algorithm that hit the online world at the end of July. The folks at Google thought this tweak was so small, so insignificant, that they didn't even give it a formal name. (We can thank Search Engine Land for the clever nickname we're using now: Pigeon.)
Even though this shift might have seemed small and powerless, the flapping of those pigeon wings has been felt by all sorts of companies who rely on local search domination. I'm talking about hairdressers, small restaurants, realtors, dentists, and the like. These are the people who really need to master the art of reputation management on a local level, and Pigeon is making that really, really hard.
Thankfully, there are some quick things anyone can do to recover. But first, let's start out with a little breakdown of what this update really is, and why it might be so powerful.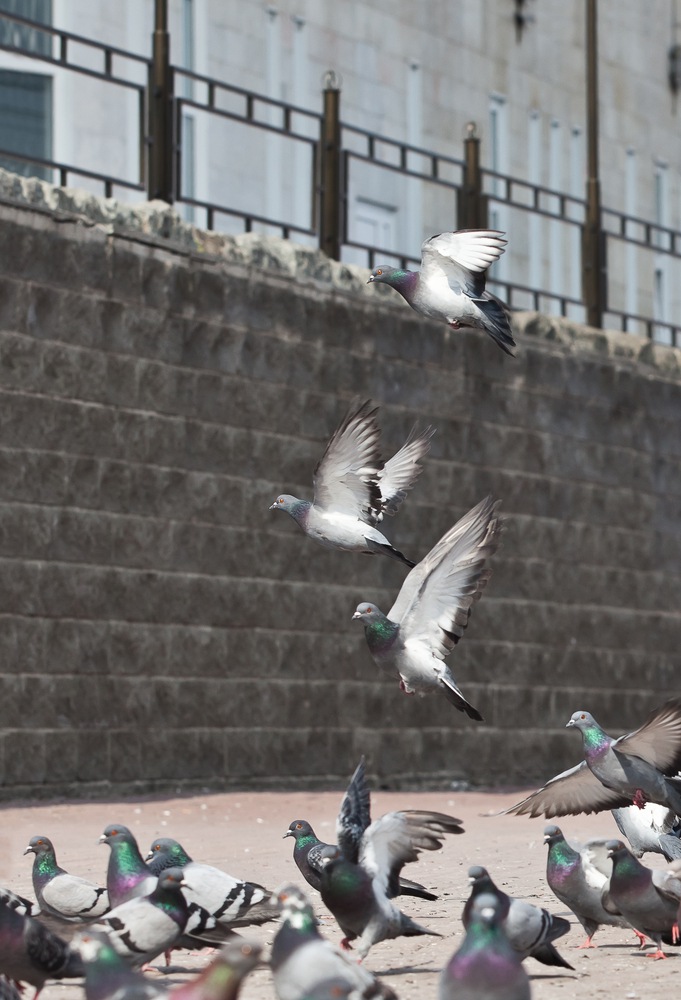 Smoothing Yelp's Feathers
Pre-Pigeon, Google had a bit of a Yelp problem. According to a fascinating bit of research released by TechCrunch, Yelp was penalized in searches, pushed down in favor of sites that Google had a hand in. Even when searchers ran queries with the word "Yelp" included, Google claimed the top spot.
This is pretty fascinating stuff, but it likely posed a bit of a problem for Google, particularly if executives wanted to describe the company using words like "open" and "transparent" and "fair".
So the tweak was designed to remove anything that looked like bias in local search. (Disclaimer: I'm extrapolating here, as formal statements by Google about algorithm shifts are extremely hard to come by. The mechanics of search are Google's product, and they're not likely to share that product with anyone who comes knocking. So we experts must extrapolate.)
In the past, local searches weren't tied to global signals. It was relatively easy to dominate search results, if someone was tying a search to a locality. For example, if I was running a bakery in a town of 100 people, I could set up a website with the location of the city mentioned, and I could make sure keywords relating to baked goods appeared all over the place on my site. Then, when someone ran a search for "cake" and my city name, I'd probably be at the top, due to city size. My keywords, and the lack of competition, would help me. I could easily quell a reputation attack with my clever use of keywords.
However, Post-Pigeon, I'm competing with sites that have the ability to pull down a global audience (think Yelp, TripAdvisor, and Urban Spoon). These sites are guaranteed to get more traffic than I do, and in this update, they're competing with me for local search results for my own business.
Notice that a local restaurant in my home town owns the top spot in a search, but that the next three spots are review sites. This is a great reason for all small businesses to embrace their listings on review sites and make sure the information shown there is as accurate as it can possibly be. If those listings have new prominence, it pays to be proactive.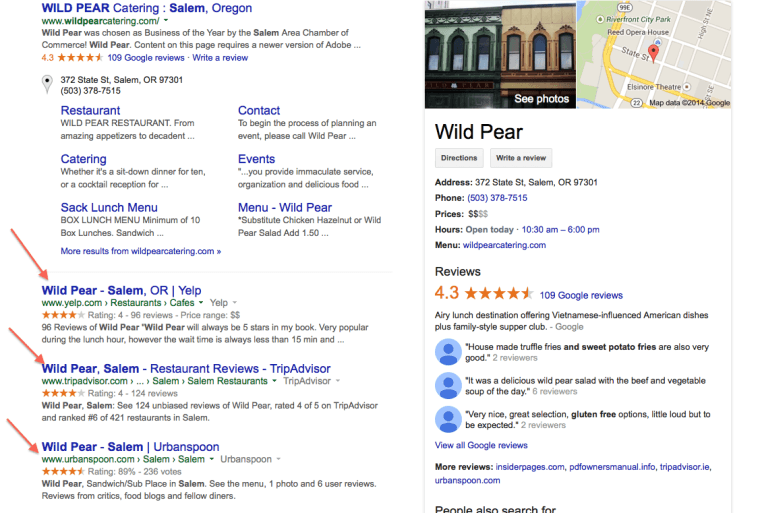 But if there's negative information in those review sites, that's a hard problem to beat. Even if I wrote blog posts with the word "Yelp" in them, hoping to beat back the traffic, stop an attack, and make people come to visit me, it's unlikely that I could get the zillions of clicks I'd need in order to surpass Yelp in terms of authority, quality of content, and trustworthiness. These sites are just too big.
Now, some bloggers would say that it's best to wave the flag of defeat. The algorithm is always changing, the system is rigged and it's hard for the little guy to fight back in a meaningful way.
That might be true, but I think this tweak also gives us the opportunity to really focus on local dominance, reputation management, and crisis prevention.
Here's what I would do.
1. Make Yourself Known
After a big algorithm shift, it's easy enough to become disillusioned with all things Google, ready to swear off of it for good. But in reality, playing nice with the site could be an excellent way to repair damage done by the pigeons (and the hummingbirds and pandas, too).
Claiming your business on Google My Business is a good place to start. In just a few steps, you'll put your company on all sorts of products, including Maps and Google+, and you might get a little kiss of approval on Google search, too (although that's debatable).
Claiming a spot like this gives you a seat at the Google table, making your site a little easier to find, and that could allow you to handle a reputation attack just a little easier.
Other good small business listing sites include Bing Places, Merchant Circle, Yellow Pages, Manta and Citysearch. The more places you're listed, the better.
2. Highlight Your Local Cred
Overcoming an attack means reaching to the top of search results. Dominating a local search is a little easier when Google knows your site is, in fact, run by a local business. It sounds so very basic, and yet, this is a step companies often overlook.
Your company address should be plastered everywhere, including:
On your home page
In the footer of each page on your website
On your Facebook page
On your LinkedIn page
You get the idea
If Google can tell that your site is coming from a local place, it will be all the easier for the spiders to pull up your page when someone runs a local search.
And, the same goes for phone numbers. If you have an 800-number people can use in order to contact you without paying pesky fees, that's great. Be sure to mention it. But, also make sure your local phone number comes first anytime you mention contact information. It's another Google signal that you are a local company.
3. Find and Fix Inconsistencies
Most companies move around from time to time. They shift office locations, use new phone numbers, or open up new branches. It happens. And sometimes, these changes come with footprints that look a little like errors to Google. Is the company at the old location or the new one? Is anyone there at all?
Mike Ramsey covered this topic at MozCon this summer, and according to his research (download the slide deck in PDF form here), companies with the smallest number of errors in name, address, and phone number ranked higher than companies with a plethora of errors. Fixing basic sloppiness could mean moving up in the rankings (and it might also help consumers to find you, as they won't be confused by conflicting results).
4. Encourage Local Feedback
Ramsey also suggested that feedback is a vital part of any business. In fact, very successful businesses incorporate feedback into everything they do. Surveys at the end of a transaction could help you spot dissatisfied customers, and open-ended questions could allow them to vent to you, rather than going on Yelp to complain. If the survey finds happiness, the end splash screen could encourage those consumers to "visit" the Yelp page to read more. They just might choose to write, too.
This is clearly a winning strategy for reputation management, as it allows you to head off negative comments and garner positive reviews. This is something everyone should be doing.
5. Monitor Feedback Carefully
If Yelp is popping to the top of search results, now's the time to make sure that the comments and reviews people write are as positive as they can be. And if they're not? A cleverly crafted apology can sometimes prevent an extensive amount of damage.
Consider this example from a coffee shop close to my home in Oregon. A reviewer typed out a lengthy critique of her visit, including complaints about the slow service, the high price, and the size of the cups. This was a pretty long review, with a lot of detail. The day after it was posted, the owner wrote his own rebuttal, taking her complaints point by point and explaining what the company stance really is. There are no snarky comments here, just information. I like this approach.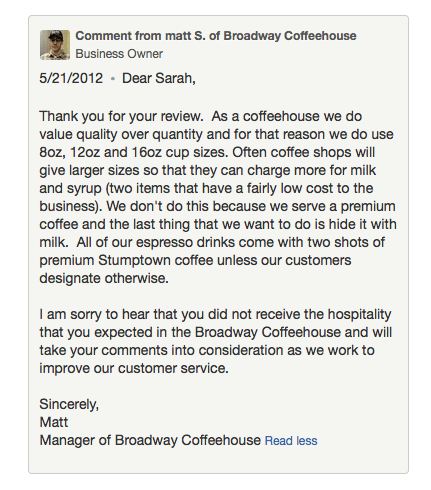 Handling a criticism like this is the best way to defend your company against a fledgling reputation management attack. And since Yelp is so prominent, vigilance is even more important.
6. Create a Buzz
It's easy enough to simply focus on your business, keeping your head down and making your product as great as it can possibly be. But in order to really climb up in the local SERP, you'll need others to start talking, too. Thankfully, that's relatively easy to do on a local scale.
Consider supporting a local charity through an event you hold, or sponsor an event that's already in place. That kind of action could garner you news articles, blog entries and chatter on social media. Each one of these acts could result in clicks on your site, and dominance might quickly follow. Plus, being a good member of your community just makes your company look nice, and that could also help to deflect a reputation attack.
7. Test, Test, Test
No matter what you do, make sure you're tracking your appearance in search results. Take screen shots of your appearance before you make a change, and then take another when the change has been in place for about 24 hours.
Moving up? Do it again.
Moving down? Try something else.
Testing like this can be time-consuming, but it helps you to understand what's really benefiting your business, and that could drive your future planning.
8. Don't Forget to Feed the Pandas
Google updates don't replace one another. Instead, they build upon one another. That means that the Panda update is still very much in play for all of us, and that your content must be absolutely stellar in order to make the cut.
This excellent article by Neil Patel summarizes what kind of content is penalized and what's rewarded in the latest update to Panda, and that's the sort of information that should infuse everything you're doing with your website. If you handle all of these steps with care, your site will naturally move up in rankings, and that's a vital part of reputation crisis management.
While updates might keep you from getting the local traffic you want right now, you really can make some changes and get your mojo back. And if I've missed any stellar tips, I'd love to hear them in the comments section. Hit me up!
Image Credits
Featured Image: Furtsteff via Shutterstock
Image #1: Furtsteff via Shutterstock
All screenshots taken September 2014